John and Mackenzi Grauer, owners of Grauer Show Cattle, emphasize raising and selling quality show cattle to good families across the country. At the same time, they are prioritizing raising two young boys in the livestock industry that they grew up in and learned to love. However, the Grauers know that raising boys and raising livestock are two challenges that require commitment and the proper tools.
The Grauer Family
The Grauers own and operate Grauer Show Cattle in Shiloh, Ohio. They run about 60 mama cows that are primarily Maine and Chi-influenced.
Grauer Show Cattle is a full-service cattle operation. In addition to raising cattle, they sell show cattle year-round. They offer cattle in an online Labor Day Sale, and will have another sale in October. John and Mackenzi provide their customers with advice and support as needed. John said one of the best parts of their business is watching their customers succeed.
"It's fun to see our own boys do well, but it is even more fun to work with good families and help build them up. It is neat to watch them have success and meet their goals, whether that is winning the county fair or their state fair," John said.
As if they weren't busy enough raising kids and cattle, Mackenzi is also the editor of Show Circuit magazine. She is also trained in MagnaWave technology to livestock as a side business.
Mackenzi and John have two sons, Weston and Lawson. She shares why their family is such big fans of youth programs.
"We are big supporters of junior livestock programs. I am a firm believer that these programs are one of the best ways for kids to grow up," she said.
Rooted in Agriculture
John and Mackenzi had very different beginnings in the cattle business. Growing up in Texas, Mackenzi showed cattle across the country. She was involved American Junior Maine-Anjou Association (AJMAA) and active on its junior board. She was also the National Maine-Anjou Queen.
John is a first-generation cattle producer. He bought his first two heifers as a high school freshman in 2000. His dad always challenged, that they would never have more than 10 cows on the farm. His goal at that time was to raise his own feeder calves for the fair. With three younger brothers who wanted to show heifers, the herd expanded.
John also showed pigs when he was younger—his dad owned large finishing houses until 2019.
His parents are still involved in grain farming. However, John prefers to help with the hay and straw production and fence building on the family farm, while building the cow herd.
And remember that Maine-Anjou Queen, Mackenzi? Well, that is how the two of them met. She was in backdrop photos when John's younger brothers had a successful run. A love of a breed turned into a love for each other.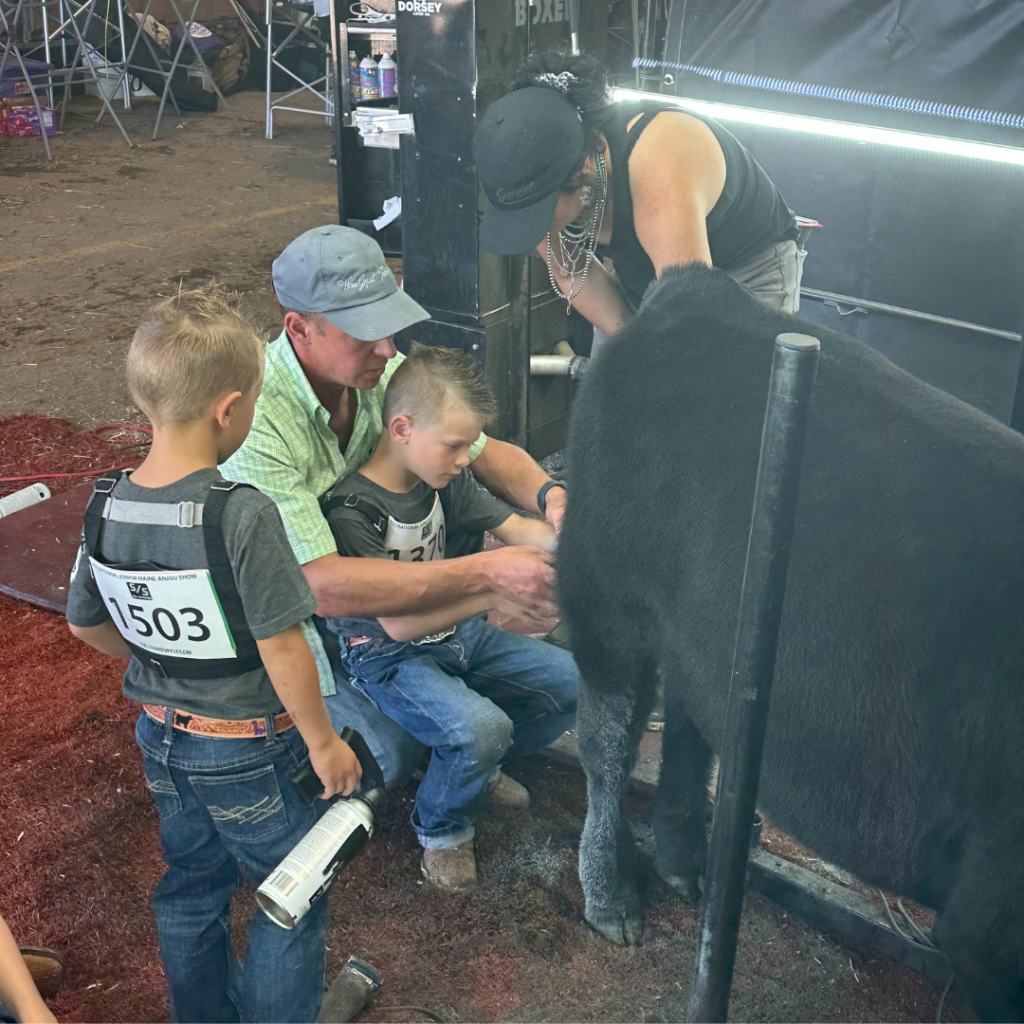 Sharing the Passion with the Next Generation
Mackenzi and John are so grateful to share their love for livestock with their boys. Their lifestyle offers a plethora of other benefits that Weston and Lawson are reaping.
"Our boys would rather be outside in the barn, working with cattle or playing with tractors, than inside playing video games," John said.
He listed the skills they are learning each day:
Responsibility
Work ethic
How to win
How to lose
Good things – appreciate a new baby calf
Working through heartache – life and death situations
Some of the aspects the Grauers appreciate most about the AJMAA include the Littles Program and Rookie age division at the Maine-Chi Junior National. Although he just started first grade, Weston competed in several contests and showed at the Junior National as a Rookie. Many associations require youth to be at least 9 years old to compete.
Mackenzi challenged Weston to compete in either salesmanship or speech. Since he did not fully understand that he didn't have to actually sell the possession of his heifer, he chose public speaking.
"It turns out speech was his favorite part of junior nationals! He came out of that room and proclaimed, 'I stood up tall and talked loud,'" Mackenzi recalls. "I don't know how many strangers he practiced his speech on that week!"
Attending shows isn't just part of the customer service that the Grauer family provides. It is also a great way to raise their boys. John and Mackenzi know that another great service they can provide is keeping the cattle they raise and sell healthy and performing.
Getting Involved with BioZyme
"John has used BioZyme products for as long as I can recall. He was using them before I came into the picture," Mackenzi said.
As owners of Grauer Show Cattle, John and Mackenzi are big believers in the BioZyme family of brands. But they have also been BioZyme dealers for 10 years. They rely on the products for results and consistency.
"Our overall conception rate on our cows is significantly higher when we feed them Concept•Aid®," John said.
Grauer Show Cattle Relies on BioZyme
For show and sale cattle, his #Formula4Success includes a combination of the Vita Charge® Stress Tubs HEAT® and Vita Charge® Liquid Boost.
"We see a huge difference in the overall health and condition of calves when incorporating the Vita Charge Stress Tubs with HEAT into the daily routine. We like to add in the Liquid Boost," John adds.
The BioZyme products are known for their key ingredient, AO-Biotics® Amaferm®, a prebiotic research-proven to enhance digestibility. BioZyme products are American made by people who care about livestock and animals as much as our customers do.
The VitaFerm Concept•Aid line is a vitamin and mineral supplement promotes effective, easy breeding when fed 60 days pre-calving through 60 days post-breeding. With multiple formulas to match the management scenario for you, you can learn more and find the Concept•Aid formula for you with our Concept•Aid Product Navigator.
Vita Charge is a line of fast acting, multi-specie livestock products for support before, during and after stressful times. The Vita Charge Stress Tubs HEAT contain the prebiotic Amaferm and a heat tolerant probiotic. In addition, they contain mannan oligosaccharides or MOS to support the ability to recover from the effects of stress. Further, the 50-pound tubs are convenient and easy to feed. They contain HEAT technology, a combination of essential oils and garlic, to support animals when heat and insects are a challenge.
Liquid Boost is for all livestock, designed to provide immediate support to the animal's digestive and immune system. In addition to Amaferm and MOS, it contains organic Zinc, the antioxidant Vitamin E and B vitamins as well as a fruit flavoring to promote water and feed intake.
Brand Ambassadors
Mackenzi and John work intensely to promote their cattle while helping their customers. This includes discussing freely to anyone who will listen to the benefits of the BioZyme products and youth livestock programs. They feel both the BioZyme brands like Sure Champ® and junior breed programs help young people develop skills and their network.
They have appreciated building relationships with the sales and marketing staff, learning more about the products and gaining more insight into products and specific programs.
In addition to being great spokespeople, the Grauer Show Cattle family is active on social media. They spend ample time in the barn as a family. They are passing on their work ethic and skills to the next generation with Weston and Lawson. The boys both make great candid and photogenic subjects for Mackenzi to focus on when creating social media posts.
We Love Our Dealers
It only makes sense to have Sure Champ and Vita Charge Brand Ambassadors like John and Mackenzi Grauer from Grauer Show Cattle. They are raising kids in a livestock environment and promoting brands that are at the center of care that comes full circle.
Thanks for all you do, Grauer family. We look forward to seeing Weston and Lawton in front of the backdrop, as they #PreptoWin in the future.
So, Take Action!
If you would like to learn more about the Sure Champ or Vita Charge products and how these brands work with young people to #PreptoWin? Sign up for our regular e-newsletter.
Interested in becoming a dealer or referring a dealer near you like Grauer Show Cattle? Want to find a dealer near you? For all this and more, visit the BioZyme site.
Four Fast Favorites:
Favorite BioZyme Product: Vita Charge® Stress Tubs HEAT®
Favorite Show: Maine-Chi Junior National
Favorite Fair Food: Ribeye Steak Sandwich
Favorite Quote: "Leave the tomorrows to God." – Mackenzi's Grandma Donna