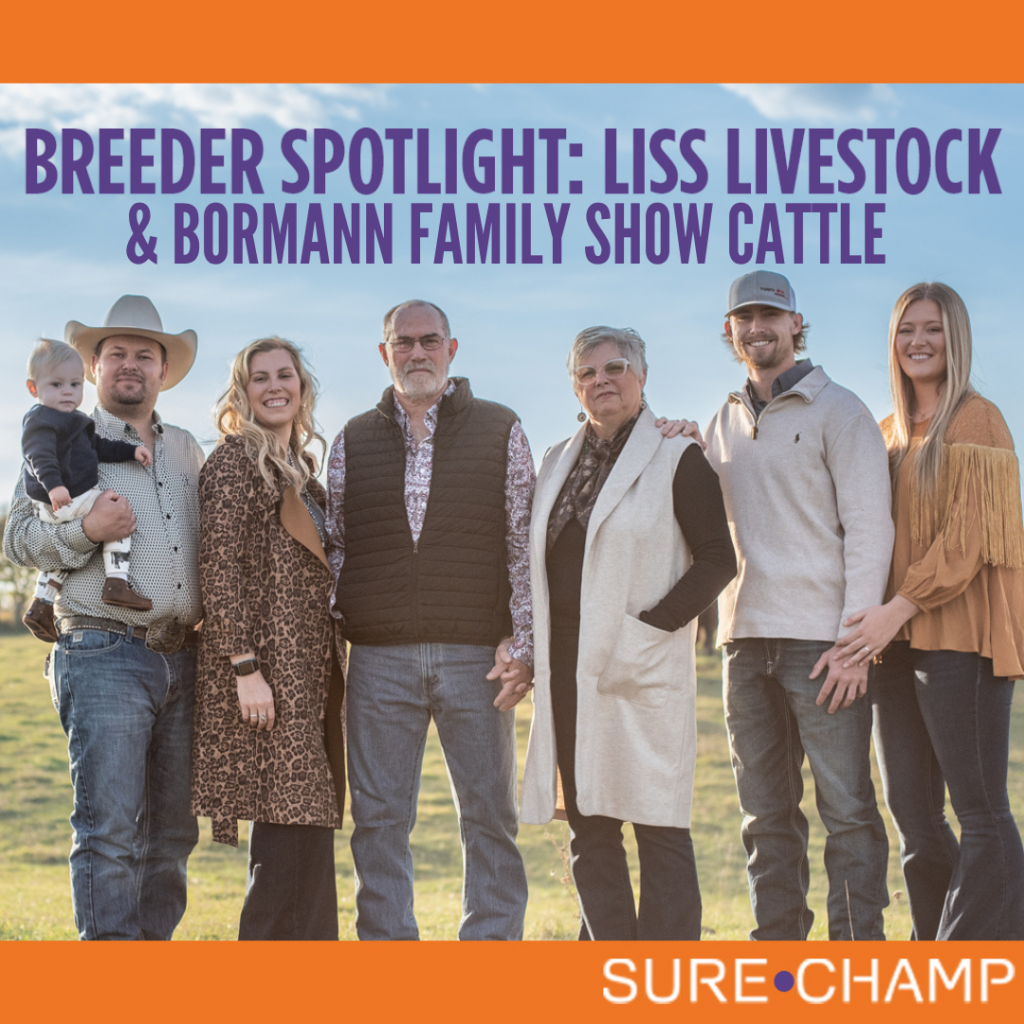 The BioZyme® family of brands is proud to shine the spotlight on a true family operation on this month's breeder spotlight. Liss Livestock and Bormann Family Show Cattle is the merger of two families connected by Mallory Bormann-Liss, her husband, Garrett, and the rest of her family. Thank you, Mallory, for sharing your story with us.
Tell us about your family.
Liss Livestock and Bormann Family Show Cattle operates in the small Northern Iowa town of Algona. Along with my parents, Kevin and Renee, and bother, Trevor Bormann. It's a family affair. We run approximately 75 head of momma cows with the majority being Maine-Anjou. Garrett and I moved back from Western Nebraska in 2018 and welcomed our little boy in 2021. Since 2018, we have come together to sell high quality livestock no matter what breed. I got my start from a very young age showing calves at the age of 4. My family mostly ran commercial cattle, until we were able to start showing in 4-H, then the transition to showing and raising show cattle came about. Most of the cow families we have in this operation today are from our 4-H showing days with the majority being ones that we have raised. Garrett grew up on his family's commercial cow-calf operation in Central Colorado. He was exposed to showing cattle at a young age and has had the privilege of working at some highly respected seedstock operations within the industry. On most days you can find Garrett behind the scenes of our operation.
2. What breeds/species do you raise and sell?
Our family raises multiple breeds of cattle with the majority being Maine-Anjou. We market cattle several ways throughout the year. Our family hosts an annual pasture sale every fall in September on SC Online, privately off the farm all year-round, as well as our Genetic Sale in March. At Bormann-Liss, we strive to produce high-quality registered Maine-Anjou genetics that will show as well as work in other breeders' herds for replacement females and herd sires.
3. Which Sure Champ® and Vita Charge® products do you use?
Our family uses a wide variety of BioZyme products for our operation. During sale time we use the Vita Charge Drench along with Stress Tubs. Calving, breeding and summer months the cow herd is on VitaFerm® Concept•Aid® and Heat® mineral. When it comes to our show families/customers we highly recommend that they are on Sure Champ pellets, Vita Charge Stress Tubs and Liquid Boost.
4. What are the biggest benefits you have seen using our products?
We truly feel that the VitaFerm products keep cattle on feed, boost their immune systems all while allowing them to stay healthier. These products play a critical role during calving, weaning, sale season and the fall show runs. We truly believe these products help maximize the cattle's genetic potential.
5. What is your operation's/family's biggest goal?
While most operations would define their biggest goals differently, we strive at Liss Livestock and Bormann Family Show Cattle to raise high-quality genetics that will work both in the show ring and the real world. As a family, we believe our biggest goal is to raise a National Champion in the breeding cattle segment and State Fair winner on the steer side. We strongly consider when buying any genetics or making breeding decisions for the following years that the females need to be mama cows in the end. We have been very privileged to be in the winner's circle and exhibit the cattle we have raised or bought. We want to continue with these goals of raising high-quality cattle this way so our children can achieve these goals when they start their show careers, and hopefully one day be in the winner circle with our genetics. Liss Livestock and Borman Family Show Cattle will continue to work and achieve our goals all while helping the people in the cattle industry that have got us where we are at today and where we are headed in the future.  
6. Anything else you wish to share?
Thank you for doing this for us! We appreciate it!
Thank you to the Bormann and Liss families for being believers in the VitaFerm, Vita Charge and Sure Champ products, all powered by AO-Biotics® Amaferm®. Amaferm is a research-proven prebiotic designed to enhance digestibility. Producers like the Bormann and Liss families are striving to produce superior genetics, but they know genetics are only part of the equation. They rely on nutrition to complete that equation to get them and their customers to the winner's circle.