It's wedding day. And that day is not complete without the white dress, the perfect bouquet, close family and friends and an ice sculpture in the shape of a show heifer. While most weddings might not include the heifer-shaped ice sculpture, when couples marry who have a passion for livestock, chances are at least one detail will include an agricultural element.
When Sure Champ and VitaFerm customers Kirbie Day and Mark Sims were married in July their wedding featured an ice sculpture in the shape of Kirbie's favorite show heifer. Mark's brother and sister-in-law purchased an ice sculpture package at an auction and passed it on to the engaged couple. When Kirbie met with the sculptors they told her they'd never created a heifer before.
"At most weddings you'd see a heart or a swan but never a cow, much less one that was the bride's favorite show heifer," Kirbie says.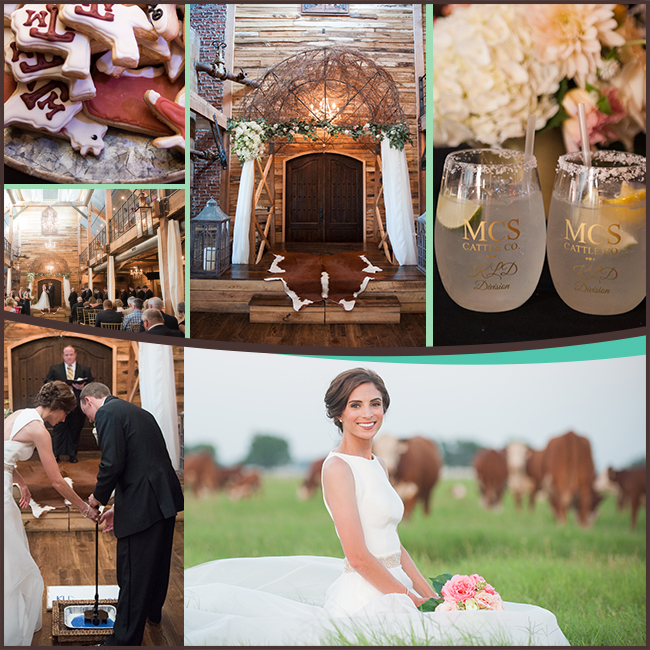 Kirbie and Mark met at the Fort Worth Stock Show when they were in their early teens. They began dating while they were attending college in different states. After Mark graduated from Oklahoma State and Kirbie from Texas A&M University they became engaged while Kirbie was in nursing school at Texas Woman's University. Kirbie is currently a registered nurse at a local hospital in the cardiovascular and transplant floor and Mark was recently hired as the regional manager for the southeastern U.S. for the American Angus Association. The couple made sure to incorporate livestock touches into their wedding because the show world is what brought them together.
They were married in a barn near Goldsby, Oklahoma. Because both showed Hereford cattle, Kirbie says their wedding dinner included Certified Hereford Beef, custom ordered and prepared by the chef. At the reception, the Sims' dessert table was layered with Hereford cow-shaped cookies.
While at the altar, the couple stood on a Hereford cowhide. Also, Mark and Kirbie's friend and groomsman welded a brand for them. When it was time to unify their families, Kirbie's parents and Mark's parents each dipped their own ranch brand in navy blue paint and branded a canvas. Kirbie and Mark then put their new custom brand in the paint and on the canvas as well.
"The pastor said in his homily that the brands described our unity," Kirbie says. "A brand can never be redone and in case we get lost in a storm, like cattle, the brand can be used to guide us back home where we belong."
Kirbie's favorite wedding day detail, however, is still the ice sculpture. She says the heifer the ice image was created from a photo of a heifer she won Reserve Grand Champion with at the National Junior Hereford Show in 2007. The heifer had also been a many time champion in several other shows. Kirbie says incorporating livestock details into her wedding day was an obvious choice.
"That's what brought us together and what we both love and still currently love to do," Kirbie says. "It's a big part of us meeting each other and our life growing up and it's just who we are."
The same sentiment goes for the wedding of Taylor (Walker) and Jon Gevelinger. They said "I do" in May near Spring Branch, Texas, following the Texas majors and before the string of national junior shows began. Jon is from Wisconsin, and Taylor hails from Texas. Jon grew up showing cattle and Taylor showed pigs and they met through a mutual friend. The Gevelinger's currently live in New Braunfels, Texas.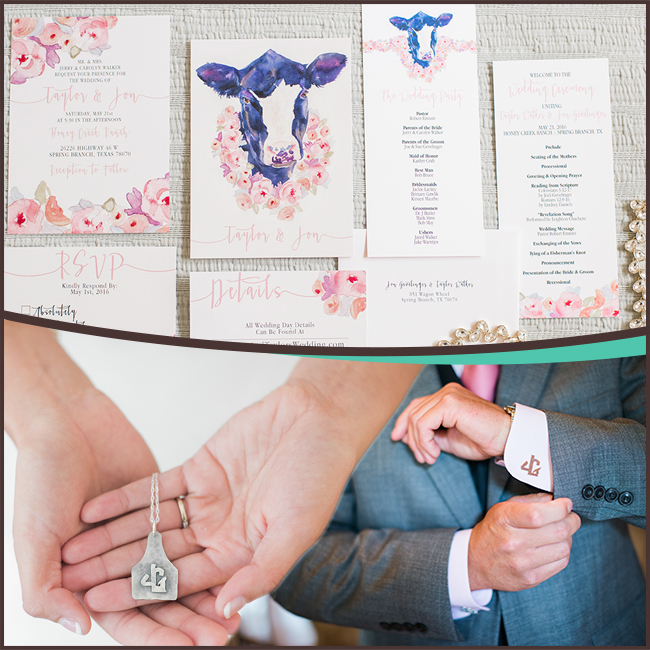 Their wedding featured several livestock and agriculture accents. Taylor selected items that were meaningful to her and Jon and says her favorite detail was also the smallest.
Approximately half of the Gevelingers' wedding guests were connected through the livestock industry. With accent colors of pale pink, gold and ivory, Taylor came up with a plan to spray paint small, plastic toy pigs and cows gold. She placed one at each of the assigned seats for her wedding guests that were livestock people. Her guests commented on them and a few took them home as party favors. Each plastic, gold-painted animal was her favorite, intimate wedding detail.
"I saw the idea on Pinterest where someone had spray-painted African safari animals for a baby shower," Taylor says. "Our pigs and cows weren't on every table but probably half of our guests were livestock people so I knew it'd mean something to them."
Taylor and Jon's wedding invitation included a heifer element. The couple used a photo Taylor took of one of Jon's show heifers and asked a water color artist to re-create it. The artist rendering was placed on the front of the invitation and it was painted to match the pink, gold and ivory color scheme.
Both Taylor and Jon's family's had brands and she asked the baker to design the groom's cake with Jon's own brand on it. The wedding cake was simple white with cascading flowers down the side. Both cakes were set on a table, covered in a sequin tablecloth, in the middle of the dance floor. A spotlight shown on the cakes that evening.
Taylor says another favorite livestock element inadvertently came from a seating area. The venue had an area that she planned to use as a cigar bar but on the wedding week changed it to include a couch and shelving, with décor including Jon's actual ranch branding iron and an antique, gold Hereford trophy. This area was subtle but decorative and the couple's livestock touches made it very personal to their wedding guests, Taylor says.
"It never crossed my mind to go with a contemporary wedding theme like burlap and baby's breath," Taylor says. "I didn't want the focal point of the wedding to be country but rather a nicer, more elegant feel. I also knew I'd incorporate livestock accents from day one, it never crossed my mind to leave that out."
Taylor and Jon also gave each other personalized livestock gifts to each other and their wedding party. Jon gave each groomsman a Yeti tumbler with his individual brand engraved on the cup. Taylor had custom cufflinks make for Jon, in the shape of his ranch brand as well. Jon gave Taylor a silver necklace in the shape of an ear tag with his brand on it. It was a gift she'll wear, "forever and forever," she says, which is a special saying between the couple.