Without our dealers at BioZyme Inc. little would be possible, and it is an honor to feature Mr. Keith Micke, the owner and operator of K Triangle Feed located in Glendo, Wyoming. Keith is a proud dealer and user of our entire product line, and with such a positive attitude it's hard not to like this fun loving guy! We appreciate Keith's dedication to our product line as well as the dedication and hard work of all of our dealers.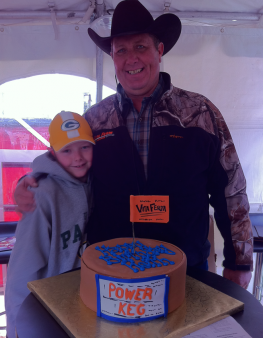 Background
I started with BioZyme in May of 2009. I have been involved in agriculture from being a sales manager in seed company to farm or ranch management the last 35 years. My wife Kara runs our family restaurant in Glendo,Wyoming. We have a daughter Kelsey and son in law TJ and two grandchildren, and our son Kody, who is now 12.
Why did you decide to become a dealer with BioZyme Inc.?
I decided to become a dealer with BioZyme after watching a RFD-TV show about VitaFerm that featured Bob Norton and Dr. Jensen. I thought, that is what we used years ago on a ranch we were having some issues with the cattle eating mineral, and remembered how well it worked. I explored the BioZyme Inc. website, and after reading everything a couple days later I sent an email showing interest in becoming a dealer.
Dennis Delaney called me a few days later and we talked he said John Tucker my Area Sales Manager would be calling me. After meeting with John we felt comfortable and signed on. We had a producer meeting at our restaurant and sold a semi load a couple days later. We have been fortunate to grow every year outside of a couple year drought.
What BioZyme products do you sell?
We sell Concept-Aid, Cattleman's Blend, Beefmaker, VitaFerm Sheep Mineral, all the protein products, Sure Champ, Vita Charge and the Vitalize Raw Max. I feel we are able to go to any farm or ranch and we have a complete line up of products that can benefit them.
What would be your advice to potential dealers?
I would recommend to new or potential dealers to see the benefits by using the products yourself. To take a look at everything BioZyme has to offer with the great support staff from the ASMs to nutritionists, the marketing and sales support and services, the Online Dealer Center to Bob and Lisa Norton. You feel like family and they want to see you grow with them.
What recent success have you had because of being a BioZyme dealer and/or a user of the products or success your customers have had?
We have seen success with all the products. Coming home from Dealer Retreat I got a call from a rancher's wife she tried a couple bags of Sure Champ and Vita Charge Paste (transitioned to Vita Charge® Gel July 2019) two months ago. She said she was not happy with her current mineral what do you have. I told her we have a premier breeding mineral to start with. I am now delivering them one pallet each of Concept-Aid 5/s and Cattleman's Blend.
That same afternoon a customer stopped to get 15 bags of Sure Champ and said, "I need some of that Vita Charge Paste, too. I had a young bull calf that wasn't doing well I gave him paste everyday for a few days then once a week now he is one of my best doing calves!" I carry Vita Charge Paste and Raw Max Vitalize with me while delivering and give them out sometimes. One rancher said, "I was about 80% convinced of your cattle mineral with AmaFerm after you gave me that Raw Max, when I told you my older dogs weren't doing well. I am 100% convinced they can now jump in the pick up without help and they even work cattle again!"
What is your favorite BioZyme product and why?
It's hard to pick a favorite product. I would say the Sure Champ, Vita Charge and Vitalize give results that are seen quicker the customers see that in there show animals or horses or dogs when they are around them more.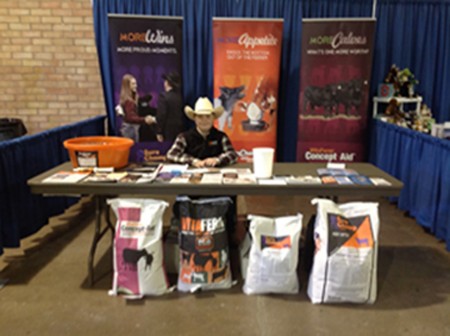 If  you are interested in becoming a VitaFerm dealer click here for more information.