Clipping the body of your pig is crucial to make your pig looks its best. Clipping will make them look like a show pig and give them the presentation that will appeal to the judge on show day.
Click here for additional clipping, showing and daily care videos.
Check the rules and choose the right guard.
It's important to clip the body of your pig evenly and at the proper length. Some shows have rules about hair length, so always check your show rules before clipping your pig. Once you know the rules you'll need to select the right length of guard and the appropriate clipper blade. It is suggested to use a number 10 clipping blade and either a 1A or 2 Oster Red Speed O Guard to clip the body of your pig.
Keep the guard flat and clip against the hair.
When clipping the body, your goal should be a smooth and even hair coat. Using the clippers properly will ensure your job comes out even when you're finished. Keep the guard flat to the surface of the pig's body and clip directly against the hair. Start at the rear of the pig and work your way forward one pass at a time, to be sure you don't miss any spots. Since the head and body might be clipped at different lengths, we also need to blend the neck area from the shoulder to the head to balance your clipping job.
Blend the neck.
Blending the neck starts at the front side of the shoulder, using the same guards you clipped the body with. Then as you move forward towards the head, continue to go down one guard size at a time till you reach the head. Remember it may take more than one pass per guard; the goal is to end up with the same guard or length you used on the head when you reached the backside of the jaw.
Check for wild hairs.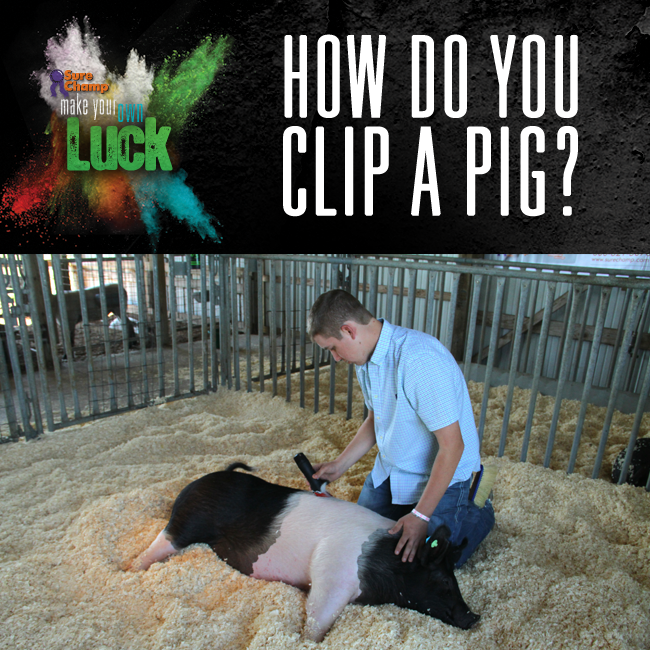 To ensure the clipping job is perfect you'll want to make sure you didn't leave any stray hairs, or create any uneven places on the body. Always do a final review by brushing your pig's hair correctly to make sure you don't have any wild hairs or uneven spots. The head, belly and ears will also have to be clipped. We've put together a video to show how to clip those finer details.
A great clip job always follows the rules of the show and will make your pig look clean and youthful while giving it a great show pig look.