Diana Craft says when it comes to fundraising she may run out of money, but she will never run out of passion.
This Bulverde, Texas, native is passionate about kids who show livestock because she appreciates the caliber of young people who lead animals into the ring. She believes so much in youth livestock shows that Craft dedicates many hours to raising money for them.
"I just don't take no for an answer," Craft says. "I feel blessed to live in Texas and be part of the livestock show family. I just keep pushing and explaining what kids do and how they spend numerous hours [on preparation]. Once you start explaining that, they've never told me no."
Craft says her daughter, Kaitlyn, showed lambs at many Texas shows including San Antonio. During Kaitlyn's show career, Craft witnessed the time and effort her daughter spent to get her lambs ready and appreciated the hard work behind the scenes that each young person put forth. Today, Kaitlyn is a graduate of Texas A&M University and helps Craft raise money, specifically for lamb exhibitors at San Antonio.
When Craft was asked to help raise premium auction money for San Antonio exhibitors, she went straight to work. First, she reached out to all of her stock show family. Making this list was an important first step, and Craft wrote down names of people that had been involved with livestock shows before. A committee was formed from this list and titled the Lovin' Ewe San Antonio Buyers group.
Craft says the 22-member Lovin' Ewe team set an initial fundraising goal of $10,000, and when that goal was reached, set a new goal of $20,000. They chose to have a fundraising event, which included hosting a dinner with a live auction. They only had a few months to raise money and worked to gather quality auction items that would interest potential buyers, including hunts, fishing trips, Spurs basketball tickets, Western boots and hats. Craft made sure these items were donated, and she continued to keep costs at a minimum by asking a band to play for free. Admission to the event was $100 per person.
Craft called on her ag neighbors and friends but also went outside the livestock circles to raise money. Her business associates and vendors gave to the Lovin' Ewe event as well. She says being able to pull together a strong team that is passionate and willing to work is essential to her fundraising success.
Another big tip is that Craft made sure her team was comprised of people who had experience raising and showing livestock. Being able to speak from the heart on what goes into raising a first-place market lamb was key when trying to connect with potential donors.
"Explaining the wins and losses and the time and dedication that goes into showing is important," she says. "If you can show how passionate you are then that just comes out. Get those donors to connect with you and understand just how important showing livestock is."
The event went well and people gave generously. In three short months, the Lovin' Ewe San Antonio Buyers group raised $41,000 for lamb exhibitors, twice the group's goal.
"San Antonio is a hard show to make the sale at, and if a child does make the sale I want them to feel rewarded like they did something awesome," she says. "When I approached people to give money I explained why we're doing it. Showing teaches kids lessons they cannot learn in school like dedication, responsibility, networking and true life lessons. The fact that showing is done as a family was huge in fundraising for the sale."
"The San Antonio Stock Show is the closest Texas Major to where I live, and I know a lot of kids that show there," she says. "It's the pride of this area, to be able to win at that show. It's hard work to get ready for San Antonio. This group of exhibitors needed money for their portion of the premium auction and that's what I set out to do."
The auction's success was two-fold. Pure income came from the admission fee and donations, and with 120 people in attendance, $15,000 was automatically generated. Next having live and silent auction items that could earn big money was essential, and for the Lovin' Ewe event, the fishing and hunting trips brought in big bucks. Also, Craft says the buyers of both of those excursions donated the items back so they could be auctioned again. Those two items, sold twice, made the Lovin Ewe group a lot of money, Craft says.
"We were grateful for all of our items, including the 30 or so small items that kept the auction fun," she says. "The place we held the event donated the facility so outside of paying for the food we had tremendous support and generous giving."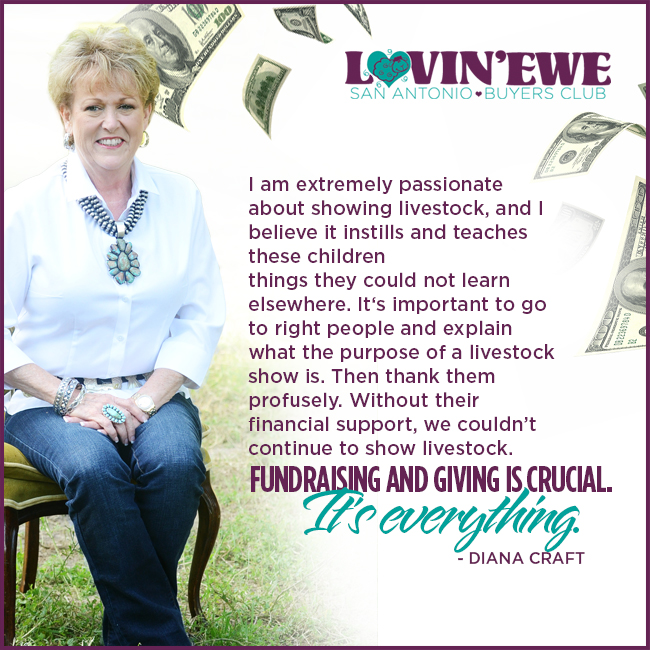 Craft's generosity doesn't end with San Antonio. Her family also does fundraising on the local level, as her husband, Bobby Craft is part of a buyers group for the county fair. All members of this group, Craft says, worked hard and raised $125,000 for premiums at their recent county sale auction.
"I am extremely passionate about showing livestock, and I believe it instills and teaches these children things they could not learn elsewhere," Craft says. "It's important to go to right people and explain what the purpose of a livestock show is. Then thank them profusely. Without their financial support, we couldn't continue to show livestock. Fundraising and giving is crucial. It's everything."
Top Fundraising Tips from Diana
Make a list of all the people you can ask for support. Start the process by writing down every name you know associated with livestock and the show ring. Narrow down the list to the people who will work hard to reach out to potential donors.
Work hard to get all items donated toward the cause. If it's a silent or live auction, be sure the items are given from generous donors, and try to get the facilities donated as well. This would make food the only cost to host a fundraising event. Craft says it doesn't hurt to ask for food to be donated as well.
Marketing the event/activity. Craft says social networking is a great way to get the word out about the cause and any event tied to raising money for it. The Lovin' Ewe team set up a Facebook page right away and constantly posted to attract likes, attendees and of course, money.
Establish a brand. The Lovin' Ewe team worked with a committee member to design and develop a logo. Craft says sharing that logo was imperative so people will begin to ask questions and inquire about the goal and/or mission.
Take Your A-team to Visit with Potential Donors and Buyers. Being able to verbalize the passion and meaning behind showing livestock was key when Craft set out to raise money. She says having the right people on board can help non-agriculture donor prospects see how valuable show donations can be.