Mackenzie Malson has already kicked off 2017 trying new things. The 13-year-old from Parma, Idaho, recently exhibited at her first National Western Stock Show, a show her mom, Maggie said Mackenzie has not attended since she was two.
"It's a cool show with a lot of history, and I love history," Mackenzie said with her contagious smile. She really enjoyed showing her three Angus heifers in the junior Angus show and spending a solid day walking around 'down in the Yards'. But, she says besides showing her heifers, another highlight for her was walking one of her family's sale heifers into the auction ring and setting her up at the Denim & Diamonds Angus Sale.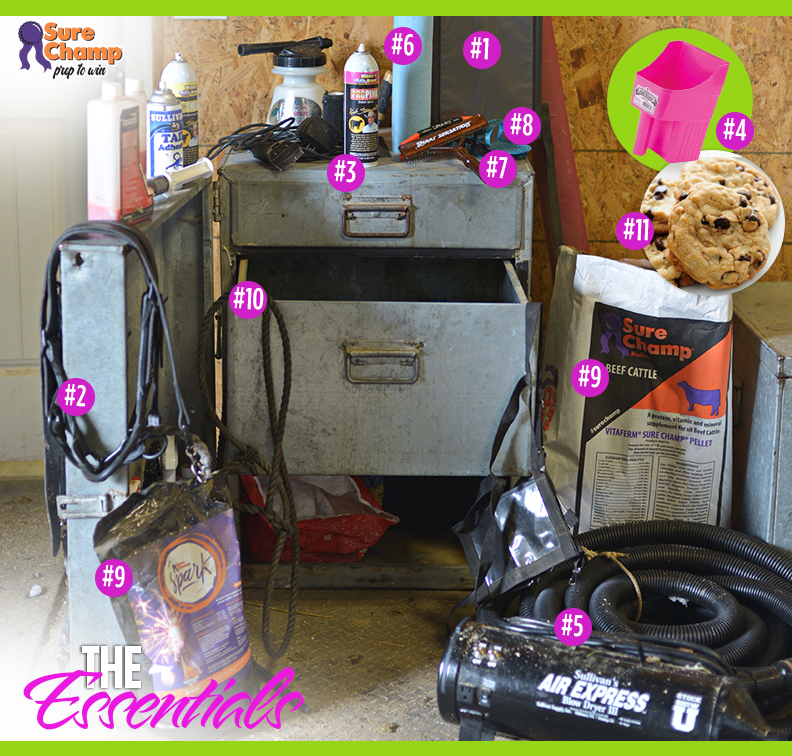 Mackenzie brought her own cheering section to the National Western, as her parents, Josh and Maggie, were both there, as well as two sets of grandparents. Four-year-old Brynleigh also traveled to her first stock show to watch her big sis compete. However, their brother Jayten, 7, and sister, Emma, 10, stayed home for school.
Mackenzie claims that her first stock show was a success, placing third with her favorite heifer, Betsy. Her other heifers stood sixth and ninth in large, competitive classes. She plans to show two of her heifers throughout the spring and summer show season, and says that she prefers to be the one to pack the show box.
"I like to pack it myself so I can organize it, but dad usually helps," she said. Here's a look inside the Malson cattle show box.
1. The binder – Mackenzie said they have a binder that keeps all the necessary paperwork organized, including registration papers, brand papers and health certificates. This book is checked and double checked before each show.
2. Show sticks and show halters – Mackenzie's favorite show stick is the Sullivan's Total Grip because it's much easier for her to hold. Each heifer has her own show halter, so they fit properly.
3. ProPink or Pink Oil – This multi-purpose spray is great for cleaning up show halters and giving a final shine to the animal's hair coat. It smells great too, Mackenzie says.
4. Feed scoop – Measuring feed is important both at home and on the road, so Mackenzie double checks to make sure she has a feed scoop in the show box.
5. Sullivan's adhesive, other fitting products, blower and soap
6. Paper towels – We usually buy the blue shop towels in bulk, Mackenzie says. You can never have too many of these.
7. Combs – Not only do they get used a lot on the cattle, but Mackenzie's mom has also used a Sullivan's Smart Sensation on more than one occasion to fix Mackenzie's hair before she goes into the show ring.
8. Comb holder – "Since my pockets are so small, I always bring a comb holder to put on my belt so I can have my comb with me."
9. Sure Champ®, Vita Charge® and Vita Charge Liquid Boost® – Mackenzie says they like to give their animals a dose of Vita Charge before leaving home. The Liquid Boost is great to add to the cattle's water at the show to make sure they maintain an appetite and don't go off feed.
10. Extra rope halters – One year while loading cattle for the Idaho Junior Beef Expo, Mackenzie led her steer into the trailer and turned him loose to travel. Then she put his halter on the fence. They tied the heifers onto the trailer, and when she and her family arrived at the show, her dad started looking for the steer's halter. That is when Mackenzie realized she had left the halter at home, and that is when they started packing extra halters.
11. Homemade cookies – Mackenzie and her mom both enjoy baking, and they always make sure there is a stash of baked goods in the show box for their family and friends.
Mackenzie has a lot of memories of showing her cattle, including the first heifer she showed – a Hereford – at the Idaho Junior Beef Expo.
"I like both breeds," she said. "The Hereford had a sweeter disposition, but I have done better with my Angus."
And, she plans on making more good memories in the future. She wants to continue showing at the National Western, and also hopes to show her heifers at the National Junior Angus Show some year.