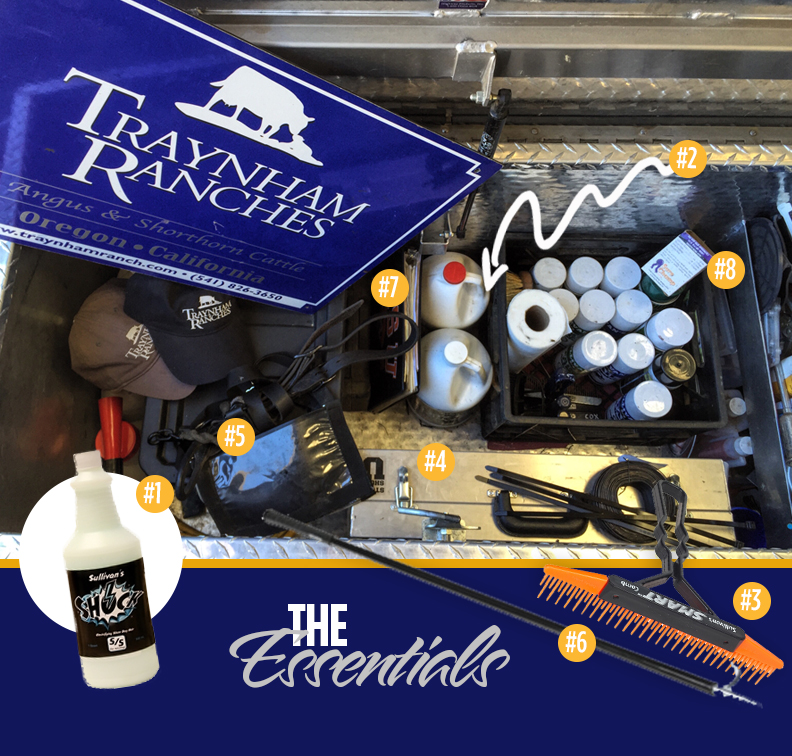 Managing show boxes is a big deal for the Cox family of Eagle Point, Oregon. This cattle family goes to every state and national show possible and often exhibits three breeds of heifers and steers, each. The Cox siblings, Ashley, Maddie and Seth, love showing because of the high level of competition and the friendships they have formed with fellow exhibitors. Ashley, who is 19 years old, says she and her siblings love working with cattle and they seize any opportunity to be part of junior breed associations.
"Showing has allowed me to meet some of my best friends, and I can proudly say from being involved in the livestock industry I've made friends from coast to coast, and everywhere in-between," Ashley says.
The Cox family put emphasis on cleaning and organizing three show boxes before and after every show, so the amount of clutter in their boxes is kept to a minimum. Still they have several items they can't leave home without. Here is a run-down of what works for them.
Sullivan's Shock. This product is a must-have for the Cox family since they use it almost daily. Ashley says it is a heavier oil that works great for show day, compared to Kleen Sheen.
Kleen Sheen and fly spray. These two products combine to make the daily routine possible in their show barn. Maddie, 16, and Seth, 12, both say they like the light-weight feel of Kleen Sheen and after adding the necessary fly spray ingredient, they work it into cattle hair every day.
Double–sided Teflon combs. Ashley says her siblings like the Sullivan's Sensation Curve and the Smart Sensation combs the best. Both are more like a massaging brush that she says work great on calves that have less hair because the combs are finer- toothed and not as sharp. When it comes to fitting, Ashley says Teflon teeth also repel glue.
Clippers. Though the Cox family will use five-speed clippers at home to rough out the long hair, at a show they'll be sure to use Andis to fine tune and touch up each animal.
Show halters and show harnesses. They make sure they have both items in multiple sizes packed away in their main box.
Show sticks. The Cox kids like black or silver carbon fiber show sticks because they're light and easy to carry around. Though the kids keep track of their favorite show sticks and pack them before leaving for the show, they also throw in a couple of extras, just in case.
Registration and health papers. Ashley says these are a necessity and are always stored in a binder together.
Prior to leaving for each show, the Coxes restock everything they don't need to buy at a show like conditioner, soap and paper towels. They go to a general feed store for these items, and when they pack the show boxes and realize they need more of a particular show day item they'll hit the Sullivan trailer upon arrival.   
Sure Champ®. The Cox family uses Sure Champ on their whole herd, not just the show string. Ashley says they keep it in the show box and at home to mix with feed both morning and night. They like this pellet supplement because it keeps their heifers and steers on feed and ensures a good hair coat. Outside of the show barn, their cattle have access to the Vita Charge® Stress Tubs, including calves that are transitioning to grain, and bulls.
Their show boxes are very important to the family's organization at a show. Ashley says it takes three show boxes to hold everything needed to present their animals to the best of their ability. Their main show box is a custom box with wheels on one end and handles on the other. This makes it super easy to load, she says. This box holds all of their adhesives, sheens, halters and harnesses.
The next box is dedicated to blowers, blower hoses and extension cords. This box is aluminum with padding on top and will hold three or four blowers and cords all in one place.
The last box holds their fans. Also custom made, Ashley says this one is painted with their family's ranch colors. Once they're at the show, the fans go up and since this box is empty the family uses it to store their purses, bags and snacks during the show.
"Showing can be chaotic at times and a bit overwhelming so being able to stay as organized as possible is nice and keeps things running much more smoothly," Ashley says. "I couldn't imagine trying to get animals ready for show day without a place to put all your necessities."