Caitlin Wesneski, a high school senior from Needville, Texas, is following in her two older sisters' footsteps, and is now an 11-year veteran of the show ring.
Wesneski has successfully shown three species including pigs, steers and chickens, but her main focus is with her pigs. She recalls the year at the Houston Stock Show & Rodeo where she drove one market hog to eighth place, and placed in the top 100 with her chickens, earning a spot in the premium sale – a proud moment she will remember forever. 
Her success doesn't come without hard work. Each morning Wesneski gets up at 6:30 a.m. to take care of all of her show animals. After school, you will find her in the barn, walking her pigs and steers, washing or rinsing, brushing, conditioning their skin and finally feeding each one by hand. She is outside until 8 p.m., before she tackles homework and a meal.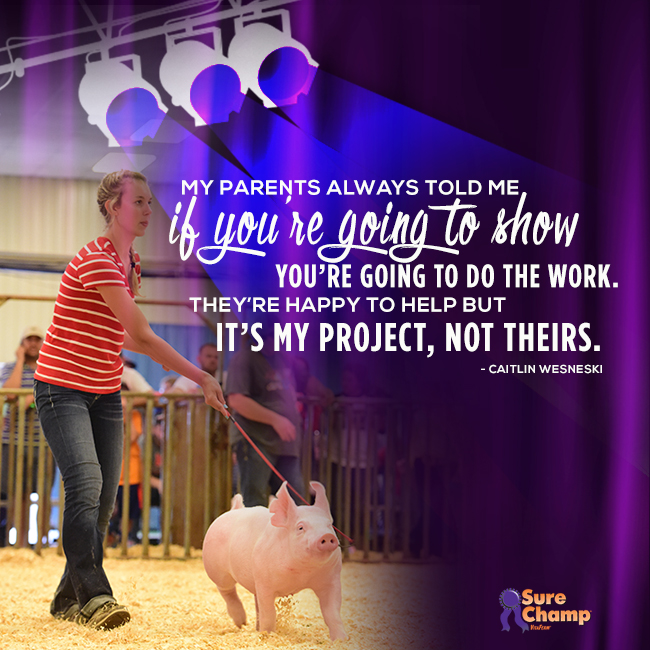 "Lights are essential in my barn," Wesneski says. "On weekends I try to spend more time in the barn and I'm lucky to have the support of my parents, sisters and friends. My parents always told me if you're going to show, you're going to do the work. They're happy to help but it's my project not theirs."
As Wesneski grew up she had to make some choices about her extracurricular activities. She had balanced her time between the show barn and running track until an injury at a district track meet that resulted in a surgical procedure that put two screws in her foot. "I decided that this was God's way of telling me there is something else better to do," she says. "I ran track again one more year, but after my injury I became more interested in livestock, and I knew showing will help me in the future. So I went to more major shows and purchased more pigs."
Wesneski says showing at Texas Majors is very different than a State Fair or a jackpot. The level of competition is higher, and the people she meets are friends she sees at agriculture events all year long throughout the state. There's also something special about a Texas major show ring.
"It's hard to describe, that feeling of going into a show ring at one of the biggest pig shows in Texas," she says. "It's an accomplishment to even be there and to have the opportunity to show there too."
Wesneski has done well at several Texas major shows, with both her hog and poultry projects, and as a senior, she is currently preparing pigs for San Antonio, Houston, Austin and her youth fair. She also plans to show at the World Pork Expo in June.
Her most exciting show ring moment came last summer at the Belt Buckle Bonanza. Wesneski drove the reserve grand market hog – a moment she won't soon forget.
"My heart was pumping. I wasn't expecting it," she says. "It really makes it fun, just thinking the judge will pick you then he starts walking your way and shakes your hand."
Even when she doesn't win, Wesneski says she still has the feeling of accomplishment. Being in the show ring is an exceptional feeling, and the people she meets in the livestock industry are more genuine than other groups.
"I'd like to thank Mr. Brockman for his continuous help and support along the way," she says. "Without his encouragement I would have never started showing at the Texas major shows. My family and friends have always supported me throughout my showing career in any way possible. And Sure Champ has been a big deal in my projects, being a great feed supplement that all of my pigs get, by stimulating appetite and increasing performance potential."
She would tell another young person to follow their heart and never give up, even when the work at home and the placings in the ring are not what you want them to be. She has a passion for the livestock industry and will make it her lifestyle forever, Wesneski says, which wouldn't have happened if she'd given up.
Her immediate future plans are to attend Texas A&M University or Sam Houston University in Huntsville and become an agriculture education teacher. She also wants a bigger barn so she can raise more show pigs.