Kali and Kassi Koy are more than sisters who show livestock together. They are a team, a partnership, that is unwavering and dedicated more than any story could tell.
The girls are high school students from Willis, Texas. Together they show heifers, steers and market hogs, and they do it because they absolutely love it.
Their passion for showing can be attributed to the fact they have always been around show animals. Their uncle was an ag teacher who retired when Kali was born. The family barn was perfectly set up for show animals so it was natural that Kali began showing in peewee competitions at age four.
"I was around it when I was young, not even old enough to show," she says. "My uncle was always helping people, and I got into it easily."
Kali is now 18 and sister, Kassi, is 15, so their show careers have been simultaneous. They both have a keen interest in working hard, showing well and understanding the livestock industry, even beyond the show ring.
Kassi says they manage cattle and pig projects year round, buying summer pigs for their state fair then pigs for several Texas major shows including Houston, San Antonio and Austin and finally for their county fair, held in April. By the time their county fair pigs are out the door, it's time to prepare for and buy summer pigs again.
The Koy sisters also participate in progress shows in their area throughout the month of January. Kali says these weekend shows help them prepare their new animals for the ring. On top of their show projects the girls also spend numerous hours preparing and competing for FFA public speaking contests and Career Development Events.
No matter what day, event or animal the Koy sisters have an understanding. They work together and as a family unit to get everything accomplished. When the tasks including washing, feeding and exercising the two of them split the duties and share the highs and lows.
"My favorite memory was when my sister and I were showing at the county fair with pigs and two years in a row we had pigs in the same class," Kassi says. "One year I had first place and Kali had second behind me. Then the next year she won the class, and I was second behind her."
Kassi also remembers a time when the odds seemed against her family's love of showing. Just five miles from the exit for the fairgrounds their family was in an accident. It was Kassi's first year to show, and they were headed to check and weigh in at the county fair. She says there was a storm, and they drove through fog and hit a car stopped in the middle of the highway.
"We couldn't stop fast enough," she says. "My pig hurt its leg and the vet gave us stuff for it. We checked in on Friday and show day was on Monday so each day I'd get in the stall and rub its leg with various products and baby it. On the day of the show he was walking fine and we were able to show."
Even through challenges the Koy sisters say showing livestock has been a family affair for them. Their extended family is always around the ring, helping however they can. The girls shop for cattle and pigs with their uncle. Their grandma is always willing to bring the forgotten shirt or belt to the show. Their aunts help in various ways, and the girls assist their cousins with their own show animals. The girls are definitely aware of and appreciative of the constant support.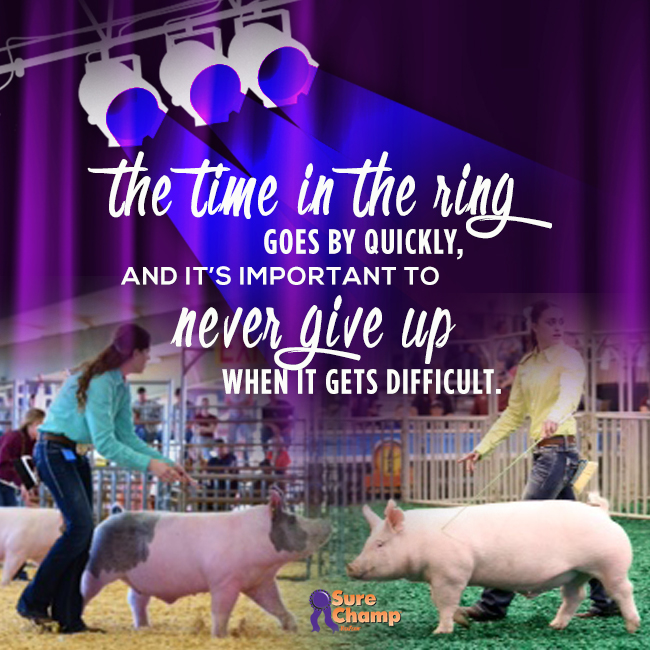 Kali's advice to other young showmen is to have fun and do the absolute best they can. The time in the ring goes by quickly, and it's important to not give up when it gets difficult. Kassi says to be patient with stressed animals and remember to take that experience and learn from it.
"Hopefully you can change it," she says. "Take the bad and turn it into good experiences in the show ring."
Kassi says showing pigs allows her to see a project from start to finish and makes her feel like hard work has paid off. A show ring highlight for Kali, was winning her Yorkshire market hog class last year in . This year Kassi is super excited to show at San Antonio for her first time. However, it will also be Kali's last San Antonio show ring experience.
The two have had so many experiences together that it might be harder than they realize next fall when Kassi hits the barn each day alone. Kali's plans to attend Texas A&M University and major in Agribusiness, with hopes to work in the animal pharmaceutical industry one day.
When asked, the Koy sisters can easily reflect on their favorite show ring memory at the county fair in 2009. Of course, they were in it together.
"I won Reserve Grand Champion Steer and Kassi was third in the sale order so our overall placings were back to back," Kali says.
And they say that's how they'll always be, in and out of the show ring.