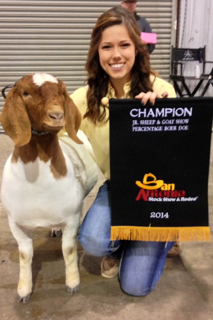 You can always tell who instantly has a passion for livestock. This is how I felt when I was first introduced to Alex Prickett. Alex's enthusiasm for showing her goats and the livestock stock community is contagious. She has been extremely competitive in the showring this past year, but she always remains humble and know that the friendships she has made are the best part of stock show life. We are proud to have Alex as a Sure Champ customer!
1. Tell us a little bit about yourself?
My name is Alex Prickett, and I am 18 years old. I currently live in Aubrey, Texas, which is a small town about an hour north of Dallas/Ft. Worth area. I live with my dad, Doug Prickett, and we currently own 60 acres where we keep my goats, and a small number of cattle and horses.
2. What species do you show and how did you get into to showing?
I show Boer goats, mostly does through the American Boer Goat Association. I also show some wethers on the jackpot circuit, county and national levels. When I was nine we were keeping my horse at a friend's house whom, at the time, had a lot of goats. When the does would kid out, some babies would require the bottle to survive and I quickly volunteered. Lets just say it was not long before our entire kitchen was full of baby goats. I thoroughly enjoyed raising the babies and spending time caring for them, so one of my friends who showed recommended that I join 4-H. It was then I started showing and the rest, as they say, was history. In 2011, I met Brenda Larner of Wetherford, Texas, and Agnew Boers, and I started showing, traveling, and partnering on show goats with her. She has been one of my biggest supporters, assets, and like another parent to me. Because of her I have gotten to travel from the East Coast to the West Coast and pretty much everywhere in between, doing what I love!
3. Tell us a little bit about the success you have had this year?
This past year has been crazy! At the Junior ABGA Nationals in June, I won Reserve Overall Percentage Bred and Owned Doe, and we also won Overall Grand Buck! We won grand in both the percentage and fullblood division in the junior show at our state fair. We had Reserve Overall Fullblood Doe at NAILE, Grand Percentage and Grand Fullblood at the NWSS, Grand Commercial Doe and Grand Percentage Doe at Ft. Worth. Most recently we won Reserve Grand Fullblood Doe and Grand Percentage Doe in the Junior Show at San Antonio, which was really special to me because it came with a $10,000 scholarship for my future education.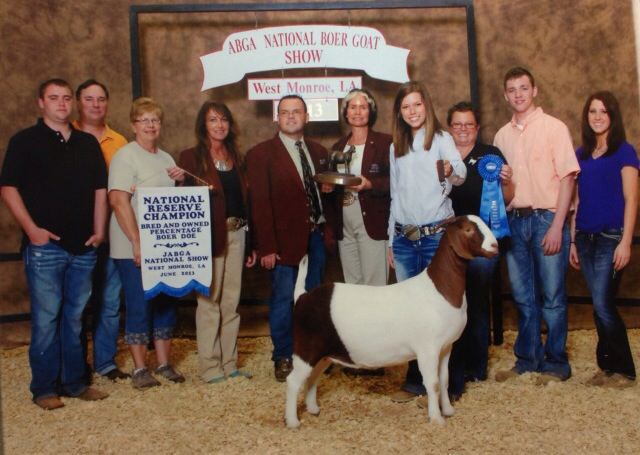 4. What is one of your favorite showring moments?
My favorite showring moment would have to be right after I won the Junior Show at San Antonio. The judge had barely gotten done talking reasons when I ran to the side of the ring and hugged Brenda. We both started crying. It was such an amazing feeling that all those hours and hard work paid off. I've been told that so many people work hard all their lives and it simply never plays out for them. I am so humbled and blessed to be one of the lucky few that it has worked out for.
5. How has Sure Champ helped you achieve success in the showring?
I started feeding Sure Champ this show season. I have noticed a big improvement in the does staying on feed when we haul them. As well as it has really helped those does who don't always have a steady appetite and want to clean up their feed on a daily basis. The difference of an animal going off feed and having a steady appetite at a show or at home can be the difference of getting the gate or winning the show!
6. Do you have any show barn or show day good luck charms or superstitions?
I have never been a real superstitious person. I do have a necklace shaped like Texas with a heart in it that my dad got me and I wear it to every show. But as for superstitions I just try to work my hardest up to the day of the show and give it my best in the ring. That way, win or lose, I know I gave it my best and that makes the out come easy to accept.
7. What are your future plans?
I plan on going to college and earning a degree in ag education. I love what I do now and really think I would enjoy teaching and helping others that share this passion with me. I think I will always want to live in Texas (God's country) and raise Boer goats. I can't imagine myself without livestock and I don't think there is a better environment to have a family in.
8. Anything else you would like to add?
I would just like to say thank you to everyone who has helped me along the way from my parents, family, friends, ag teachers, 4-H advisors and fellow showman. I don't think I could ever name them all. I have been so blessed and humbled for all the support I have received over the years! When I think about my career as a showman a quote always comes to mind, "The ribbons fade, buckles tarnish, but in showing livestock the friendships last forever." This quote is so true, while winning banners is fun I know the real value of these last 10 years is not the banners or buckles, it all the amazing friends I have gained along the way and all the lessons we have learned together!