"Lots of people can be cowboys, few can be cattlemen. But no one can match the heart and should of a cattlewoman," – Anonymous. It's safe to say that after talking with Bayley and others that know her will say not many can match the heart and soul of this young lady. There's no one word that can describe her and her accomplishments both in the showring and scholastically; incredible doesn't even come close. It is an honor to haveMiss Bayley Kroupa and her family as a Sure Champ customer." – Britney Creamer
Tell us a little about yourself.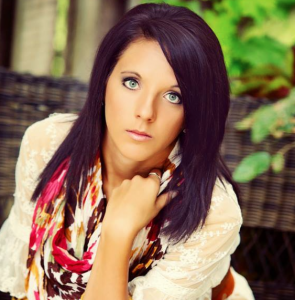 I live in White Lake, SD on the Kroupa Ranch, where I have been sculpted into the individual I am today. I am currently a high school graduate from Kimball High School and plan to attend South Dakota State University in the Fall. While in high school I participated in many events, such as cheerleading, band, National Honor Society, New Horizons, and PALS. Not only that, but I stood as the chapter Public Relations Officer and President for the Kimball FCCLA, Historian for FBLA, and was captain of the Kimball Color Guard which I threw rifles in for five years. Not only did I strive for success throughout community projects and organizations, but I also set a high standard for myself when it came to academics. With a cumulative GPA of 4.066, I represented the honor students at graduation by wearing a set of yellow chords. I have had a very successful high school career and cannot wait to see what my future at SDSU has in store for me.
What species do you show and who has influenced you most in your show career?
Since I was eight years old, I have lived my life through livestock and couldn't settle for only showing one species. I began my showing career with showing steers and market heifers and slowly worked my way up to where I am today. As of today, I show cattle, swine and market goats. Along with those animals come duties and responsibilities that need to be fulfilled.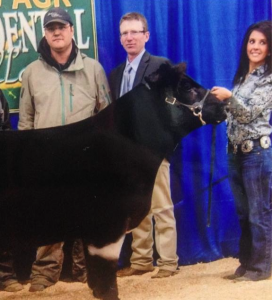 The one person, who has helped me through those obstacles and gotten me to where I am today, is Nick Reimann. Since I was little and to this very day, I have looked up to Nick and have tried my best to always thank him for all that he has done for me. Nick has been to nearly every show right along side me, and my family, and has shown me the ropes and the tricks to the trade. He showed me that with a little hard work, and the right attitude, I could accomplish anything. Nick had a special way of showing me "tough love" but never having a negative attitude and that has gotten me far not only in the livestock industry, but in life.
Tell us about the success you have had this year as well as last year.
This year has been quite successful for me, and those who have been helping me along the way. This year I have traveled to a show nearly every weekend and began to cherish the time I slept in my own bed. This year I was selected as Champion Breeding Heifer at Purdue University Preview Show, Champion Market Steer at the Blackout Jackpot, Green and Gold, Scott City Showdown, Clayton "Bud" Calkins Memorial Show, and Davison County Winter Elite. Also selected as Reserve Champion Steer at the SDSU AGR Presidential Classic, Sneak A Peek, and the Lincoln AGR. Throughout traveling the country this fall, winter, and spring, I have had many success stories to tell, many banners hung, and many smiles to be had. Every "win" makes me more and more thankful for my family and their support, as well as the Reimann Ranch and all that those individuals do for me.
What is one of your favorite show ring moments?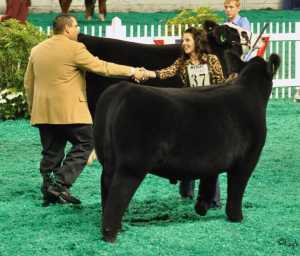 One of my favorite show ring moments was when I was 14 years old and standing in the showring at the North American International Livestock Exposition. That was the year that I had won my first national title. I remember the anticipation that was had, the sounds of the crowd, and the firm handshake of the judge. I remember the tears that were cried, the hugs that were given, and the "You did it!" from my dad and Nick. Having my steer chosen as Reserve Grand Champion Market Steer at 2009 NAILE will be a memory that I have treasured and will treasure forever.
How has Sure Champ helped you achieve success in the showring?
We have fed Sure Champ on the Kroupa Ranch for many years now and firmly believe that it works wonders on our livestock. Sure Champ has helped me achieve success in the showring by giving my cattle the added hair gloss and desirable feel to the touch when handled by the judge, as well as maintaining appetite.
What are your futures plans?
I plan to attend South Dakota State University in the fall. With that, I will be majoring in Agricultural Business and minoring in Human Services. With a passion of helping people of all ages and doing so throughout my love for the ag industry, I believe the world is a picture that has to be painted by this and the future generation and cannot wait to see where life takes me! 
What advice would you give to others that hope to become successful like yourself?
I would advise those who strive to succeed inside and outside of the showring to keep a positive attitude. Winning isn't everything, but it sure feels great! Take the losses and use them as one more reason to work harder on your animals in order to get where you aspire to be — in that winning circle. Also, ask your elders as many questions as you can, bring snow pants to every winter show, and never forget the fans for those hot summer jackpots.
Anything else you would like to add.
I want to thank my family and the Reimann Ranch. My family is the most important aspect of my life and they hold a very special place in my heart. Without them, and the individuals from the Reimann Ranch, I would not have been as successful as I have been in the livestock industry and in the showring.