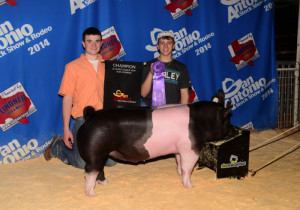 In no other industry do we see a stronger bond between siblings than within the livestock industry. Although not blood brothers, Tyler Kelly and Zach May are a perfect example of team work, family pride and enthusiasm both in and out of the showring. This stepbrother duo has been extremely competitive in the showring for years, and in the last few months it seems they're nearly unstoppable. We are proud to have Tyler and Zach as Sure Champ and Vita Charge customers.
Tell us a little about yourself.
Tyler: My name is Tyler Kelly, I am 17 years old from Bullard, Texas. I am a junior at Bullard High School and a member of the Bullard FFA. My other hobbies are hunting, making people laugh, and spending time with my friends and family.
Zach: My name is Zach May, I am 16 years old from Bullard, Texas. I am a junior at Bullard High School and a member of the Bullard FFA. I have been showing since 2008, when my mom married Tyler's dad. When I began showing I never knew I would love the show industry as much as I have. I also like to hunt, watch movies, work out and spend time with my family and friends.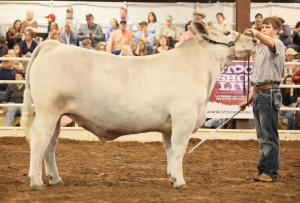 What species do you show and who has influenced you most in your show career?
Tyler & Zach : We both show market hogs and steers. There is more than just one person in our showing career that has influenced us and allowed us to excel to our highest abilities. Our biggest supporters are our family. Words can't describe how thankful we are to have an awesome family behind us every step of the way. We have also been blessed to have the best mentors in the nation. Our ag teacher, Mr. Dildine, has allowed us the ability to have a barn full of the highest quality pigs, year after year. Mr. Dildine and his son, Josh, have been here for our family 24/7, always offering advice and guidance. They have always pushed us harder and even though when times don't go our way, hard work always pays off in the end. Another person that has had a real influence in our show career is Colton Airhart of Airhart Show Cattle. Colton has had a huge influence in the success that we have seen in the cattle barn. We view him as a leader and a role model, along with our family, Mr. Dildine and Josh.
Tell us about the success you have had this year.
Zach: Champion Prospect Santa Gertrudis and Reserve Champion Dark Cross Hog
 at the 2014 State Fair of Texas in Dallas, and Reserve Champion Crossbred Barrow at the 2014 Fort Worth Stock Show.
Tyler: 2014 San Antonio Livestock Expo Champion Prospect Brahman
 and Reserve Grand Champion Barrow
 and Star of Texas in Austin Champ Brahman
What is one of your favorite showring moments?
Tyler: Being chosen Reserve Grand Barrow at the San Antonio Livestock Expo was a moment that I will never forget. It was so overwhelming because that was something that my family and I have been trying to accomplish for 15 years and it finally happened.
Zach: It would have to be a tie between my Reserve Champion Dark Cross at Dallas and Reserve Champion Cross at Fort Worth. It proved to me hard work pays off and come back fighting stronger at the next show.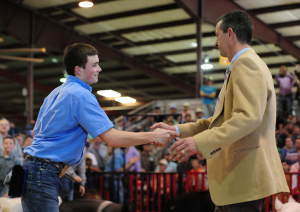 How has Sure Champ helped you achieve success in the showring?
Tyler & Zach: We use Sure Champ and Vita Charge and have seen boosted appetites in our barrows, which has allowed them to reach their full potential.
What are your future plans?
Tyler: I plan on going to college, hoping to start off at a junior college judging livestock and then moving onto a senior college and majoring in animal science.
Zach: I also plan on going to junior college and judging and then moving onto senior college. I would like to major in engineering, but not sure which field.
What advice would you give to others that hope to become successful like yourself?
Tyler: I would have to repeat something that has been drilled in my head since I was a young kid that has motived me to be the best I can be. "Winners can do things losers don't want to do" – Stu Dildine
Zach: Mine would to be never to give up. Even when you get knocked down, let those experiences build your character and not shatter your dreams.
What is your brother's  biggest strength in the showring?
Tyler: Zach's biggest strength in the showring is the ability to stay calm on the stick and pay attention to his surroundings. He sees the holes that he needs to get in and shows the best views of his barrow, and keeps his steer in place.
Zach: I really think Tyler is best at the end of a steer halter or pig whip. He has a natural ability to get what he needs to get done.
How important is family involvement to you?
Tyler: Without my family's support and involvement I would be nowhere near where I am. This is a real passion for my brothers, Reagan, my sister, and I, and through our success it has become a passion for my parents as well. It's also awesome to be able to share these experiences in the showring with Zach.
Zach: Family involvement is really important to me, because when one of us is ready to throw in the towel there is always someone rooting us on with a positive words and encouraging us. Without my family none of this wouldn't be possible for me.