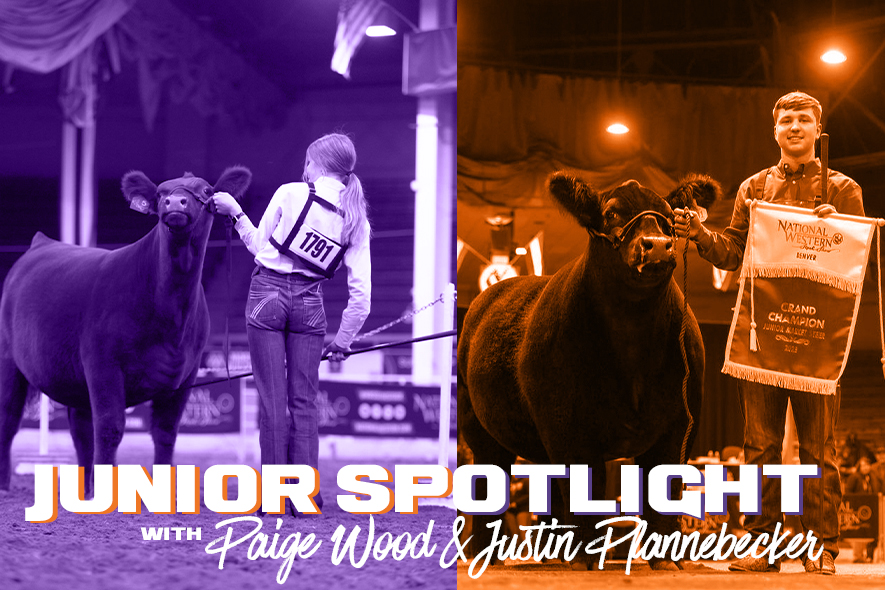 As we enter the month of May, we celebrate Mother's Day, graduations, breeding season and start thinking more about how to #PreptoWin for summer shows. This month we shine our Sure Champ® Junior Spotlight on two young people who are passionate about the beef industry and have grown up in it surrounded by their family.
Justin Pfannebecker, La Salle, Colorado, is a senior at Platte Valley High School. Paige Wood, 17, is from Big Cabin, Oklahoma. Both have been showing livestock for years, thanks to their family involvement. Let's learn more about Justin and Paige, like which one is looking forward to graduation, which looks forward to barn time with Mom, and which one will be using another BioZyme® product to boost conception rate on the cow herd. Both of these juniors will also share their favorite shows and their formulas for success when it comes to using the Sure Champ and Vita Charge® products.
Tell us how you got your start in the show ring?
Justin: I started to show in 4-H when I was 8, alongside my older brother and sister.
Paige: I have had a passion for the cattle industry for as long as I can remember. From the age of 5 with my very first show heifer, I have found a place in this industry. My family owns and operates a purebred Red Angus cow-calf operation, and I have a true lifestyle in this industry.
What species/breeds do you show?
Justin: I show cattle as well as hogs. Breeding heifers I show include Simmental and Maine-Anjou. Market steers are typically crossbred. For hogs, I exhibit Hampshires and crossbreds.
Paige: Although I have shown many breeds, I would have to say Red Angus have a true place in my heart.
Which Sure Champ® and Vita Charge® products do you use?
Justin: Some of our favorite products from Sure Champ and Vita Charge include the Vita Charge Stress Tub HEAT, Stress Tub, and Sure Champ Cattle pellets.
Paige: My favorite product when it comes to being on the road would have to be Vita Charge Cattle Drench. This product keeps my calves on feed as well as boosts their immune systems during these times of stress. Another one of my favorites would have to be VitaFerm® Concept•Aid® HEAT®. This product has been a game changer in my herd. In the heat of Oklahoma, this mineral keeps my cattle grazing and fights the issues I have with fescue grass, as well as helps with timely reproduction.
What are the biggest benefits you have seen using our products?
Justin: The benefits of the Sure Champ Cattle pellets are they provide all the vitamins and minerals needed to grow and develop. The Stress Tub helps cattle stay on feed, which is important for my daily rate of gain. We also use the Heat Stress Tub during the summer, to keep that calf's body temperature cool so they are more comfortable and continue to finish out.
Paige: I feel that BioZyme is reliable and dependable when it comes to taking care of my livestock. The things I invest in, as well as my family, are truly supported by BioZyme, and my best results have come from this top notch team working their hardest to achieve big goals.
What is your favorite show and why?
Justin: National Western Stock Show will always be my favorite show. This national show is only 45 minutes from home. I have had great success there, which makes it my favorite show.
Paige: My favorite shows to attend are the Fort Worth Stock Show & Rodeo and the National Western Stock Show. I have had tons of success at both of these, and I enjoy attending these places because of the friendly environment. Also, my memories of showing are not just made in the ring at these shows, but outside the ring with the lifelong friends that I've made over the years.
What are your plans for the future?
Justin: After high school I am attending Northeastern Junior College with an emphasis in Agriculture. I plan on receiving my bachelor's degree following NJC.
Paige: After high school, I plan to attend a junior college to pursue my livestock judging career. After that, I want to study Animal Science at a 4-year university. After college, I plan to run my own cattle operation to raise and sell show cattle.
Who is your biggest role model?
Justin: My mom would have to be my biggest role model. Day in and day out she is out in the barn with me. Without her support, the success I have had would not be possible.
Paige: This is a tough question, but I would have to say my older brother, Derrick. Derrick has pushed me to my farthest and has made me the best I can be. He truly has a passion for the cattle industry, and it shows in his work. From early mornings to late nights at the barn, he has never failed to show me what true hard work means and how blessed I am to have him around.
What is your favorite/greatest accomplishment?
Justin: My favorite accomplishment would be exhibiting the Grand Champion Steer at the National Western Stock Show in 2023.
Paige: My greatest accomplishment would have to be taking a bred-and-owned Red Angus bull and winning Tulsa State Fair, Oklahoma State Fair, Iowa State Fair and the
Fort Worth Stock Show & Rodeo all in the same year and then turning him out to breed cows and selling semen out of him.