Miranda Skaggs is no doubt a rising star on the Texas show circuit. At the age of 9, she has accomplished more than most in their entire junior show career. She works hard and has the family support to back her up. We look forward to the great things this little lady will accomplish both in and out of the showring!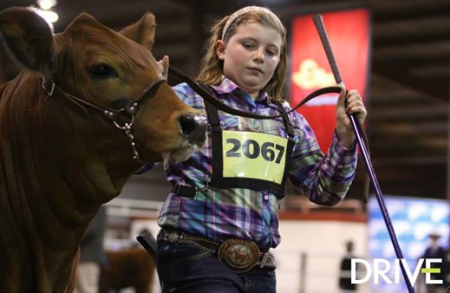 Tell us a little about yourself.
My name is Miranda Skaggs and I just finished third grade at Bowen Elementary School in Bryan, Texas. I am nine years old, so this was my first year to raise and exhibit livestock as a Brazos County 4-H member. My parents are Chris and Misty Skaggs, and I have a younger sister, Camryn, who will begin kindergarten in the fall. We recently moved out to the rural property where our livestock barn is located, so we are all looking forward to simply walking back and forth between the barn and our home instead of my parents driving our family 20 minutes between our barn and home at least twice a day! 
What species do you show and who has influenced you most in your show career?
I raise and exhibit cattle and pigs. Without a doubt, my dad is my greatest livestock influencer. However, I have received tremendous support throughout my first year of showing from my parents, grandparents, extended family, and friends of my family. I attended my very first cattle show camp at the Texas A&M Beef Center with my mom last spring, organized by Paul Maulsby, and what a great hands-on experience that was for my mom and me! I purchased my heifer, Hagan Ginger, from Reese and Codi Hagan and the Hagan Cattle Company in Yoakum, Texas, and they have really mentored me throughout the year, plus they continue to help me prepare for the state and national Simbrah junior shows this summer. In addition, I am grateful to John Nelson of Oklahoma who selected my first exotic steer for me, and to Texas A&M undergraduate student Joey Van Hecke for his cattle showmanship and herdsmanship mentoring all year long. I am also grateful to Kelton Mason of Montgomery, Texas, who selected my first crossbred barrow for me, mentored me throughout the year, and taught me how to exhibit barrows in conjunction with added showmanship assistance from Texas A&M undergraduate student Konnie Kelso. I also greatly appreciate the Cain family in Iowa who selected my first Duroc and Yorkshire barrow projects. 
What is one of your favorite show ring moments?
My favorite moment this year was at the 2014 San Antonio Livestock Exposition Simbrah Heifer Show when I was the first exhibitor pulled from a large Simbrah calf class right as I was walking into the show ring with Hagan Ginger. Another favorite moment was winning Grand Champion Heifer with Hagan Ginger at the Simmental/Simbrah Superbowl during the San Antonio Livestock Exposition.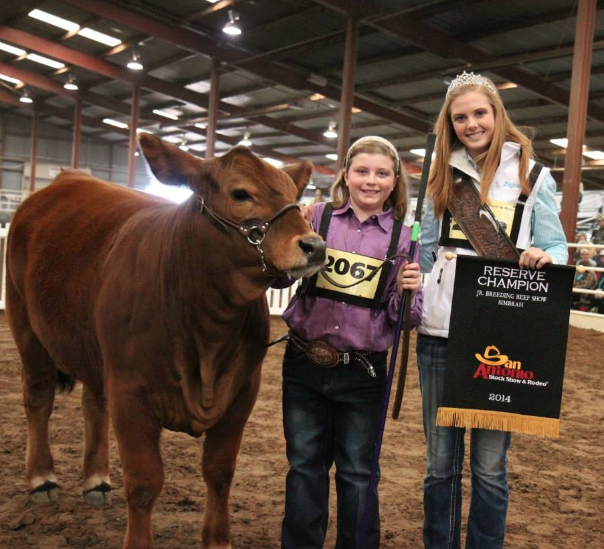 Tell us about the success you have had this year.
Hagan Ginger has been very competitive in the show ring during my first year in 4-H and I think she is not only very pretty, but she is also a very sweet heifer, and I adore her. In 2014, she was named Reserve Grand Champion National Simbrah Heifer and Reserve Grand Champion Simbrah Heifer in the Junior Show, Fort Worth Stock Show; Champion Simbrah Heifer, San Antonio, TX; Champion Simbrah Heifer, Simmental/Simbrah Super Bowl; Reserve Champion Junior Breeding Beef Simbrah Heifer at San Antonio; and Reserve Champion Junior Breeding Beef Simbrah Heifer at Austin Junior Show. 
I enjoyed showing my steers and pigs, too! I won Champion Hereford Steer at the Pecan Classic Steer Show in Seguin, Texas, and I had Reserve Grand Champion Steer at the Brazos County Livestock Show. Furthermore, I placed fifth and sold my Duroc barrow at the Houston Livestock Show and Rodeo and won Reserve Grand Champion Cross Barrow at the Brazos County Youth Livestock Show. It has been an amazing first year of raising and exhibiting livestock in 4-H!
How has SureChamp helped you achieve success in the showring?
We use Sure Champ as a mineral supplement for my heifer and steers and my family believes it helps my livestock projects consistently remain healthy and stay on feed whether they are in the barn at home or on the road at stock shows across Texas during various seasonal conditions. We have experienced wide swings in temperature — from an extremely warm summer to colder than normal winter – so maintaining cattle on feed was critical and Sure Champ helped ensure consistency of feed intake.
What are your future plans?
I plan to continue showing heifers, steers, and pigs so that I can hopefully earn scholarships to help finance my college goals. I plan to attend Texas A&M University and become a veterinarian just like my uncle Dr. Randy Skaggs and Dr. Eleanor Green, Dean of the Texas A&M College of Veterinary Medicine & Biomedical Sciences.