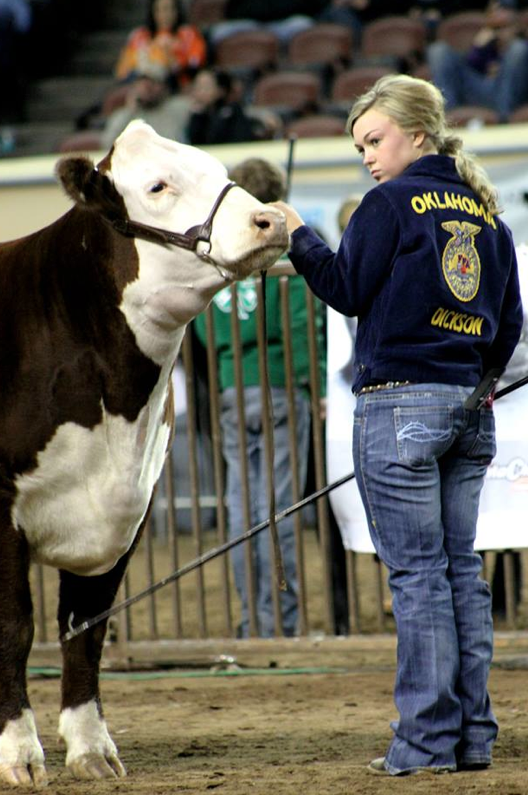 I first met Victoria at the Oklahoma Youth Expo. I could quickly tell that this young lady's determination and work ethic were going to take her far. This year the Oklahoma Youth Expo was a big one for Victoria. She won Overall Master Showman (a competition where you have to show multiple species) and Supreme Champion Heifer. You have to watch the video we took of her in the Grand Drive. Her expression is awesome. – Crystal Blin
Tell us a little about yourself.
My name is Victoria Chapman, I'm 16 and attend Dickson High School in Oklahoma. I'm the daughter of Eric and Tracie Chapman, I have two siblings, Erica and Fred Chapman, and am a 4th generation cattlewoman. My life constantly consist of cattle. Starting at the age of two I've known nothing more than raising, grazing, and working cattle!
What species do you show?
I only show heifers, but previously showed sheep. I started showing sheep at the age of 3 when my parents raised goats, I took my first goat "Peanut" to our local show and braced her! At the age of 9 they handed me my first lamb, and from there on my showing career began. At the age of 11, I was feeding show heifers with my brother and dad at a family friend's house that raises show heifers. While I was feeding the Maine Anjous one heifer shocked my eyes as she walked up to me and started eating feed right out of my hand. From that moment on, I knew I wanted nothing more than that heifer. My parents played a joke on me telling me another little girl fell in love with the heifer and had bought her, but come to find out my parents had actually bought her and I came home to find a beautiful black heifer named "Sophie" waiting for me in the pasture.
What is your favorite showring moment?
My favorite showring moment would most definitely be the hugs, smiles, and excitement of winning Supreme Champion Heifer at the 2014 Oklahoma Youth Expo. The excitement of the slap and the hand shake is more than anyone could ever explain. The hard work, the support, and the memories I got to share with my family and my stock show family will never be forgotten.
What showmanship advice would you give to others?
Showmanship is one thing that you can't ever let get the best of you. If you fail once, you have to get back up and try again. It's only one man's opinion. The best showmanship advice I can give for showing sheep and heifers, is to always keep your eyes on the judge and make sure they know when you step in the ring, show them right off the bat, whether it be your facial expression of determination or your performance in the ring that you mean business. Additional advice I can give would be no matter if you're in the ring to win your class, heat, or the division always show the exact same. Do not try harder to win the big prize, be consistent in your performance. The mistakes I see a lot of individuals making are as I stated not having full eye contact, trying too hard to win the big prize, and not having fun. We show livestock to have fun, go and enjoy yourself.
How has Sure Champ helped you achieve success in the showring?
We use Sure Champ pellets daily, and it has provided me with a lot of success. It has steadied my cattle of their eating habits and has kept their hair growing and strong.
Do you have a show barn good luck charm or superstition?
My show barn good luck charm would definitely be my show stick. My show stick with the black duck tape on it. It might be the roughest and the ugliest in the barn but it means the world to me. The reason it means the world to me is because it was my brother's from when he showed all of his cattle in his show career. I don't walk into the showring without it. My superstition is a quiet normal one, I do NOT wear yellow in the show ring or on show day. I honestly do not know why I have this superstition, just something I've always believed to be bad luck.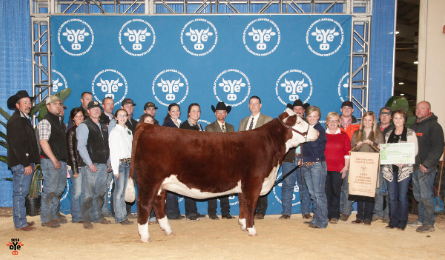 What are your future plans?
My future plans are to graduate high school and attend Oklahoma State University (OSU). At OSU I plan to major in agricultural communications with a business degree, hoping to get the opportunity to do photography, graphic design, and journalism.