Cheyenne Jones has been in the show ring so many times she can barely remember her first show, but she does remember the excitement of her first win.
Her parents bought an Angus heifer from Express Angus Ranch in Oklahoma, and at 9-years-old, Jones exhibited the heifer at her county fair in Washington Parish, Louisiana. Jones remembers being nervous and also that she won the Angus show.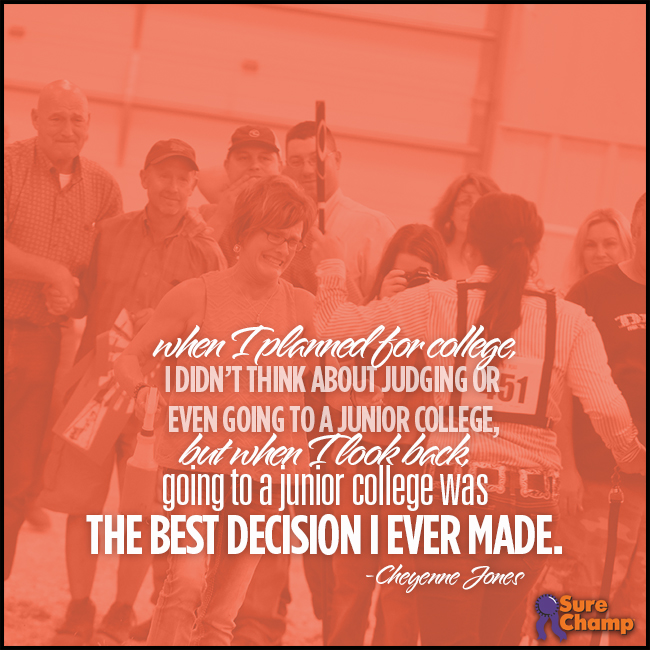 "I wasn't expecting it," Jones says. "I had been to many, many shows before this one, but it was pretty exciting when I won on my own. She was pretty broke, and I remember it was the summer I turned 9."
Jones has won a few more shows since then- most recently showing the Grand Champion Bred-and-owned Heifer and Reserve Champion Owned Heifer at the 2016 National Junior Angus Show in Nebraska. And though both her show record and showmanship accomplishments are impressive, it is the personal side of Cheyenne and her relationships with others that makes her a true champion. Jones' relationship with her parents is unique, a strong bond that some kids long for and one others would run from. Jones and her mother, Gail, are best friends. Even while Jones is starting her junior year at Oklahoma State University, she and Gail talk multiple times daily. Her dad, Mike, is her biggest fan, she says, and adds that he's big softie.
Maybe it's because she was an only child and literally grew up on the show road that helped Jones connect with adults right away. Her parents exposed her to livestock shows almost immediately. Jones was born in June and went to her first National Junior Angus Show when she was a month old. Jones grew up with the people who worked in the show barn for the Angus ranches managed by her dad, in both Oklahoma and Louisiana. She was mature for her age because her parents were always with her and talked to her like an adult.
"Some of the guys coming to the ranch were my best friends," Jones says. "Mom and Dad wanted me to be in the show barn so I'd like it when I was old enough and really appreciate it. Mom and I have always been so close, and I am lucky my mom is my best friend."
Though she was born in Oklahoma and grew up in Louisiana, Jones' parents now live in Kentucky. This means she has been between 10-to-12 hours from them for the past three years. She started her college career in El Reno, Oklahoma, at Redlands Community College to participate on the livestock judging team. This fall she transferred to Stillwater to judge on a senior college level.
Being raised around livestock and traveling to shows helped her transition to living away from home, as well as gave her a foundation to evaluate livestock on the judging team. "It's been tough, but when I planned for college I didn't think about judging or even going to a junior college," Jones says. "But when I look back, going to a junior college was the best decision I've ever made."
Jones says her two years at a junior college prepared her for life at Oklahoma State. Her Redlands judging team coach, Brandon Callis, was a mentor and a second family member to her, which was really important since Jones was such a long distance from her own parents.
Attending junior college also saved her financially. She transferred to Oklahoma State after having spent a mere $100 on books – her entire out-of-pocket cost during those first two years.
"All of my out-of-state tuition was waived through the agriculture department and by judging," Jones says. "And by buying and showing Express Angus heifers I earned money back through their scholarship program. By the time I got to OSU I didn't owe anything."
Jones says her time judging livestock was something she'll always remember. Because she couldn't run home every weekend and see her parents she relied on her coach and judging team members to fill the void.
And it didn't hurt to learn the art of judging livestock and giving reasons. When Jones joined the Redlands team she had minimal livestock judging experience. However, she learned and practiced enough to talk a 49 in reasons and talk the highest score on a class of Southdown ewes at the Fort Worth Stock Show.
"Public speaking and judging livestock really improved my confidence level and my ability to believe in myself," Jones says. "I think that goes a long ways when trying to sell things. I also credit my coach with teaching me the trade. When you like it, you love it, and it's hard to get away from it."
Besides livestock judging Jones also spent time with extracurricular activities like serving as secretary of the Aggie Club and being active in the Phi Theta Kappa honor society.
Now, as a junior at a land grant university in the state where she was born, Jones says she feels like she's come full circle. She is thankful for her junior college experience that helped her attend two years of school debt-free, meet new people, earn awards and learn a valuable skill.
At the same time Jones says growing up on the show road prepared her for college altogether. She was not homesick as a freshman, even though she was away from her mom and dad. Jones says she was used to being on the road, traveling to shows and meeting people from across the country. Going to junior college and showing livestock helped her make more connections she wouldn't trade for the biggest, purple banner.
"Honestly being away from home that much showing cattle makes you appreciate so much more when you can only go home on holidays," Jones says. "Being able to travel made my time at Redlands not so scary. I learned a lot from mom and dad but also from judging. I learned to explain myself. And now when I show my own animals, if I get beat I already know why."