Packing a trailer before a show is like completing a jigsaw puzzle. Show families want to place things in just the right order, protecting smaller items from being smashed and keeping important things easily accessible. After several shows and especially years of showing livestock, most families have their methods mastered
Ron and Tina Mayer are Peterson, Minnesota, parents who travel with their three kids across the country to cattle shows. The kids initially showed lambs and pigs as well, but have narrowed their focus to Angus, Simmental and Charolais heifers.
Caroline Mayer, who is 16-years-old, says her family takes as many heifers as they can fit in the trailer. And they often need a bigger trailer.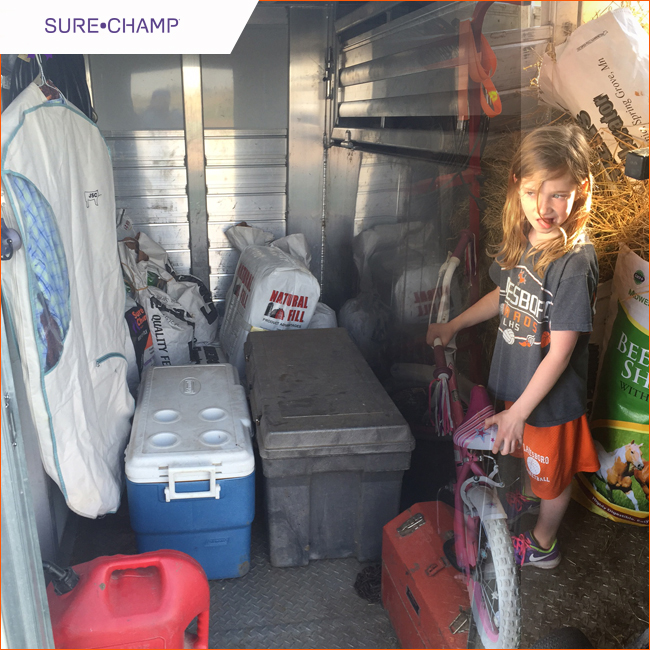 The Mayer's pull a 2011 Four-Star aluminum stock trailer that is 24-feet long and eight–feet wide Thirteen-year-old Bodie Mayer says the trailer has a dressing room that the family has learned to love. It's not a room for clothing, however, it holds all of the mixed feed, last-minute tack, family luggage and his five-year-old sister, Cora's, bicycle and wagon.
Cora says the dressing room can get pretty packed with feed and last-minute items like coolers and clothing but she says they don't leave home without her bike and wagon.
"It loads last and sits right in front of the ramp," Cora says. "It's the first thing we take out at the show."
Caroline says her favorite part of the trailer is the side ramp. It allows them to more easily load all of their large tack, including their chute, end panels and show box. The trailer has dividing gates and the center divider is a rolling gate that can be adjusted based on the number of cattle they need to haul. The only thing she'd change about her family's trailer is the color.
"I wanted a black trailer because it looks cooler but I supposed the white color we have means things don't get as hot inside," Caroline says. "And, if only it was a little longer we could get one more heifer in there."
Depending on the show or the season, the Mayers start packing their trailer with the big stuff. Panels and a chute go in first and are loaded in the front of the trailer using the side ramp. Next is their hay, straw, generator and of course the show box. When they can spare it from daily use, they load butt fans and a dolly cart with two blowers.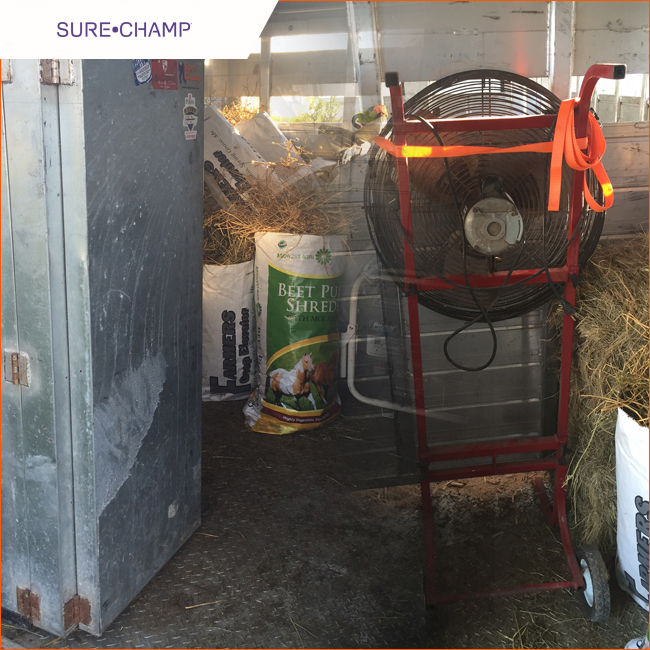 The front of the Mayer trailer is also a place where things are strapped in for safety. They use nylon ratchet straps to keep the show box in place. This is a lesson learned after having the show box open on the road and checking later to see their show sticks had come out and broken. They also strap the blower cart and end panels together for stability.
"We have a method on how we do it," Caroline says. "We have to know everything has its place. This saves us time trying to figure out how to fit everything in."
The trailer packing precision also helps them know if something is missing.
"We have a pattern," Ron says. "The feed pans and buckets are always on the left-hand side of the nose of the trailer. And if they're not, then we know we need to go find them."
Bodie says being organized also makes unpacking at a show much easier.
"Sometimes you get to a show late or after a long drive," Bodie says. "We usually know where stuff is, and can easily find it in the dark."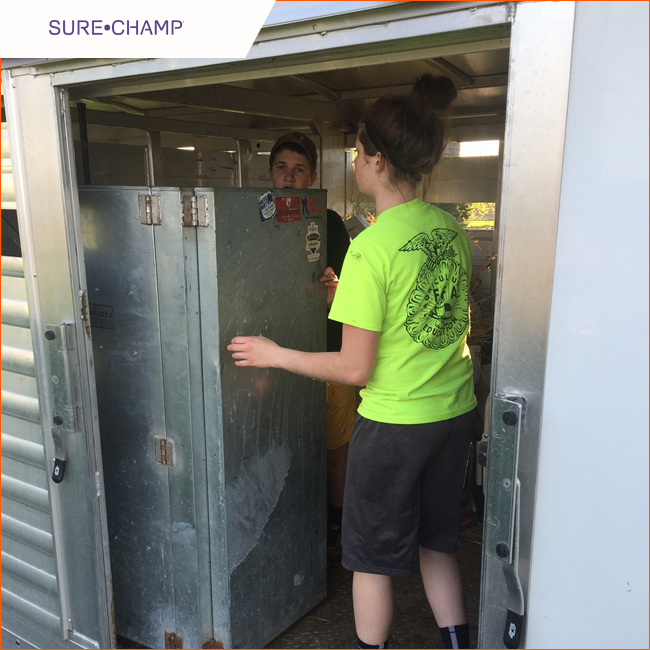 The Mayers also plan for emergencies with a toolbox close to the ramp door and water buckets in the front right neck of the trailer. The family also carries safety triangles to place on the road if they have to pull over and change a tire. Ron says during winter jackpot shows they'll also pack a long chain to help pull themselves or others out of the mud or snow.
For emergencies, show arrival and set-up, Ron says he keeps a drill, wire and tools handy, though the placement of these items is in the back of the truck for quick access. Also, with five appetites, the Mayers keep snacks in a cooler by the trailer side ramp. Caroline says it's also the perfect place for the kid's garment bag of pressed, show-day shirts.
During jackpot season the family has a shade tarp attached to the left side of the trailer that rolls out. Sometimes, they even make small pens and use them to tie out to the trailer, allowing their heifers to be loose versus tied all night.
The family keeps a water hose specifically for the wash rack in their show box but also keeps another long hose to use for bedding in the trailer. Caroline says there are two mats in the trailer as well, one for a two-head stall and another to fit a four-head stall. Both are rolled up and placed in the corner of the front of the trailer.
Bodie says the family usually chips in to help others load and unload their trailers and compare where their items are placed and how organized the Mayers are in comparison No matter how tidy the family is, when they leave home for a show there is always a rush to return home at the end. This means the Mayers' tack probably doesn't return home in as organized fashion as it arrived.
"Depending on the show, like after six days at the State Fair, we might throw everything in and leave," Bodie says. "But if we're at jackpots then we try to put stuff back where it actually goes and make sure it's packed right."