The perfect day for Burk Van Horn would be winning a wrestling match followed by winning a cattle show. When he has to choose between his favorite activities, the decision is not made lightly.
The 18-year-old Franklin Community High School senior from Morgantown, Indiana manages his time in order to balance his show cattle and wrestling passions. Van Horn has been wrestling ever since he was able to walk, and he is not afraid to wear his jeans and boots to school, mostly because he heads to the barn after wresting practice.
Van Horn says he considers both wrestling and showing cattle sports because they each require intense hard work and individual dedication.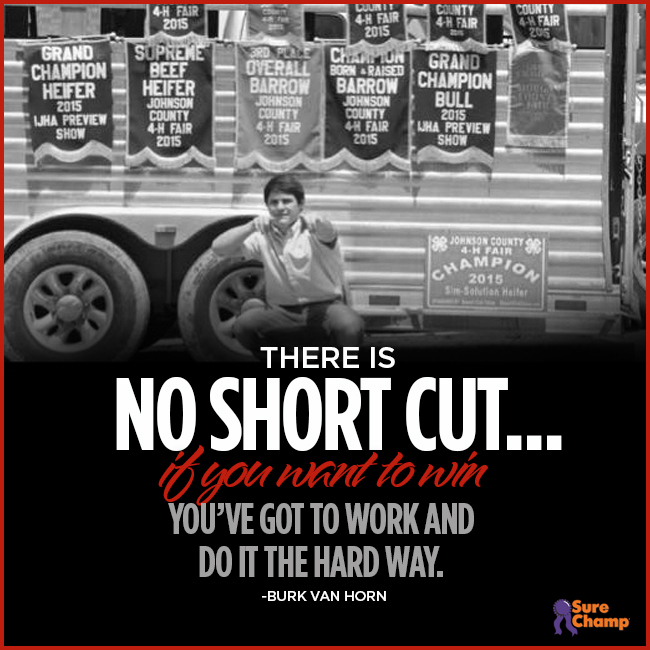 "I have learned to love them both together, and they require an equal amount of work," Van Horn says. "I have to be up early to work cattle, feed, rinse and get them in the barn. Many of our wrestling tournaments start at 8 a.m. so it means being at school early. I also like to help other kids in the county with their livestock, which means finishing practice, helping them, then doing my own cattle chores."
His busy schedule does not leave a lot of time to hang with friends, but he reminds himself he is doing what he loves and he makes time for showing and wrestling above all else. Van Horn shows Hereford heifers and bulls on the county, state and national levels. This summer he took home the Reserve Grand Champion Bred & Owned Bull banner at the Junior National Hereford Expo (JNHE). It was an experience he'll never forget, and one that met a goal he had earlier set.
Van Horn is passionate about goal setting for both wrestling and showing. His perseverance paid off with his bull this summer at the NJHE. His new goal is to win the female show at JNHE and Van Horn is willing to put in the time and effort to do so. When he achieves one set of goals, he raises the bar to the next level.
Setting goals and meeting them carries over to the wrestling mat as well. For example, he met last year's wrestling goal of making it to the IHSAA Wrestling State Finals and finished as state runner-up in the 160-w lb. weight class. Though he did well, Van Horn says he is training hard for his final high school wrestling goal – to win the state title.
Van Horn says wrestling has complimented showing cattle. He says it helps him build the strength needed to show big cattle, and it has matured him as well. He works hard to make sure everything is just right, meaning he hits his wrestling targets and spends extra hours in the show barn.
"After school, most days I work out and get done with practice at 5 p.m.," Van Horn says. "I go to our barn, tie sale babies up and work heifers. Sometimes my friends call me to go to football or go eat, but I can't, I tell them I have to go to practice or work cattle. Sometimes I won't get home 'til midnight because I don't practice wrestling at just my high school, I go to a private academy. So I have to drive an hour to reach my goals but I will do it."
"There is no short cut to either one," Van Horn says. "If you want to win you've got to work and do it the hard way."
Van Horn credits his coaches and teammates for encouraging and teaching him. His two older brothers also deserve kudos for helping him be both a great wrestler and guiding him in the show barn. Van Horn says one brother, Cole, sits down to watch film with him after wrestling matches and fills in for him in the barn when needed. His oldest brother, Jae, who works for Lowderman Cattle Company in Illinois, provides verbal support from afar and attends as many matches and shows as he can.
Though he works hard, Van Horn has felt the pressure of making a mistake at a show. That doesn't change his love for the cattle and the people, and he plans to return to his family operation, VH Cattle Company, after college. His family will host their first online Hereford female sale October 31, called the Divas of the Hollow Night.
Van Horn recalls a time when wrestling was not going so well. During his sophomore year he was ranked 5th in the state of Indiana and was favored to win the state championship. But a lousy split-second decision he made cost him the match point and he lost. It was such a blow to his self-esteem that Van Horn wanted to quit the sport altogether.
"I had ten seconds left in the match and had him in a double leg hold but instead of taking him to the right and putting him down I tried to throw him over my back," Van Horn says. "He landed on his back but I turned into him and time ran out. He beat me fair and square. I still watch that film to this day. All I had to do was something simple, but I didn't and it cost me."
Van Horn's parents, Chuck and Patt, encouraged their son to wrestle again and he says without their support he wouldn't have returned to the mat. It's this level of support from his family, coaches, teammates and friends that keep him motivated to work hard, practice harder and win, at both wrestling and showing cattle.
"When I was down my parents pushed me beyond belief," Van Horn says. "I know if didn't have them and my brothers I would not be as successful as I am with cattle or wrestling. They would let me go hang out with friends but they taught me to choose to stay that extra hour at practice or at the barn. They've shown me I've got to be strong to make dreams come true."