"Stand out and be different, what's in your clipper box?", words from the owners of a new unique company. Today it is important to be different and have your own style. At each livestock show we see new showsticks with anything from zebra print to sparkles, vibrant colored combs, rhinestone harnesses and even crazy styled blankets for lambs and horses, but have you ever considered customizing your clippers?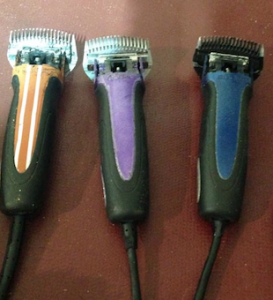 Dan Kelly, Kyle Lemmon, Nathan Campbell and Ryan Samsel have recently started a new company called SLICK Customs. They chose the name SLICK as it is a combination of the first initial of each of the owner's last names.  The idea of this company was started when Sure Champ customer, Dan Kelly, painted his new Premier Shears, followed by the rest of the guys painting their 5-Speed clippers. The designs changed the more sets of clippers they did, and from there the idea of starting a company grew. With custom painted clippers there would be no more questions at shows whose clippers belonged to who, and when your clippers came up missing it would be easier to find the thief.
SLICK Customs has done a couple sets of large shears with different designs and are currently working on including lettering. The custom painting costs start at $50 dollars with additional charges based on the design and add on you choose, and $75 for big shears. The boys at SLICK Customs are also working on bags to put your new custom clippers in to travel with. As co-owner Kyle Lemmon puts it, "Here at SLICK customs we're about originality and no two sets will be painted the same".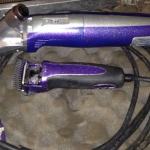 Clippers are an expense essential when preparing show cattle, shearing your cattle at home and when it comes times for freeze branding so why not make sure you are original and can easily locate your personal set. Check out this new company on Facebook or contact one of the SLICK guys, and watch for our give-away coming soon which will include a pair of Sure Champ custom painted clippers by SLICK Customs!