Just as we promised, every third Tuesday of the month, we will feature a new Sure Champ and Vita Ferm recipe from Alise Nolan. We are excited about this new addition to our blog and as you read below we hope you become excited and inspired to get in your kitchen and mix up something new!
"The opportunity to blog and showcase and create recipes and my blog and website, The Ranch Kitchen, for Sure Champ and Vita Ferm is such an honor," says Alise Nolan, whom we might add is currently President Elect of the National Hereford Women. Our agriculture family and friends at Sure Champ have been some of the biggest supporters of our family and especially our girls over the years."
"I've been a blogger on my site The Ranch Kitchen for more than six years and just this week launched my new website The Ranch Kitchen with AgTown's help at www.theranchkitchen.com. Why two sites? My blog still houses my experiences about life on our ranch, show road and most importantly raising our three daughters to be contributing members of this world one day! My new site at www.theranchkitchen.com is a place that not only showcases my recipes and links back to my blog, but houses a feature where anyone can upload recipes to share with their family and friends! I'd love it if you dropped by both sites and especially if you'd share a recipe on my new site theranchkitchen.com for others to prepare! You'll get a personal view of my life and loves and how agriculture shapes our lives every day!"
It is my hope that ultimately these recipes on both my site and below will not only bring your family and friends to the table to enjoy dinner together, but showcase an industry that feeds, clothes and provides for our nation and world like non other!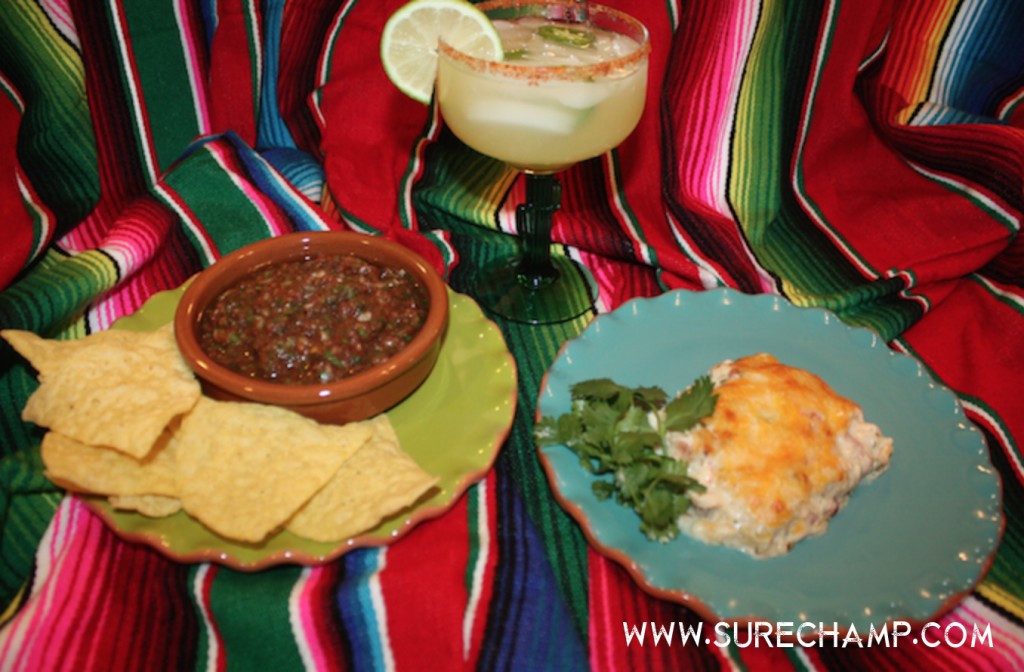 RECIPES:
VitaFerm Ranch Enchilada's
2 – 3 cups chicken, or (beef or turkey) cooked, shredded
2 cans Rotel Tomatoes with cilantro and lime juice, not drained (reserve 1/3 can) – you can substitute one can of Rotel Tomatoes for chopped tomatoes with bell peppers if you want to control the 'heat' of this recipe
1 can cream of chicken soup
1 can of cream of mushroom soup
1 cup water or chicken broth
1 – 4 ounce can of green chilies, chopped
1 package of flour tortillas cut or torn in to 2 x 2 inch squares
1 tbsp. Tony Chachere's Creole Seasoning
2 teaspoons fresh cilantro
6 cups shredded mild or sharp cheddar cheese or Mexi-blend cheese by Kraft
In a large bowl blend one can Rotel Tomatoes, soups, water and seasonings together. Add your chicken that has been shredded with a fork or by hand and blend well. In a greased 9 x 13 inch glass casserole dish place one can of Rotel Tomatoes and spread over entire casserole dish. Add to this 1/3 of soup and meat mixture. Sprinkle 1/3 of cheese over this and top with 1/2 torn flour tortillas. Layer 1/3 soup mixture once again, and then sprinkle with cheese and 1/2 of torn or sliced flour tortillas. Last place remainder of soup/chicken mixture on top of that last layer of flour tortillas and cook uncovered in a 375 degree oven for about 30 minutes or until the mixture is bubbling in the center. The last five minutes place the remaining cheese and allow it to melt. Cut in to squares and serve.
Servings:  12
You can also play with the soups and substitute a can of cream of celery for the cream of mushroom for a different taste. When you live in the country and run out of what you need for your favorite recipe, you have to improvise sometimes!!
Side note for parents who serve crowds food this summer at national, regional or state shows the VitaFerm Ranch Casserole is easily double or tripled for a crowd and can be cooked in large roasters at shows. We did just that at our Jr. National Hereford Expo in Tunica, Mississippi many years ago to rave reviews! Thank God for our crew of mother's in our makeshift kitchen! Just remember to make sure that you spray your roaster well with cooking oil and add a little extra water or chicken broth. Do layer your casserole, but realize that you will have to occasionally stir the mixture so that it does not stick.  Do not add the cheese in this dish until the last thirty minutes as it will stick. If you find the mixture starts to stick or get a little crusty (burn), just add more water or chicken stock and remember to turn down the roaster on low or warm heat.
For more recipes like these for on or off the show road visit www.theranchkitchen.com where can also view all my recipes and as an added bonus I would love for you to add your own! If you cook for a crowd at shows I'll add your recipe under the tab under recipe for Cooking For A Crowd!
Proven Winner Ranch Kitchen Salsa
1 can Roasted Tomatoes with garlic
1 onion, quartered (like a sweet onion like a Vidalia or Texas A&M 1015)
½ bunch of cilantro, fresh
1 jalapeno seeded and cut in fourths (if you like your salsa hot, don't take the seeds out)
1 lime, juiced
1 teaspoon garlic salt
black pepper to taste
In a food processor or blender, place tomatoes, seasonings, onion, jalapeno, lime juice and seasonings. Pulse salsa to desired consistency in blender or food processor. We like our salsa a little on the chunky side, so we only pulse about five times in one second intervals. Serve with tortilla chips or on the side of fresh peas or southwestern dishes! Enjoy!
Servings:  8
The Sure Champ Rancharita!
 2 parts Minute Maid Limeade Frozen Concentrate, prepared – about 2 ounces
1/1/2 ounce Tequila, (Jose Cuervo Silver is recommended)
1 ounce orange juice
1 ounce Shiner Bock Amber beer or a good quality Mexican beer
3 slices of jalapenos, seeded or left with seeds depending on the degree of 'heat' you like
sliced limes
cayenne pepper
In a medium sized glass filled ¾ full with ice. Place one slice of jalapeno, then pour limeade, tequila, orange juice, Shiner Bock Amber Beer, and finish off with one last slice of jalapeño. Pour into a shaker and shake like crazy. Pour back into your glass, garnish with a lime and enjoy! The addition of beer makes this drink have a wonderful froth! This is now my new favorite drink and was perfect with Tex-Mex or Southwestern flavored dishes!
Alise Nolan
The Ranch Kitchen