Summer is finally here and we are excited to release our second of many Recipes from the Ranch from Mrs.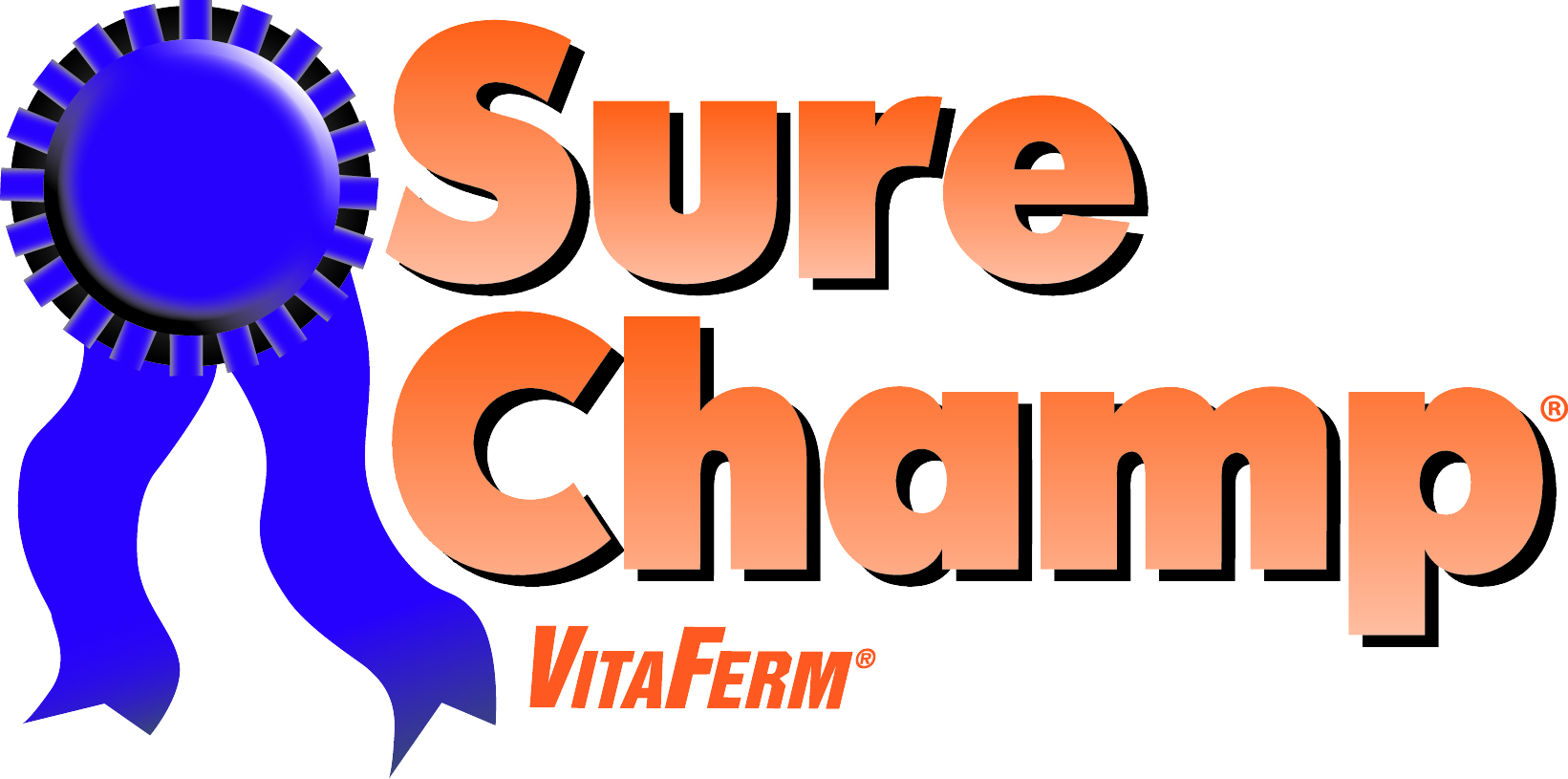 Alise Nolan. As any show family knows, much time and preparation go into getting ready for the upcoming shows and events with a lot of work that starts in the barn and ends at the dinner table.
Alise says, "raising three girls in a barn, so to say, has been one of the best decisions as parents we ever made. Early on it instilled a work ethic like non other, gave us unending quality family time all while we fed, groomed, washed, brushed, and cared for our long, curly haired Hereford cattle, market hogs and broilers!"
"As we gear up for our favorite time of the year again, it doesn't go without a lot of planning and cooking! Over the years I have been blessed to cook for our Texas Jr. Hereford and Texas Jr. Polled Hereford Associations with a group of ladies and men who are fantastic cooks in their own right. Their help in our annual planning, Sam's Club run and preparation of meals that feed over 125–150 each day is no small undertaking. It always helps to have a small army when feeding this many and left overs are never a problem as friends from other states always love to stop by and sample what 'Texas' is eating!"
"Each year I cook what has become my famous Chicken Spaghetti. It's famous because #1 I cook it at  a cow show in bulk (not the most sanitary place to cook but I make it that way), and #2 it's my most requested recipe when we are at a show be it fall, winter, spring or summer because it's a stick to your ribs kind of meal!  I love it because it's a one pot meal that was devised out the need to not take my kitchen to a cattle show and it's easy to clean up! This recipe has been prepared at numerous Hereford Junior Nationals, Fort Worth Livestock Shows, State Fair of Texas and Houston Livestock Shows to feed our hungry juniors and parents."
Alise has included along with this recipe below, her easy Zesty Italian Green Beans that are another one pot dish. Along with some dinner rolls and the brownies from Sam's Club (they are the bomb by the way), dinner was on the tables in under two hours and they even had enough chicken spaghetti left over for dinner that night for those who didn't go out to eat.
The recipe below was also improved since last summer this spring at the Houston Livestock Show when Alise cooked noodles beforehand and brought in a cooler to the show. You won't need as much water if your noodles are precooked, so adjust your recipe accordingly please.
Alise and Sure Champ hope you'll try this recipe for your family either at home or on the show road. Please reduce it in fourths if you use this recipe at home. You'll see pictures below of the actual chicken spaghetti from our show last summer. I've also included as a bonus my Penne Pretzels that I make before we go to shows and bag in snack size baggies to eat at our snack table that we set out each day for our juniors.
So whether you are home or on the show road this summer, take the time to foremost enjoy your family and the time you spend together wherever it is be it in your barn, on the road, or in your home. Memories as they say are made while you are trying to make a life! Have a wonderful summer and above all be safe and remember that winning is the result of being with those you love, loving what you do and learning along the way. It's not defined by a ribbon or a banner!
Alise Nolan
The Ranch Kitchen
www.theranchkitchen.blogspot.com
The Ranch Kitchen's Chicken Spaghetti for a Crowd
12 chicken breast, cooked and cubed (can used canned chicken and/or precooked chicken breast or thighs)
4 large packages spaghetti noodles, broken into thirds – buy the best brand possible – good quality (it's a goey mess if you don't)
4 cans Hunts '4 Cheese Spaghetti Sauce' or any brand will do!
4 cans Rotel Tomatoes with Lime and Cilantro
2 lg. containers chicken broth – 16 ounce
2 cans –  16 ounce – jumbo sized cream of mushroom soups
2 can's – 16 ounce – jumbo sized cream of celery soups
1 large – 2 lb. packages of Velvetta Cheese (no light version), cubed (1/2 for each roaster)
*Optional – 2 to 4 large onions, chopped
*Optional – 2 green bell peppers, chopped
Salt, pepper, or Tony Chachere's Creole Seasoning to taste
Additional water to cover as needed.
Spray large roaster with Pam or oil as you don't want a messy cleanup! Halve ingredients between two roasting pans.  Place sauce, Rotel tomatoes, chicken broth, cream of mushroom soups, cream of celery soups, onions and add water to  inches from the top in the two roasters. Don't go crazy with the water or it will make a mushy mess. Bring to a boil. Add 1 package of noodles (breaking noodles into thirds – I prefer the thin spaghetti) at a time and allow each package to soften some before adding the next. Break apart the spaghetti with a fork while in the mixture to make sure the pasta does not stick together as you boil it. Cook pasta as the noodles will begin to soak up the liquid.  Cook noodles until tender and then add salt and pepper or Tony Chachere's Creole Seasoning. Add chicken. Continue cooking on medium to high heat stirring occasionally.
***Add cubed Velvetta cheese the last 30 minutes as it will stick horribly if added earlier. And as this warms on low or you reheat because your group isn't ready to eat yet, add water to the mixture to keep it from sticking as well.
The Ranch Kitchen's Unbeatable Green Beans
2 gallon cans of green breans
1 – 16 ounce of Kraft Zesty Italian Dressing
1 – 2 teaspoons garlic salt
water to cover beans
In a large crock pot or roaster place entire 2 cans of green beans with water, Zesty Italian Dressing, garlic salt and enough water to where you just cover the green beans and dressing mixture. Bring to a boil and then turn down to low and simmer for ½ hour to an hour. Serve with a slotted spoon to drain off juices. This is the only way my husband Scott will eat green beans and a family favorite of ours! 
Stock Show Pretzels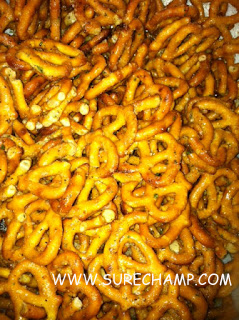 2 large bags of pretzels
1 package Ranch powdered dressing mix
1 tsp. lemon pepper
1 – 2 tsp. garlic salt
1 cup Canola or Vegetable Oil
Mix together Ranch powdered dressing, lemon pepper, & garlic salt.  Add spice mixture to the oil in a medium size bowl. In a large bowl (giant actually), begin to place 2 cups of pretzels at a time. Continually stirring and scooping mixture of spices and oil, one tablespoon at a time and drizzling over the pretzels. Continue this process, layering pretzels over 'wetted' pretzels until all of the spice/oil mixture is gone and pretzels are coated.  Taste a pretzel.  If it is not salty enough, sprinkle more garlic salt. But be careful or you can sprinkle too much!
At our State and National cattle shows, I usually place these in individual sandwich bags and put out as snacks in the afternoon.  It's always a hit.
I can't tell you how many times I've made this over the years for family, friends, and my staff at school all to rave reviews!
Enjoy!
Alise Nolan & Sure Champ