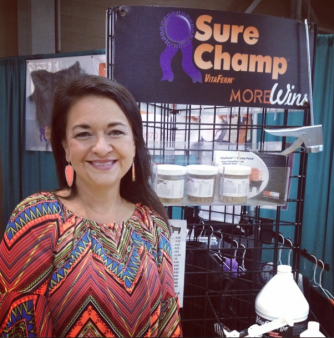 We are excited to bring you this month's Recipes from the Ranch, from Mrs. Alise Nolan. On her way to Hereford Junior Nationals she took the time to share with us her travels as well as three great recipes. As you read below we hope you are excited to try these recipes for yourself!
From Alise Nolan:
Our annual summer vacation has begun. I sit here in an airport, my daughter Audrey and I are wait to board the second leg of our plane trip to the Junior National Hereford Expo. A hurricane on the east coast has delayed our flight and we hope our friends and cattle that are traveling up from Texas are safe and dry!
As you can guess, our vacation is not to an exotic island, but to our Junior National Hereford Expo in Harrisburg, Pennsylvania! Our family, along with countless others this summer will see America from the windows of their pick-up trucks, cars and a few airplanes all for the sake of showing their livestock on the national scale.  Its part vacation and part work, but the memories, friendships, sights, foods, wins and losses are memories we hope our girls cherish one day! We know we do as parents and are so glad we chose this way of life.
As I sit here with a couple hours delay and my Sure Champ deadline looming in front of me I think of the recipes I want to share with you today (I work best under pressure)! These are those foods that bring back memories of summer, Junior National Hereford Expos and time well spent with family and our extended Hereford family.
My best memories, besides those with my family on the summer show road are meeting ladies behind a show stall and exchanging recipes while becoming lifelong friends. It's watching a woman from Tennessee make boiled peanuts in huge vats for her junior exhibitors each afternoon in Tunica, Mississippi, and watching our Texas kids enjoy our watermelons we brought all the way up to Indiana for one of last afternoons snacks during a hot day of showing!
Enjoy your summer, spend it with those you love the most and I hope the recipes I share with you today help make new memories for your family.
I hope you'll take the time to try these dishes and share yours with me on my site www.theranchkitchen.com under the 'Share a Recipe' tab that screams summer to you as well! You can also follow The Ranch Kitchen on Facebook, Pinterest and Google +.
Happy summer everyone!
Alise Nolan – The Ranch Kitchen
Sure Champion Pico de Gallo
This Sure Champion Pico de Gallo has been made at numerous Jr. National Hereford Expos at our Texas meal table with tomatoes we brought from my husband's garden packed in ice coolers! It's great on the side of Tex-Mex (Mexican food), fresh cooked peas or on top of tortilla chips!  You can add most anything to this recipe and season it to your own taste.  This is how we like it at our ranch!
DIRECTIONS:
8 medium to large fresh tomatoes cut into 1 inch cubes with seeds
1 onion, chopped fine
1 bunch of cilantro, chopped fine
2 jalapenos, deseeded if you don't like it too hot and chopped fine
2 – 4 sweet banana peppers, chopped fine
1 lime or lemon, juiced (we prefer limes)
1 teaspoon garlic salt
1 teaspoon pepper
1 teaspoons of Tony Chachere's Creole Seasoning or All Spice
Prepare tomatoes, onions, cilantro, jalapenos, sweet banana peppers and place in a large container with a top that seals.  Add the lime juice, garlic salt, black pepper, and Tony Chachere's Creole Seasoning and blend well.  Taste the Pico and make your own decision of whether you need more spices or more lemon or lime juice. 
Note: To juice my limes or lemons, I slice each half and place a fork in the center. Turn the fork around as you turn the lime/lemon and let the juice go through your other hand and into your Pico bowl, attempting to catch seeds if they fall out.
Allow your Pico de Gallo to marinate for at least a half hour or more in your refrigerator to get the best flavor!  Add more tomatoes to it throughout the week and jalapenos as you eat this wonderful relish style recipe!
The Ranch Kitchen's Winner Peach Ice Cream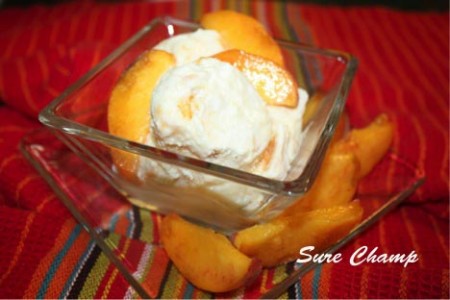 We love our peaches in the south!  In East Texas where we live, local farms sell their peaches toward the end of June and the start of July to eager buyers!  This past week with my daughter's friend's help we created this recipe for the Sure Champ VitaFerm post!  We hope you enjoy it as much as we did…we almost ate all the peaches up before we made the ice cream!
DIRECTIONS:
4 fresh peaches (about 2 cups) , skins removed and cut in bits (small chunks the size of a peanut)
2 cups heavy whipping cream (not Cool Whip – this is in the milk section above whole or skim milk)
1 ½ cup whole milk
1 – 14 ounce can of sweetened condensed milk
2 teaspoons Mexican Vanilla
1 teaspoon salt
Prepare your peaches and sprinkle ½ cup sugar (while ice cream begins to freeze).  You'll want the peaches to 'come together' and sit awhile so to say for optimal sweetness!
 In a large mixing bowl add the heavy cream, whole milk and entire can of sweetened condensed  milk, Mexican Vanilla (my favorite/stronger version I prefer to use) and salt.  Mix in a blender on low speed until just blended.  Place ice cream mixture in a Cuisinart Yogurt/Ice Cream Machine or your Rival Ice Cream Machine and freeze.  After the first 20 minutes in your Cuisinart spoon in the drained peaches a little at a time and continue to allow the ice cream to freeze to a soft serve consistency. 
***This should take around 1 hour to make in your Cuisinart and for 3 hours in your Rival Ice Cream Maker!
We loved, loved this Winner Peach Ice Cream and hope you do too!
 The Ranch Kitchen's Roasted Garden Squash and Zucchini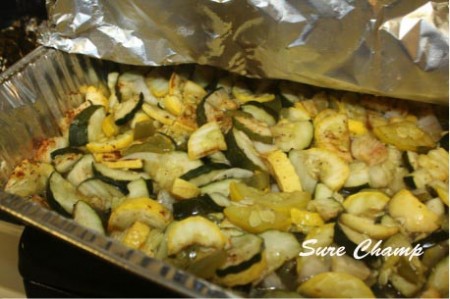 This is my most requested recipe from my daughters when they come home whether it's fall, winter, spring or summer! It's especially economical when the fresh squash come from my husband's garden! I've cooked this recipe in foil pans like this on the smoker, grill, oven and totally encased in foil packets probably one hundred times over the years for our family and friends for parties, camping trips and junior nationals hauling again these veggies hundreds of miles.
 It's a great dish to cook for a crowd…just keep adding more vegetables and seasonings! Always taste as you cook this dish and season to your liking. 
To be honest I've even used bat sized zucchini, scooping out the seeds and it still turns out great! Waste not, want not as they say! Enjoy!
DIRECTIONS:
4 – 6 yellow squash cut in ½ inch rounds
2 – 3 zucchini cut in ½ inch rounds
1 – 2 white cooking onions, sliced cut in1 inch chunks (you can use Vidalia Sweet Onions and red/purple onions as well and they are just as good
½ cup Olive oil, Grape Seed Oil, or Canola Oil
1 – 2 teaspoons of Tony Chachere's Creole Seasoning or All Spice Seasoning
1 teaspoon garlic salt
***I've also used Lemon Pepper instead of the Tony C's with a teaspoon of garlic salt
Cut and prepare yellow squash, zucchini, and onions.  Pour oil in a wok or a large nonstick Teflon coated pan and then add vegetables and seasonings. Cook on high until mixture begins to boil and then reduce to a low heat and cover with your pot's lid.  Continue to cook on low, stirring occasionally until the mixture is heated through and to your liking.  I sometimes for variety add cheddar cheese or Parmesan cheese if I'm feeling 'fancy'!
***Yellow squash and zucchini can be eaten raw like your broccoli and celery alone or with my favorite Ranch Dressing, so cook these vegetables to just tender or well cooked (whatever is your preference).
If you chose to cook these in the pan as I did in the picture above, add 5 – 7 cubes of ice to your foil packet to help the vegetables steam and not dry out while they cook.  Make sure you use nonstick foil or spray it with Pam Cooking Spray before you add your vegetables coated with the oil and spices.  Cook for 45 minutes in your oven and away from the direct fire on your grill for 30 minutes.