It's county fair season in Texas and one of our favorite cooks, Mrs. Alise Nolan, has once again shared a few great recipes that are near and dear to her heart this time of year. We hope each of these recipes find their way into your home this fall and wish the Nolan family the best of luck at their upcoming fairs!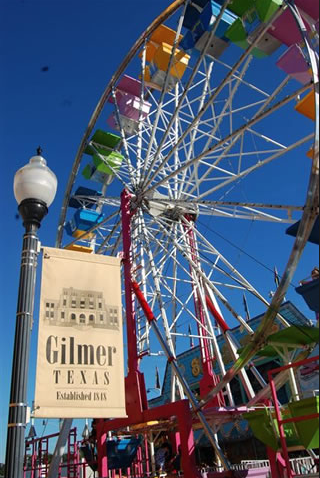 Our county fair is almost here in our little part of Texas! The East Texas Yamboree starts this week and our entire county could not be more excited!
This homecoming of sorts for our family and friends is always filled with fair foods, Yam Pie contest, livestock and market shows and sales, and ag mechanic competitions. Then it's our two huge parades that house our Yamboree Queen and her court along with marching bands, club, community and schools all vying for the best decorated floats!
This year our youngest daughter will carry on the family tradition of showing her market hogs at this festival and then the following week with her broiler and hogs again in our neighboring county for the Harvest Festival where my husband serves on their board as their President.  Each of these festivals are the result of countless volunteer hours and result in great memories for both kids and adults alike.
School actually lets out in our small town of 5,000 as do those of the neighboring communities around us. There's just too much to fit in! From taking in the square to eating a corny dog or a Union Hill School's hamburger and a piece of Gilmer Band's Yam Pie as you ride carnival rides. You can listen or dance to the bandstand's live music and catch up with friends you may not have seen for years!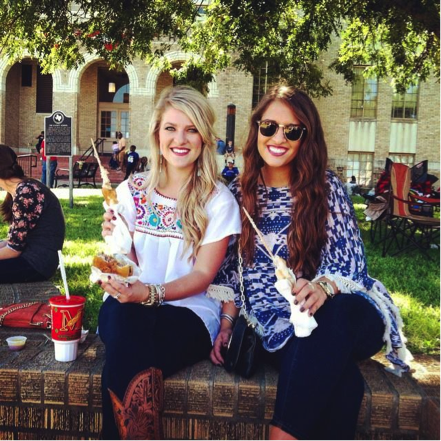 To culminate our Yamboree each year our family for the last 20 years throws a party the final night hosting our friends and family in the barn at our ranch.  We call it our 'Nolan Family and Friend Barndance'…but very little dancing is now done! The younger crowd eats, visits and then leave for some dancing of their own in our old school gym in the middle of our town where Texas Country Bands come to play at the 'Yamboree Barndance'.  I guess you could call our event the pre-party of sorts.
All my girls will be home this weekend to watch our Audrey dance in our Yamboree Queen Alexis William's court and Coronation and be there to cheer her on as she shows her market hogs and hopefully makes the sale. We'll eat plenty of fair food, but one thing I enjoy most is making sure I get a few home cooked meals in their stomachs before they return back to college and their homes away from home.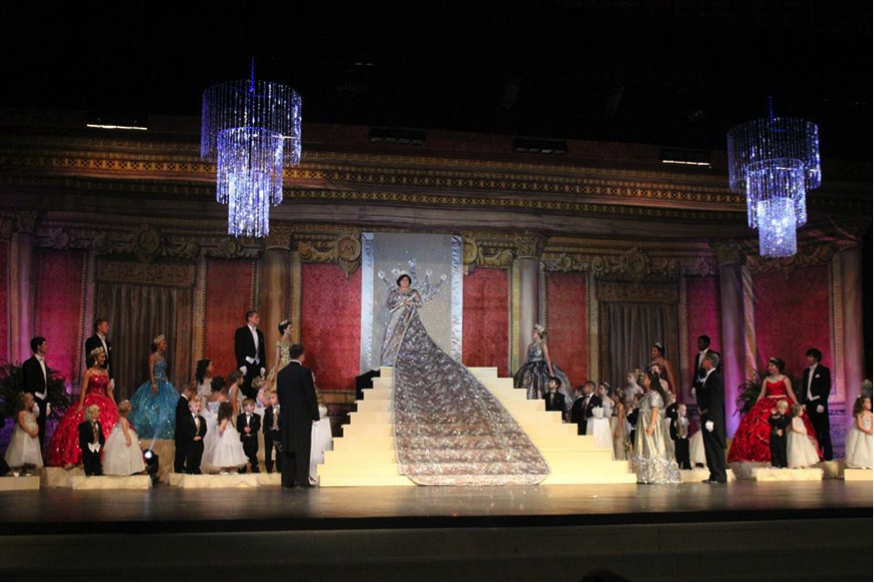 These recipes I share with you today are nostalgic for us and our kind of 'comfort food' that we enjoy. I've added in my Pork Roast and Sweet Potatoes and a good friends Yam Pie recipe. With it being Yamboree time for my family I had to get some yams or sweet potatoes in this Sure Champ Blog Recipe post!
Have a wonderful rest of fall everyone!  This is my favorite time of the year, not only because of the food, but for the excitement and memories we make as a family and life lessons my girls have learned by being smack dab in the middle of agriculture with us standing right there beside them.
As my oldest daughter Ilissa loves to say…. 'Let's Go Yammin'!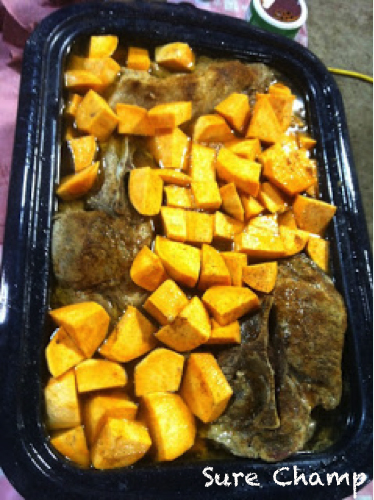 1 large pork roast, approximately 4 lbs. in weight
6 – 8 sweet potatoes, skinned and cubed in 3 x 3 cubes
1/2 teaspoon garlic powder
salt and pepper to season
water to cover roast 3/4 the way up the sides
Instructions
In a large roaster place pork roast seasoning each side with garlic powder, salt, and pepper. Cover with water to 3/4 the way up the roast. Top with sweet potatoes. Season with more garlic powder, salt, and pepper. Cover  meat and sweet potatoes and cook for 1 – 1/2 hours to 2 hours on 375 degrees.
When pork roast begins to fall away from the bone, the roast is cooked. Take the pork roast out of roaster and allow to stand for five minutes before slicing.
I hope you'll try this at home sometime. It's a taste of the south and a tradition in our family.  This is real comfort food at it's best!
Note:  This will be cooked on Sunday night when we are exhausted from our week of Yamboree and leftover pork roast is wonderful made up in my The Ranch Chicken's King Ranch Casserole by using pork instead of chicken!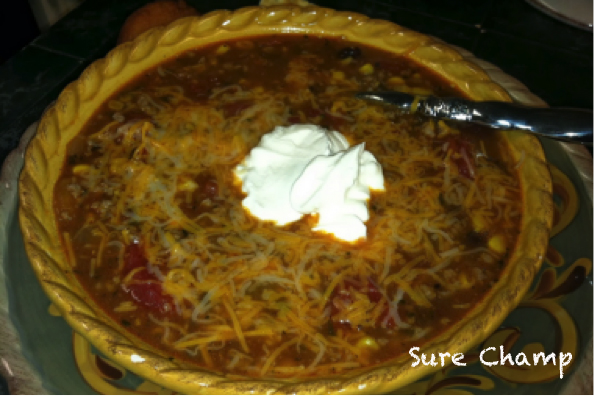 2 lbs. ground pork or ground beef, browned and all grease drained (I used ground pork)
1 large onion, chopped
1 can Hunts Stewed Tomatoes with Garlic
1 can Hunts Stewed Tomatoes
1 can Rotel Tomatoes with Cilantro and Lime
1 can Ranch Style Black Beans, drained
1 can Kidney Beans, drained
1 can Kidney Beans, drained
1 package McCormick Taco Seasoning
1 package Ranch Dressing Mix – powdered NOT prepared salad dressing
1 tsp. Tony Chachere`s Spice N` Herbs Seasoning
Instructions
Brown meat and chopped onions in large stew pot. When slightly browned, drain grease off using a spoon. I turn off the fire here, prop my pot carefully on an oven mitt and allow the grease to drain off to one side of the pot. Gently spoon meat to one side of the pot before you drain off grease with a spoon. Spoon grease off one tablespoon at a time into a heat proof boil.
Add to the meat mixture all vegetable cans as describe above, plus the taco seasoning, Ranch Dressing powdered mix and Tony Chachere's Spice N' Herb Seasoning. Add four cans of water using the Rotel Tomato can…that should realistically be about 5 cups of water total.
Bring the mixture to a boil on a medium high heat, then bring down to a low boil (low fire or electric stove top heat). Continue to cook on a low boil for twenty minutes, stirring occasionally making sure that your fire is not too high and you scorch your soup. Always stir from the bottom of the pan and if you do scorch your soup, never scrap the bottom of the pot as the burnt flavor will ruin your soup.
Spoon into large bowls, sprinkle with cheddar cheese and a spoon of sour cream and enjoy! We ate this with my The Ranch Kitchen's Jumbo Mexican Cornbread (I'd cut this recipe down to 1/4 as this recipe is in my 'Cooking For A Crowd' section of my The Ranch Kitchen site).
Sure Champion Pork and Vegetable Lasagna
2 yellow squash, sliced in 1 by 4 inch slivers
2 zucchini, sliced in 1 inch by 6 inch slivers
2 eggplant, peeled and cut in to 1 inch by 4 inch slivers (slices)
2 teaspoons Italian seasoning
1 teaspoon Slap Your Mamma Seasoning or any Cajun Seasoning
2 cups cheddar or any grated cheese of your choice (I used a Colby Jack mixed cheese)
1 can Rotel Tomatoes with Cilantro and Lime Juice
1 can Spaghetti Sauce (I used Hunt's 4 Cheese variety)
2 pounds ground beef, pork or turkey, cooked and crumbled fine (I used ground pork)
1/2 cup Parmesan cheese, grated
Instructions
Slice and prepare all vegetables and layer in a 9 x 13 inch Pyrex dish or long rectangular cooking dish.
In a pan, cook sausage or beef. Drain excess grease from meat and add spaghetti sauce blending well.
While the meat sauce is cooking, season with Cajun season with every layer and Italian Seasoning. *Note: a little goes a long, long way!
Add 2 cups of cheddar cheese over the top of the vegetables.
Add one can of Rotel Tomatoes with Cilantro and Lime over the top of the cheese.
Add meat with spaghetti sauce on top of cheese and vegetables.
Cook in the oven at 375 degrees covered with foil for approximately 1 hour. When you are able to see the dish bubble on the sides and when you can fork through the center of the vegetable lasagna, your dish is cooked.
Take out of the oven and sprinkle with Parmesan cheese.
Return to the oven and allow to cook for five more minutes until cheese is just melted.
Serve and enjoy!
We had my marinated cucumbers, Zucchini Squares and Pasta Salad with Tomato Relish along with crusty French bread as a side for this dish!
Note: I did not add cubed onions and garlic to the meat as it cooked, but that would be a great addition.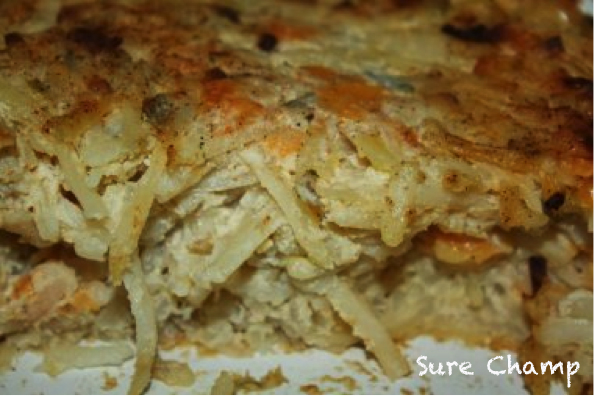 Green Chili and Cheese Hash Brown Casserole
8 – 10 cups dehydrated hash browns prepared according to package directions
cups water for hash browns (see hash brown directions)
1 can large (4 ounce) diced green chili`s
1 can Campbell`s Cream of Chicken Soup
1 can Campbell`s Cream of Mushroom Soup
1 can (16 ounce) Pet Evaporated Milk
1 cup water
2 cups cheddar cheese ( I used the cheddar cheese crumbles in the package and shredded would work just as well)
1 stick margarine
2 teaspoons Tony Chachere`s Creole Seasoning (optional)
1 tablespoon garlic salt
I did not add chopped green or white/yellow onions to this, but it would be a great addition
Instructions
Prepare hash brown according to package directions. Make sure you drain well. In a large bowl, place the hash browns and add soups, evaporated milk, 1 cup water, cheese and seasonings.
Mix well as you add each ingredient. Spoon hash brown mixture into a large 9 x 13 baking dish. Place 1 tablespoon squares of margarine across the entire top of the hash brown casserole. Sprinkle with additional Tony Chachere`s for seasoning and color before placing in the oven.
Bake uncovered at 375 degrees for 1 hour or until mixture is bubbling throughout and cheese is melted.
Note:  This is an easy, great dish to take to potlucks, work, or just serve at home. I made this for a huge crowd and don't see why if you didn't want to cook this entire portion in one night you couldn't place half of it in a freezer container and cook at a later date. 
4 sweet potatoes or yams, baked and mashed (you can use precooked canned and drained yams)
1 2/3 cups evaporated milk
2/3 cups butter, softened
4 eggs, beaten
2 cups sugar
1 teaspoons vanilla
1 1/2 teaspoons nutmeg
1 teaspoon cinnamon
1 teaspoon ground cloves
1/2 teaspoon salt
2 pie shells/crust, ready made
Instructions
Bake four large sweet potatoes or yams in the oven on 250 degrees until soft to the touch (when you squeeze them they should feel like they will come apart). This should allow you six cups of potatoes. Mash them and add 1/3 cup butter that has been softened. To this add 4 beaten eggs, 1 teaspoon of vanilla and 1 2/3 cups evaporated milk and all spices (nutmeg, cinnamon, salt, and ground cloves). Mix all together and beat well with a mixer until smooth. Pour into pie shells and bake on 425 approximately 45 minutes until done. This will make 2 – 9 inch pies.
This recipe is from friend of The Ranch Kitchen, Karen Steelman Shirley.
Alise Nolan @ The Ranch Kitchen