By, Alise Nolan, The Ranch Kitchen
During December my daughter Bethany and I tried a few new recipes and added our own flair to them. She recently came across a recipe and it reminded her of her days in Aggieland when she loved a similar dish from their favorite taco restaurant.
We recreated this recipe giving it our own additions while dubbing it Sure Champ's Southwestern Burrito Bowl. We added our own special changes on two separate evenings to this fun and filling dish.
This rice, bean, corn with onion all in one pot meal was made in large batches so that we wouldn't have to cook the next night. Around Christmas with our school and family events, it was nice to have a hearty meal that was easy to make and a fast reheat in the microwave.
The second time we made this recipe we substituted the black beans for pinto beans and exchanged the whole kernel corn for creamed corn since that is all our pantry had. It was just as good, but Bethany preferred the pop of the whole kernel corn and the black beans.
We added sliced black olives the second time and really loved that addition. My husband and I love extra spicy dishes, so we even added Tabasco Sauce to the top of our burrito bowls. We also added sour cream and fresh cut cilantro to Sure Champ's Southwestern Burrito Bowl for extra flavor as a garnish or topping.
This dish would be an excellent recipe to make for our friends on the show road this winter and especially for those of you who will be in Denver or Fort Worth in January. I am even imagining it for tailgating at Texas A&M next fall. I can just see it all now in my large roaster hauling it in to the barns instead of my traditional Chicken Spaghetti for a Crowd. All my toppings would be set off to the side with southwestern decorative dishes, a big basket of my favorite Pappacita's chips from my hometown and some of my Nolana's Family Hot Sauce also found on my blog and site.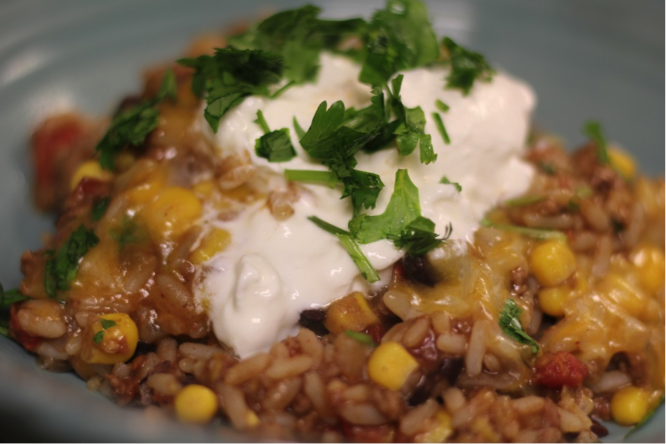 Sure Champ's Southwestern Burrito Bowl
Ingredients:
2 – 3 pounds ground beef, pork or turkey (we used Certified Hereford Beef)
2 – 15 ounce can of black beans, drained and rinsed
2 – 15 can whole kernel corn, drained
1 onion chopped fine (or in larger chunks according to your taste)
1 – 14.5 ounces-fluid can of green chills
2 tablespoons taco seasoning
1 tablespoon chili powder
1 teaspoon Cajun Seasoning (optional)
4 cups chicken broth
For topping:
grated cheese of your choice
sliced black olives
additional green onions, chopped
salsa or hot sauce
chopped cilantro
Instructions:
Brown meat and onions until it is no longer pink and onions are translucent.  Drain any liquid left over by spooning out of the pot.
Add drained and rinsed black beans, corn, green chills and all seasonings and stir well.
Add rice, chicken broth to pot and bring to boil.  Cover pot with the lid and reduce heat continuing to boil on a 'low boil' until rice is done and liquid is gone. A 'low' boil is 'soft' boil…not raging and bubbling hot, yet still bubbling for 30 minutes.
Serve in large bowls with toppings like sour cream, cilantro, additional green onions, salsa or hot sauce and chopped cilantro. We also added additional tabasco sauce and Cajun seasoning like Tony Chachere's Creole Seasoning that is our favorite.  This would be great with a side of salsa and tortilla chips.  Try it with my Nolana's Family Hot Sauce found on my site here under appetizers.
Cook's Note: This recipe can easily be cut in half for smaller servings or doubled and tripled for feeding a crowd of people.  This recipe could also be prepared, frozen and reheated with additional water or chicken broth.  Just be careful not to burn the rice during the reheating process and stir constantly.
We modified this recipe the second time we prepared it by using pinto beans and cream of corn. However, my daughter preferred the whole kernel corn and black beans.  My husband enjoyed the pinto beans.
We hope you'll give this recipe a try and let us know how you made your own additions to it as well. Remember, you can share your own recipes on my site under the Share a Recipe tab. The Ranch Kitchen is also on Pinterest, Twitter, and Instagram, so follow us there as well! Also, check back at all the Recipes from the Ranch here on Sure Champ over the last few years to find some of our favorites!
She also created these fun Snowball Cookies that were crazy good with the addition of the mini chocolate chips. These will remind you of cookies called Sand Tarts that were rolled in powdered sugar. But these are without the nuts and are so much better. These would be fun to pack in the show box for a dessert this winter too.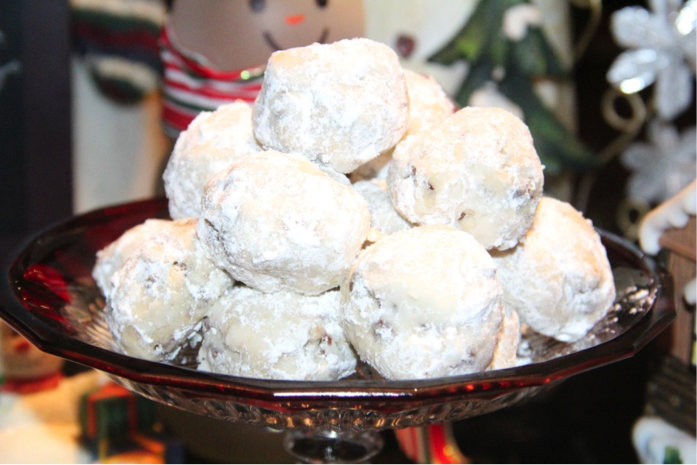 Modern Day Snowball Cookies 
Ingredients:
1 cup unsalted butter, softened
1/2 cup powdered sugar
1 teaspoon vanilla extract
1/2 teaspoon salt
2 cups flour
1 cup mini chocolate chips
1 cup powdered sugar to roll baked snowball cookies in
Instructions:
Preheat the oven to 375 degree Fahrenheit.
Line cookies sheets with waxed paper and spray with cooking spray (lightly grease).
Mix the softened butter, powdered sugar and vanilla extract with a blender and add flour and salt until the dough is mixed thoroughly. (To soften the butter you can leave out and allow to come to room temperature or microwave for 20 seconds)
Stir in chocolate chips well. ***The dough should be thick enough for you to roll into balls, but if not chill them in the refrigerator until slightly chilled.
Scoop out balls of dough, roll slightly with your hands and place on the prepared cookie sheets.  You can place these cookies close together; however do not allow them to touch.  These snowball cookies do not flatten as they cook. Snowballs will be the size of a ping pong ball.
Bake the cookies for 9 minutes until they are firm and slightly browned on the bottom.
Remove from the oven and cool for 1 minute.
Fill a small bowl with powdered sugar and roll each cookie until fully coated.
Wait five minutes and roll cookies in powdered sugar once again.
Place snowball cookies in an airtight container to keep fresh.  We placed our in pretty decorative tins.
Happy New Year and have a fantastic winter at the majors!