By, Alise Nolan, The Ranch Kitchen
Warmer weather makes our family look forward to grilling and smoking outside more than ever. With the cold, long winter most of us have had this year and a few short warm snaps, nothing sounds better than a steak grilled over an open flame and being able to sit outside without wearing a coat!
We grill and use our smoker quite a bit at our ranch when the weather warms up and especially when we go camping. There are not many things better than a steak after a long day on the lake or on the weekends. One thing I always try to make certain we do is to grill enough steaks or smoked brisket so that we can enjoy these great cuts of meat all week long.
This month, I decided to share a few recipes that are some of the most popular on my site The Ranch Kitchen and use our favorite cuts of Certified Hereford Beef. These three recipes are from what was left over from our meal the night before. They are easy, require minimal preparation and are what my husband and our girls really enjoy!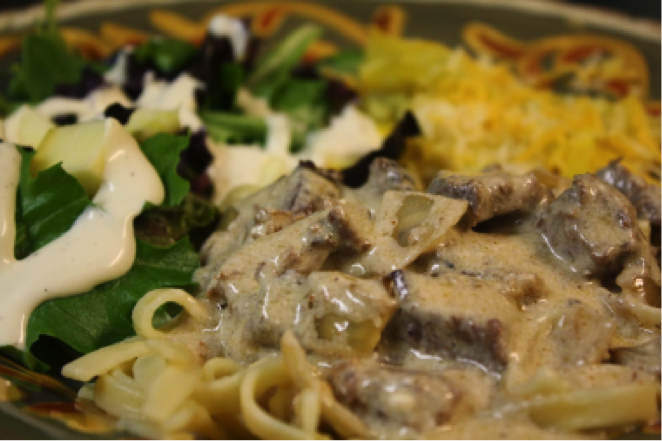 The Ranch Kitchen's Beef Stroganoff
Ingredients
2 precooked sirloin steaks, sliced against the grain
1 Onion
2 teaspoons olive oil
1 cans cream of mushroom soup
1 cans beef broth
1 cups sour cream
Prepared noodles, rice, or mashed potatoes
Instructions
Slice sirloin steak against the grain. That means do not cut the meat in the same direction of the meat runs, but across it. Slice one onion in 1 inch slices. In a skillet add 2 teaspoons olive oil with the steak and onion. Saute on low until steak and onion are cooked through and onions are translucent. Add 1 can of cream of mushroom soup and 1 can of beef broth. Cook on low until mixture begins to boil. Add sour cream and continue to cook on low heat until mixture is heated through and on a low boil. Serve over noodles, rice or mashed potatoes. Traditionally this is served over egg noodles, but tonight the pantry only had fettuccine! You can also used ground beef that has been browned as the beef in this dish.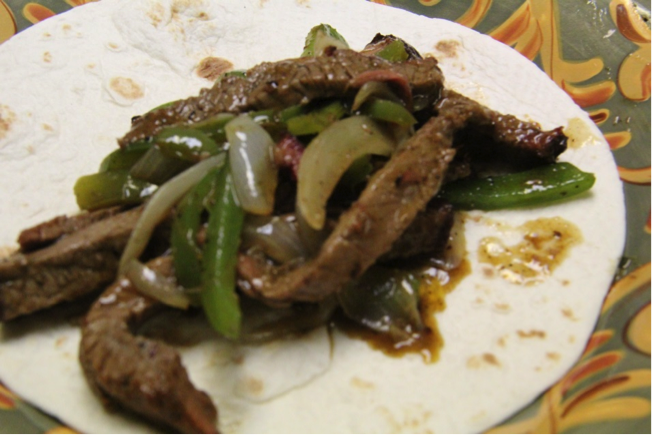 The Ranch Kitchen's Brisket Fajitas
Ingredients
4 – 6 cups beef brisket, sliced against the grain of the meat
2 large onions, sliced in slivers
2 green bell peppers, sliced in slivers
1/2 cup oil (vegetable or Canola oil)
2 teaspoons chili powder (I prefer the Mexican variety that has more flavor)
1/2 teaspoon sugar
1/2 teaspoon garlic salt
1 teaspoon paprika
1/2 teaspoon cumin
1 teaspoon onion powder or flakes
1 teaspoon cornstarch or flour
1/2 teaspoon cayenne pepper (optional)
1/2 teaspoon black pepper
3/4 cup water
Instructions
Prepare precooked brisket by slicing against the grain into long, thin slices.
Slice onions and bell peppers in long slices.
Add oil to a large cooking pot. Next add bell peppers and onions and cook until vegetables begin to soften up slightly.
Add sliced brisket to the pot and continue to cook on a low – medium heat until mixture is heated through.
Combine all spices well with a whisk and pour over brisket and vegetables. Add 3/4 cup water and heat through for five minutes on medium – low heat. You do not want to heat your meat on to high of a heat as it is already cooked.
Serve brisket fajitas on top of flour tortillas topped with grated cheddar cheese or a good quality colby jack cheese with a spoonful of sour cream. Roll tortillas over all ingredients and serve with salsa and tortilla chips with refried beans for a wonderful, quick dinner!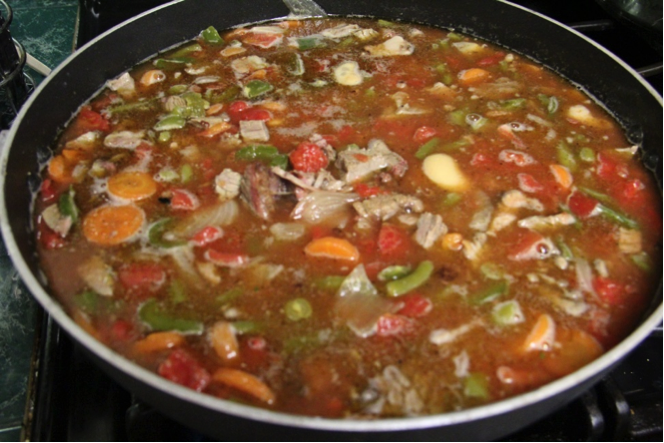 Sure Champ Brisket Stew
Ingredients
4 – 6 cups brisket, cut in 1 – 2 inch cubes (cut against the grain of the meat)
1 onion, rough chopped (cubed)
1 green bell pepper, chopped in 1 inch cubes
2 cans diced tomatoes – 16 ounce cans with juice
1 can lima beans – 14.5 ounce, drained
4 – 6 small Idaho or white potatoes, cut in 2 -3 inch cubes
1 can green beans -14. 5 ounce, drained
6 – 8 cups water
1 teaspoon black pepper
1 teaspoon garlic salt
1 can cream of corn -14.5 ounce
2 teaspoons Tony Chachere's Creole Seasoning or any Cajun Seasoning (optional)
Instructions
On a cutting board, cut brisket in 1 -2 inch chunks by slicing against the grain and place in a large stew pot or dutch oven.
Chop onion and green bell pepper and add to pot.
Add all canned vegetables, potatoes and water to the pot except cream of corn.
Add all seasonings (pepper, garlic salt and Tony Chachere's Creole Seasoning).
Bring stew to a boil and then reduce heat to a low heat and simmering boil for 15 minutes.
Cook stew covered for 10 more minutes and then add cream of corn to help thicken your stew.
Add 1 – 2 cups more water if you think it needs it if you do not have enough broth or 'soup' to boil your potatoes.
Cook an additional 10 – 20 minutes and serve with cornbread or saltine crackers!
Cooks note: The cream of corn idea came from my Grandfather Herbert Young who was a long time cattleman and dearly missed. He gave me this little tidbit of advice in his later years and it makes a major difference in my stews. You may like to add 2 cans instead of 1 can of cream of corn. He always told his grandkids to, "Eat it like you like it"…and we did thereby learning to never be picky eaters and try to enjoy a variety of foods!
So take what you have, reinvent it and by using that huge brisket, fajita (skirt steak) or few left over steaks, you can have several night's dinners that aren't just something warmed up again. We promise you'll love these dishes because they are delicious, low cost and made from ingredients most everyone has in their pantry, and you can easily feed a crowd!
Come on spring and warmer weather!
***Remember that no one said cooking had to be hard.