By, Alise Nolan, The Ranch Kitchen
Happy New Year! It is hard to believe it's 2015. I can remember thinking how 'old' my husband and I would be at this point, and honestly it's looking younger every day! What a fun year it's been and I am truly looking forward to the one ahead.
January is one of my favorite times of the year around our ranch. It's a busy time for us with the Fort Worth Stock Show in full swing the last two weekends of the month. We are all pretty crazy with work, school and especially that quality family time spent in the barn with the Herefords and their thick, curly hair. Dinner usually is on what we call 'Nolan Time' and may be as late as 9 p.m., but chores must be done and animals fed before we eat. We like to say around our ranch that we care more about our Hereford's hair than our own.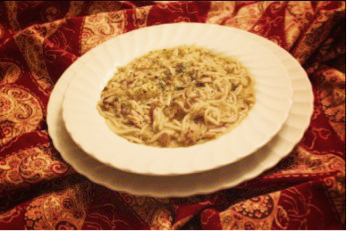 Winter and stock show season make me think of soups and chili. Each year I fix not only my Chicken Spaghetti for a Crowd while at the stock show during our National Hereford Show weekend, but also my Rustic Chicken Noodle Soup when it snows here at the ranch (we get precious little of that in Northeast Texas).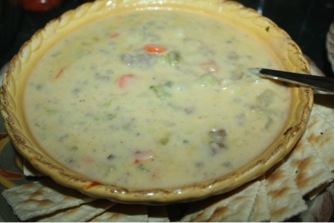 This year, I'll be taking a new recipe to Fort Worth for our Gilmer FFA Show Team, The Ranch Kitchen's and Sure Champ's Cheeseburger Soup adapted from Taste of Homes Cheeseburger in Paradise Soup. There's nothing better than a warm meal in a cold barn while sitting around visiting with our show family.
Ingredients
6 cups water
6 potatoes, peeled and chopped in 2 inch cubes
3 carrots, chopped
2 pounds ground beef, browned on stove top
1 small onion, chopped
2 cloves garlic, chopped
1 green bell pepper, seeds removed and chopped
6 cups, milk divided (you'll use some for soup and some for thickening)
1 teaspoons Cajun seasoning like Tony Chachere's Creole Seasoning (optional)
1/2 teaspoons black pepper
1 teaspoons garlic salt
4 ounces-fluid Velvetta Cheese, cubed about 1/2 cup or more to your taste
1/3 cups flour (for use in thickening soup with milk)
Instructions
Wash and prepare all vegetables.
Place water in large pot with potatoes and carrots to a boil. Turn down to a simmer (low heat).
Meanwhile brown hamburger meat in skillet with onion, green pepper and garlic. Once cooked through and a light brown color with little to no pink remaining in meat, drain all liquid.
Add browned hamburger mixture to potatoes, carrots and water.
Add 3 cups milk, Tony Chachere's Creole Seasoning, pepper and garlic salt and continue to cook on low heat. You want you soup to bubble just slightly and not a hard boil or your milk will curdle and the soup begin to stick or burn in the pan.
Continue to cook for about twenty minutes then add Velvetta Cheese and allow it to melt stirring slightly.
Mix 1/4 cup flour with 3 cups remaining milk and add to soup stirring gently.
Continue to cook until soup is to your desired thickness. The soup should coat your spoon much like a gravy. Serve with crackers or fresh bread.
Note: This soup makes a lot and I would double it for large crowds in a large roaster at stock shows or potlucks!
So grab your stock pot, roaster or crockpot and try these recipes. They are all easy to freeze, take along in your ice chest and thaw out to heat up for later at the show. Just add a little water when reheating and before long you'll have a wonderful, home cooked meal on the road.
Best of luck at your winter stock shows! May you bring home more memories than ribbons and have much luck in the year ahead and all that life has to bring you! Safe travels!