By, Alise Nolan, The Ranch Kitchen
One pot meals in the winter are a standby for our family. I love the convenience of them and especially the cleanup. Soups, stews and big old pot of beans are favorites and recipes that can be doubled in size so that the meal can serve for more than one night.
One such main dish that my mom always served while I was growing up were her Cowboy Beans. She would usually cook them all afternoon to have on Sunday night from a pot of pintos beans that had soaked the night before. My mom dubbed this recipe 'Cowboy Beans' for my younger brothers because anything with the name cowboy usually made them eat it right up!
These beans were cooked with the addition of ground beef or pork that you place in the pot uncooked that turned these beans in to a one pot meal. Just chunk off small meatball sized portions of meat and place gently in the hot bean liquid. You do not even have to ball the meat up. The ground beef or pork will cook and season your beans as they boil. I sometimes will even add a large ham bone with meat to season these beans even more along with the ground beef or pork. Just remove the bone before serving, but leave the ham taken from the bone.
Sometimes when time gets a way from me and I didn't soak my beans the night before, I'll do the 'quick soak' method. You do this by boiling the pinto beans on high heat for 20 minutes, covering the pot with a lid and turning off the heat for an hour. Your beans are then ready to continue cooking on low boil or low heat for the rest of the time until they are ready to eat. This usually takes two or three hours. Just always make sure you have enough liquid (water) added so that you do not burn or scorch your beans. Always watch a simmering or boiling pot however low the heat is.
One trick I have learned over the years is to never salt your beans until the last thirty minutes of cooking. Salting too early will cause your bean's outer skins to harden and not be as soft.
Also make sure to use a good quality grade of chili powder with your beans. This makes a huge difference in flavor. I love any brand of McCormick spices, but in Texas we are lucky enough to have good Mexican chili powders found at our local grocery stores.
Along with these Cowboy Beans, we usually serve my mom's Virginia's Mexican Cornbread minus the ground beef and Rotel brand diced tomatoes. You'll love this extra spicy cornbread recipe for a side dish to go along with this meal. Her Virginia's Mexican Cornbread recipe with the addition of meat is another 'all in one pot meal' that is a favorite of our family and friends as well.
These Cowboy Beans usually last a couple of days in the refrigerator and are easily reheated back up with an additional cup of water on the stove or by microwaving. They are perfect for church or work potlucks, large family gatherings, the hunting lease or show barn for the hungry crowds too. We served these recently after a heifer clip day before the Fort Worth Stock Show for some of our Ag teachers and kids. They all loved it with the addition of white rice that we spooned in to the bowls before the beans and its broth. They could then go home well fed before the long weekend on the road.
So here's to big pots of food that satisfy both your family and keep cooks from a long clean up in the kitchen. No one said cooking had to be hard. It's easy to cook from home and using your own beef or pork makes it even better.
Enjoy the rest of winter and may spring come quickly in your part of the world. In Texas, it's unseasonably warm with temperatures in the 60's and 70's in our part of the state…I think we'll take it!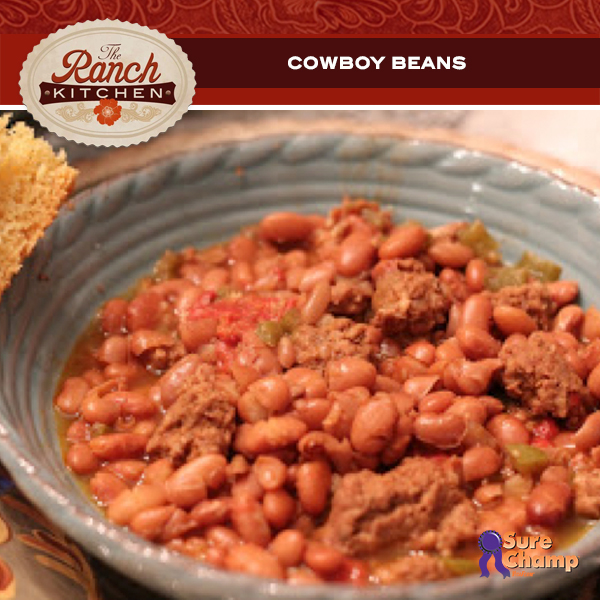 The Ranch Kitchen's Cowboy Beans
Ingredients
6 cups pinto beans, rinsed & drained well (at least 3 times)
1 quarts water or about 9 cups to cover the beans to 4 inches or more above
1 quarts of tomatoes or one large can of stewed tomatoes
1 onion, sliced
2 green chili's, seeded and chopped (optional)
1/4 cups chili powder
1 teaspoons salt, or more to taste
1 teaspoons black pepper or more to taste
2 cloves garlic, chopped fine
2 pounds ground beef, sausage or turkey
Instructions
Rinse and drain pinto beans until water runs clear or use a colander.
Place pinto beans in a cast iron Dutch oven or in a large pot and add water.
Bring pinto beans to a high boil for five minutes and then down to a low boil.
Add black pepper, tomatoes, onions, green chili's, garlic and chili powder and continue to cook on low covering with a lid.
After 1 hour add ground beef, sausage or turkey that has not been cooked.  Break off pieces of meat in 2 x 2 inch chunks and place directly in the cooking pot of pinto beans.  The meat will cook as the pinto beans do and also help season them.
Continue to cook Cowboy Beans on low for 2 12/ – 3 hours or until beans are fork tender.
Add salt in the last ten minutes. Adding salt at the first of your cooking will render hard skinned beans that are tough to the taste.
These beans are also wonderful with cooked white rice spooned into your bowl with your beans served on top.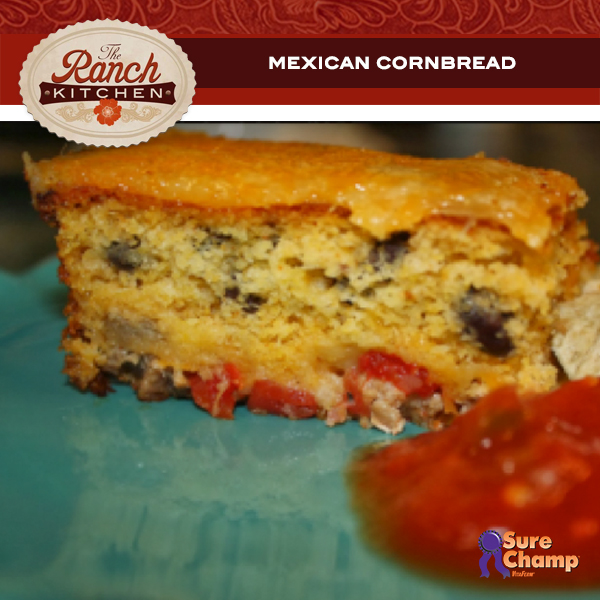 Virginia's Mexican Cornbread
Ingredients
2 lbs. of ground hamburger meat, browned and drained with
1 onion, chopped fine
1 large can green chili`s
1 can Rotel Tomatoes
2 packages of cornbread, prepared according to directions uncooked (not baked yet) or homemade cornbread uncooked
1/2 cup milk (for cornbread)
2 eggs, beaten (for cornbread)
1 can cream of corn (for cornbread)
2 – 4 cups Mexican Blend grated cheese or mild or sharp cheddar cheese
Instructions
On your stove, brown hamburger meat and chopped onion until it is no longer pink and browned. Drain excess fat and add 1 can green chili`s and 1 can of Rotel Tomatoes (I prefer the can with lime and cilantro). In a separate bowl prepare cornbread to package directions, reducing milk to 1 cup milk for both packages and add creamed corn to mixture. Set cornbread mixture aside. Do not cook cornbread yet.
In a 9 x 13 inch Pyrex or casserole dish that has been sprayed with Pam cooking oil or greased, add hamburger mixture. Sprinkle 2 cups of cheese on top of hamburger mixture. Pour cornbread mixture on top of meat. Bake in a 425 degree oven for 45 minutes or until the top of your cornbread is slightly browned. The last five minutes add 2 cups of grated cheese on top of cornbread. Allow to cool for ten minutes and cut in to squares. Serve with my Slap Your Momma Pinto Beans below and Cheesy Baked Tomatoes.