By, Alise Nolan, The Ranch Kitchen
Before we know it summer show season will be here and families will head out for maybe their only family vacation or 'cowcation' as we've started to call it. Whether your family is headed out to your state, regional or junior nationals this summer, we know both parents and advisors will be busy trying to feed their families, friends and hungry crews. It's never an easy task to plan to be gone for seven or more days, but our best memories have been made on these trips by our family or with our Hereford family from across the United States.
We are blessed each year by the state associations that help organize our Junior National Hereford Exposition (JNHE) with meals for the 1,000 in attendance. However, when meals aren't available that's when our state associations and Hereford families from our state pitch in to plan the meals that are left so that everyone gets fed just like they would at home. It's a simple fact that when you are fed well you're just a happier person, and the good Lord knows that being gone for this long of a stretch of time is trying on everyone's patience and pocket book!
Each summer I'm always impressed as I walk the barns at our JNHE and see firsthand the foods each state cooks and serves their masses. My favorite memory will always be meeting my dear friend Paula Acheson over a stall wall and sharing her recipes for fruit cups that she froze and served her kids for breakfast. Another is watching a lady from Alabama boil peanuts for her juniors for their afternoon snack. Each state brings their own regional flair to these shows.
For this month's Sure Champ Recipe's from the Ranch, I'd like to share a few of our favorite recipes that we make sure to take along in bulk to feed our Texas crew. These recipes are tried and true, meaning that they travel well and can easily be made for more than ten.
So, for June's upcoming post, I'd like to solicit all our stock show parents' tried and true recipes that you take on the show road. Maybe it's a main dish, dessert or snack that your group expects you to bring. Or maybe it's that recipe of a friend long gone that still brings back fond memories of stock shows gone by. Whatever the recipe is we'd love for you to share it with me first on my The Ranch Kitchen's Share a Recipe section of my site. You'll create a log in and then share your recipe. Once it's been checked over for clarity, then you'll be published! Then a panel of judges from Sure Champ and myself will showcase the top recipes on the June Recipes from the Ranch post so that we can share all the great recipes your crowd loves! You'll get attribution for your recipe and may be featured here on our next June post and also on The Ranch Kitchen!
We hope you'll join in the fun and share, share, share! You can most certainly enter more than one recipe in multiple sections like main course, side dishes, appetizers, and desserts. But remember we'd like those recipes that will fall in the category of 'Cooking for a Crowd' – for ten or more!
If your stock shows are before June, best of luck! I hope these recipes become a part of your collection. So, pack those roasters and crock pots up! And remember all the while that winning doesn't start in the show ring and that it's so much more than the ribbons and banners. The true win is the lessons learned and the memories you make with your family and friends while on this thing we call the show road! Safe travels and try to see a little of our great nation during your travels.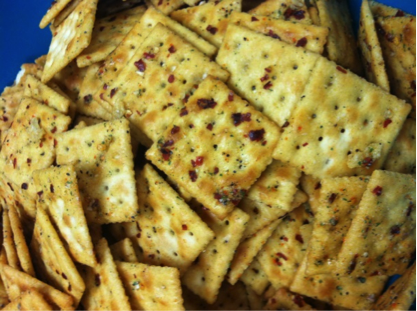 The Ranch Kitchen's Ultimate Firecrackers
Ingredients
1 box Saltine Crackers (4 sleeves)
1 cup Canola, Grapeseed or Vegetable Oil
1 package Hidden Valley Original Ranch Salad Dressing & Seasoning Mix
2 teaspoons McCormick Salad Supreme Seasoning
1 teaspoon garlic salt
2 teaspoons red pepper flakes
Instructions
Whisk together your dry spice ingredients in a small bowl.
Add oil to dry ingredients and mix well with a whisk.
Break open 4 packages of saltine crackers and place in a gallon size Ziploc bag one at a time.
Pour oil and spice mixture two tablespoons at a time over one package of saltine crackers.
Reseal package and gently shake and move crackers around in the Ziploc baggie to move oil/spice mixture around them.
Add remaining oil/spice mixture to saltine crackers (one sleeve at a time), seal baggie and mix between additions.
I served these immediately in a large bowl. However, you can allow these to sit for 30 minutes and air dry on a cookie sheet and later spoon back in to a new/clean Ziploc bag or plastic container with a top that seals tightly. Either way these seasoned crackers are just about my very favorite snack!
***These seasoned crackers will feed approximately 20 people, IF they don't devour more than ten crackers at a sitting!
Travel note: I like to package these crackers into individual snack sized Ziploc bags for road trips.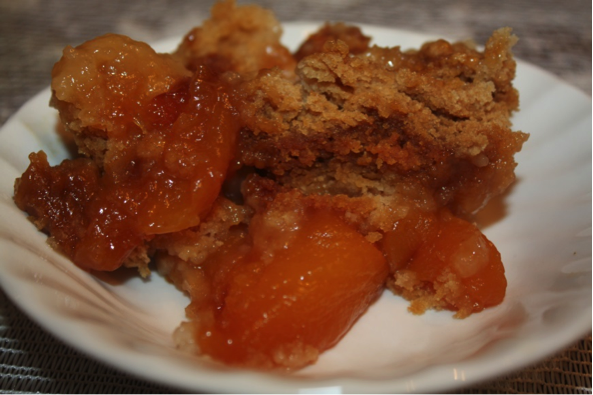 Sure Champ's Crock Pot Peach Cobbler
Ingredients
2 cans peaches with syrup or peach pie filling
1 sticks butter or margarine (8 tablespoons)
1 boxes white or yellow – Butter Recipe 'yellow' cake mix
Instructions
Prepare your crock pot by spraying Pam cooking spray or oil over the entire inside.
Place cans of peach pie filling or really any pie filling of your choice.
Sprinkle the cake mix over the pie filling evenly.
Melt one stick of butter or margarine in a microwave bowl and pour as evenly as possible over the cake mix.
Turn on the crock pot on high and cook for 3 – 4 hours on high with top securely on.
***Serve alone or with vanilla ice cream.
This wonderful fruit cobbler can be made with any canned fruit or cake mix, for that matter. I once made it with a Devil's Food Chocolate Cake mix and cherry pie filling….yummy!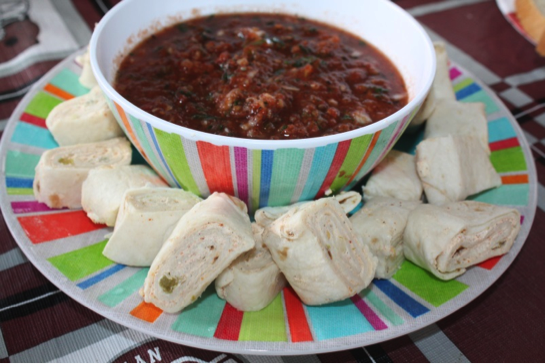 Sure Winner Salsa & The Ranch Kitchen's Tortilla Wraps
Ingredients
1 cans Fire Roasted Tomatoes
1 onion, quartered
1 jalapeno
1/2 bunches cilantro
1 teaspoons pepper
1 teaspoons garlic salt
1 lime, juiced
Instructions
In a food processor or blender place the one can of tomatoes with juices. Add to this your onion that has been quartered in fourths, the jalapeño with or without seeds depending on your heat tolerance, lime juice (you can use lemon juice instead) and then all spices. Pulse 4 to 5 times depending on the consistency you want your salsa to be. That means either 'chunky' with large pieces of vegetables or liquified with a juicier consistency. Keep refrigerated for up to one week.
This salsa is so easy to make and tastes so much better than store bought! Just freeze it until you are ready, then thaw and serve with your favorite tortilla chips or tortilla wraps!
Ingredients
2 pkgs. of burrito/fajita sized flour tortilla – largest ones you can find
1 16 ounce container of sour cream, no light…makes it taste funny
1 block of cream cheese, no light…you get the picture – softened
1 large can of green chilis, not drained
1 tsp. of garlic salt – optional
1 chopped finely – red or sweet 1015 Texas A&M onion!
1 – 2 tsp. Tony Chacheres Cajun Seasoning…use regular – hot is just to darn hot!
Instructions
In your stand mixer or a large bowl mix together sour cream and cream cheese. Add to this mixture seasonings and mix well. Add onion and blend well. Place 2 – 3 tablespoons of your mixture on top of each tortilla. Spread evenly on each tortilla. Roll tightly the tortilla that is now spread with sour cream/cream cheese/seasoning mixture. Place on an oblong tray, cover and refrigerate. You may also place in gallon sized plastic zip bags to refrigerate. These are best if they can marinate in the tortilla for 4 – 6 hours…but good if not. Cut each tortilla in to 1 inch sized portions – you should get around 8 to 10 slices from each tortilla. Serve with my hot sauce Nolana's Family Hot Sauce (listed on this site and my blog) or your store bought Picante sauce. Its a hit! I sometimes just leave them uncut and will eat them for a quick lunch!