By, Alise Nolan, The Ranch Kitchen
Just every once in a while I'll go the extra mile with a recipe. This time of the year with cattle shows and life on over drive, getting dinner on the table isn't always easy.
If you asked my husband what one of his favorite meals was it would be this Fiesta Stuffed Bell Peppers. Around our house we love anything with rice and using Knorr Fiesta Sides Mexican Rice helped cut a few steps out of this recipe.
Although this dish is a little more involved than my usual recipes here on Sure Champ, you'll find the extra effort will be worth it. Parboil (boil your prepared bell peppers) for a few minutes before you stuff them and cook your rice along with your beef to speed the process up a bit. You can also use ground pork or turkey for this recipe if you choose.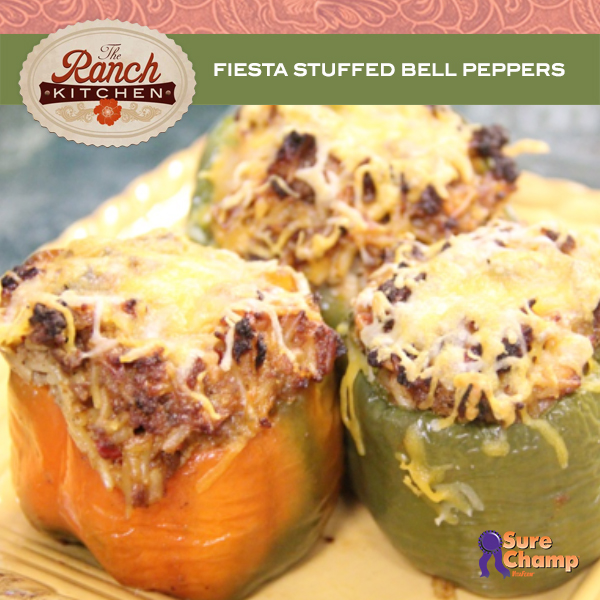 Fiesta Stuffed Bell Peppers
Ingredients:
2 pounds ground beef, browned and drained (we always use Certified Hereford Beef from our ranch)
1 white onion, chopped fine
1 package Knorr Spanish Rice – 5.6 ounce package
2 teaspoons Howie's Cajun Dust – Seasoning (or Cajun Seasoning or All Seasoning Spice of your choice ) – optional
4 cups water
1/2 cup Velveeta cheese or fresh grated cheddar cheese
1 – 10 ounce can Rotel Mexican Style Tomatoes with Lime and Cilantro
8 green or assorted red or orange bell peppers, cored and parboiled (boiled for 5 – 10 minutes until slightly softened)
Instructions:
Prepare bell peppers by cutting off tops and removing inner core and seeds. Discard top of bell peppers or freeze for later use with other recipes.
Place bell peppers in a large pot of water and bring to a boil for five to ten minutes. You'll want peppers soft, but not cooked through. Drain bell peppers and place in a lightly greased oven-safe dish that will house them tightly. You do not want you bell peppers to tip over, so stack the bell peppers close together.
Brown ground beef and chopped onion and drain all leftover grease/liquid.
Add 4 cups of water to the ground beef mixture and Knorr Fiesta Sides Spanish Rice along with Howie's Cajun Dust seasoning (or any Cajun seasoning or All Seasoning Spice).
Cook ground beef and rice mixture on medium heat for ten minutes until most of the water is gone.
Add Velveeta cheese or fresh grated cheddar cheese and blend until melted in mixture.
Carefully spoon meat and rice mixture in each bell pepper until they are topped off and full. Cover dish with foil.
Bake stuffed bell peppers on 375 degrees for 35 minutes or until tops are browned and rice looks 'puffy' or cooked.
Remove foil and top with extra grated cheddar cheese and serve. This is optional if you are not a cheese lover.
This was served with crusty French bread with dipping sauce, a side salad and fresh cantaloupe. The rice was so good that it could be a meal on its own without the bell peppers.
We served these stuffed bell peppers with a side salad, rolls and these Strawberry Brownies below for a complete dinner everyone will enjoy.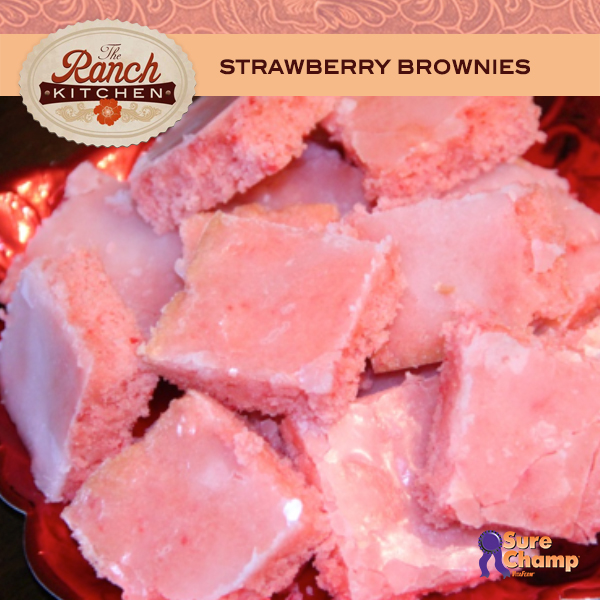 Strawberry Brownies
Ingredients:
1 box strawberry cake mix (any brand is fine)
2 eggs, beaten
1/3 cup vegetable or Canola oil
For Glaze:
1 cup powdered sugar
2 tablespoons water
Instructions:
Beat eggs well.
Add eggs and oil to strawberry cake mix and blend well with a spoon. Do not over mix as it will make the dough hard.
Place dough in a 9 x 13 inch greased Pyrex dish or baking pan.
Bake for 15 minutes on a 350 degree oven until brownies start to brown slightly on top.
Remove from the oven and allow to cool for 15 minutes.
For Glaze:
Mix 1 cup powdered sugar with 2 tablespoons water.
Pour glaze over strawberry brownies and allow to cool completely.
Cut brownies in to squares and serve.
Remember cooking doesn't have to be hard and sometimes a little extra effort will yield fantastic results! For more recipes like these, stop by The Ranch Kitchen and click on the Recipe tab.
Have a wonderful last week of winter and beautiful spring ahead!