By, Alise Nolan, The Ranch Kitchen
Holidays are busy, busy times when even the most organized person realizes there isn't enough time in the day to cook, wrap, bake or go every place you'd like to be.
As we look forward to the holiday ahead, it's important to remember that it is about the quality times we spend with our loved ones, friends and the spirit of giving, which are some of the most important things.
The Holly Jolly Bark below was made by my oldest daughter Ilissa. It's a fun recipe that doesn't have any rhyme of reason to it. It's just a jumbled medley of sweet and salty that any cook can throw together in a hurry. This bark is also relatively cheap to make for parties or just for your home. Our girls love the festive Oreo cookies with the red filling that you can purchase around the holidays. Along with either small stick, seasonal shaped star or trees pretzels, this recipe paired with holiday M&M's and sprinkles is fun to make. Try different variations and seasonal candies at Easter and Halloween as well to enjoy this dessert all year long.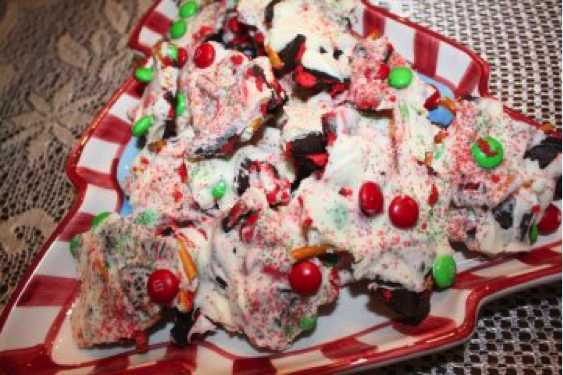 Holly Jolly Christmas Bark
Ingredients
1 pound white chocolate almond bark
1 1/4 cup stick pretzels
1 cups Hershey's Christmas Chocolate M&M's
14 Oreo Christmas Cookies (red centered)
1 dash of red and green sprinkles
Instructions
Line the baking sheet with waxed paper.
Mix on the sheet the Oreo's, pretzels, and 3/4 of M&M's.
Melt the white chocolate bark in a microwave bowl for 1 1/2 minutes, stir then melt until smooth.
Drizzle over the candy mixture and top with extra M&M's and red/green sprinkles.
Let dry at room temperature or place in fridge to harden.
Break into bite size sections.
Place in a cookie tin and enjoy!
Note: You can change this up according to your holidays and available M&M Candies. For Valentines use the red and white M&M candies and Rose colored cream filled Oreos. Enjoy!
From daughter of The Ranch Kitchen, Ilissa Nolan.
These Hot Chocolate Cookies are a delicious treat that we all loved at our house last Christmas. They were a favorite even after the holidays at the Fort Worth Stock Show in January at our stalls with adults and kids alike. They are simply addicting and something I currently cannot wait for our Bethany to make in large batches this month and next. It's a bit of an involved dessert to make, but the results will be so delicious that you won't mind the extra effort!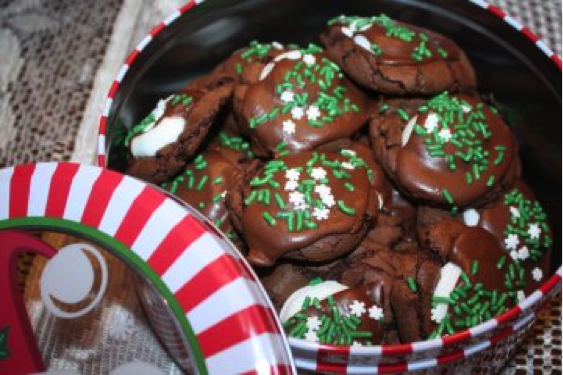 Hot Chocolate Cookies
Ingredients
12 ounces-fluid Hershey's Semi-Sweet Chocolate
1/2 cup (1 stick) unsalted butter
1 1/2 C cups flour (all purpose)
1/4 cup Hershey's Unsweetened Cocoa Powder
1 1/2 teaspoon salt
1 1/4 cup brown sugar
3 eggs, beaten slightly
1 1/2 teaspoon vanilla extract
25 large marshmallows (cut in half in the middle)
Instructions
In a bowl, whisk the flour, cocoa powder, baking powder and salt.
Beat sugar, eggs, and vanilla on a low speed with an electric mixer until well combined.
Add flour mixture to this sugar, egg, and vanilla mixture until just combined.
Melt butter in a sauce pan until just melted.
My Bethany chose to add the melted chocolate here instead of at the first as the original recipe called for.
Scrape down the sides of the bowl with the cookie mixture, cover with Saran or plastic wrap and refrigerate about 1 hour.
Preheat your oven to 325% F and line 2 baking sheets with parchment (waxed) paper. Using a tablespoon sized cookie scoop spoon out the dough and roll into balls with your hands. Arrange these balls on your cookie sheets about 2 – 3 inches apart. Flatten out slightly before baking.
Bake cookies for about 12 minutes.
While cookies bake, cut each marshmallow in half through the center (not long ways).
Once cookies have baked take the marshmallows and place one in the center of each hot cookie while still on the cookie sheet. Return to your oven and cook for 2 – 3 minutes longer. Allow your cookies to cook and then place on a cookie rack to cool.
Prepare cookie icing by combining all ingredients (hot water, powdered sugar, unsalted butter and vanilla), mixing together with a whisk. Spoon icing over your cookies but do not cover marshmallow tops completely. These cookies are super sweet and the icing is more of a garnish than complete icing. After icing has set on the cookies for a few minutes, sprinkle with candy sprinkles or none at all. We used green sprinkles for a Christmas decor.
Icing should sit for up to 30 minutes before serving.
Note: These cookies will hold up to 2 days in an airtight box or up to one week in your refrigerator covered. These are picture perfect honestly and we give all credit to the Rachel Ray site-magazine and of course my baker deluxe daughter, Bethany Nolan.
Have a wonderful holiday season from our ranch to yours!