By, Alise Nolan, The Ranch Kitchen
On our ranch the grass is finally turning green, baby Hereford calves are jumping through the red clover and my husband and my thoughts turn to our garden and weekends camping at the lake.
Each year we plant a garden that is entirely too big for our family of five. However, the leftover abundance is always gratefully shared with our family and friends or put up for the long fall and winter to come.
Our favorite vegetables are, of course, our tomatoes. Just the thought of them now makes my mouth water with anticipation. Store bought varieties just don't have the same acidity or flavor. Our zucchini and yellow squash run a close second on our favorite list. I especially love our cabbage and brussels sprouts that we steam, wilt and cook on our grill and smoker.
Since spring has our mind on our garden and its long rows have been planted, I thought we'd share some of our favorite recipes we enjoy each year. The early mornings and late evenings in my garden are some of our favorites. I love the peace of the garden in the morning and the quiet evenings when the sprinkler turns on we can all can sit and marvel at what our hands created.
My grandfather used to say that nothing is more satisfying than sitting down to a dinner that mostly came from our own hands and farm raised beef. I know he was right and feel proud to carry on that tradition and, hopefully, instill the love of the land in my own daughters.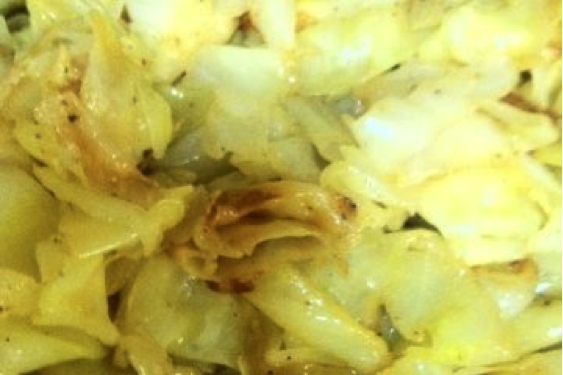 Granny's Wilted Cabbage
Ingredients
1 heads cabbage
1 large to medium white or yellow onion
1/4 cups Canola or Grape Seed Oil or more if cabbage begins to stick
2 – 3 tablespoons prepared mustard
garlic salt and pepper to taste
Instructions
Slice cabbage and onions into 1 inch strips. In a large non stick pan or skillet with tall sides, pour 1/4 cup Canola or Grape Seed Oil. Heat and cabbage and oil on medium to high heat, turning frequently with tongs or a spatula being careful not to splash heated liquid on your skin. Saute the cabbage until halfway wilted (cabbage will be partially cooked and slightly limp). Season to taste. Continue to cook, reducing fire to low. Add 2 -3 tablespoons of prepared mustard to cabbage. Continue to cook/saute on low, tasting for seasoning and adding garlic salt and pepper to taste.
***Remember that a little mustard and garlic salt go a long way. Serve hot with any meal or alone as a tasty, low fat meal. Sausage can be added, turning this cabbage into a main dish.
This recipe is from my Granny Louise Wilson Young, my mother's mom. It's the most popular recipe post on The Ranch Kitchen site and a true tribute to the country cook she was. I miss her every day and cherish the lesson both in and out of the kitchen that she taught me.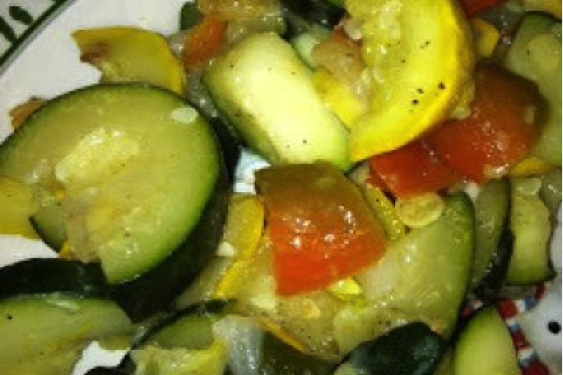 The Ranch Kitchen's Summer Squash
Ingredients
6 – 8 small yellow and/or green zucchini, cut in quarters 1/2 inch thick
1 medium to large yellow or sweet 1015 onion, sliced
1/4 cups Canola oil or grape seed oil (or vegetable oil)
1 bell pepper, chopped (optional)
1 – 2 teaspoons Cajun Season, All Seasoning Spice, garlic salt/pepper, lemon pepper or seasonings of your choice
Instructions
In Teflon coated pan or wok add oil and heat on low heat. Add squash and onions cooking on low to medium heat covered, stirring constantly allowing vegetables to 'cook down' or reduce in size. Covering your dish with a lid will help your squash cook faster. Also, a lot of oil is not needed due to the water in the squash that will release as you cook. Add Cajun Seasoning like Tony Chachere's or Zatarain's, and/or All Season Spice as you cook, tasting to see if you need more or less. You can also add lemon pepper or any spice you prefer instead. Cooking time is usually around 20-30 minutes depending on the level of your fire or heat on your electric stove top. I have also prepared this squash in a foil pack a lot of the time when we are in a hurry by grilling outside or in the stove. Just place your foil wrapped squash on top of a cookie sheet in case it accidentally breaks or you`ll have a mess in your stove. Also, add 4-5 ice cubes to help maintain the moisture in your squash as they stove seems to dry it out faster even though it is sealed in a foil pack. Always wrap your foil in an upward curl on the sides so that you do not lose your juice from your squash.
Occasionally, I add grated cheddar like Parmesan, and/or Colby Jack cheese to the top of the squash as my daughters like it that way.
When my girls are home I make this super healthy vegetable dish with zucchini and yellow squash all year long. In the spring and summer when we have an overabundance of this great veggie, I probably burn them out on this wonderful side dish, but we love it. I like to use Grapeseed Oil and add some fresh, garden sweet peppers or any variety to it and our favorite Creole Seasoning by Tony Chachere's! Enjoy!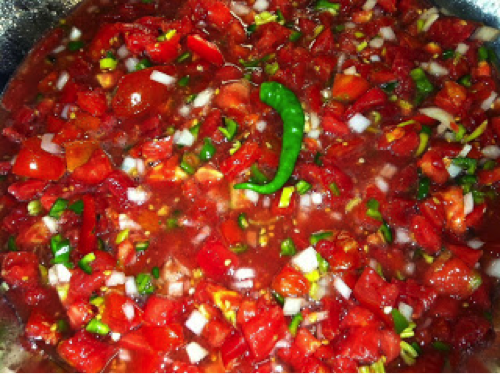 Sure Champ Pico de Gallo
Ingredients
8 tomatoes, ends removed and cut in 1 inch cubes with seeds
1 onion, chopped fine
1 bunch of cilantro, chopped fine
2 jalapenos, deseeded if you don't like it too hot and chopped fine
2 – 4 sweet banana peppers, chopped fine
1 lime or lemon, juiced (we prefer limes)
1 teaspoons garlic salt
1 teaspoons black pepper
1 teaspoons Tony Chachere's Creole Seasoning or All Seasoning Spice
Instructions
Prepare tomatoes, onions, cilantro, jalapenos, sweet banana peppers and place in a large container wit a top that seals. Add the lime juice, garlic salt, black pepper, and Tony Chachere's Creole Seasoning and blend well. Taste the Pico and make your own decision of whether you need more spices or more lemon or lime juice.
Note: To juice my lemons or limes, I slice each half and place a fork in the center. Turn the fork around as you turn the lime/lemon and let the juice go through your other hand and into our Pico bowl, attempting to catch seeds if they fall out.
Allow your Pico de Gallo to marinate for at least a half hour or more in your refrigerator to get the best flavor! Add more tomatoes to it throughout the week and jalapenos as you eat this wonderful relish style recipe!
This is my husband, Scott's, favorite way to eat tomatoes besides straight off the vine! We love this alongside fresh garden peas or with tortilla chips with a Southwestern meal. I make this Pico in huge 2 – 5 gallon vats and add new tomatoes to it as we eat them down for a couple of days. Always refrigerate this Pico and jars of these make great gifts!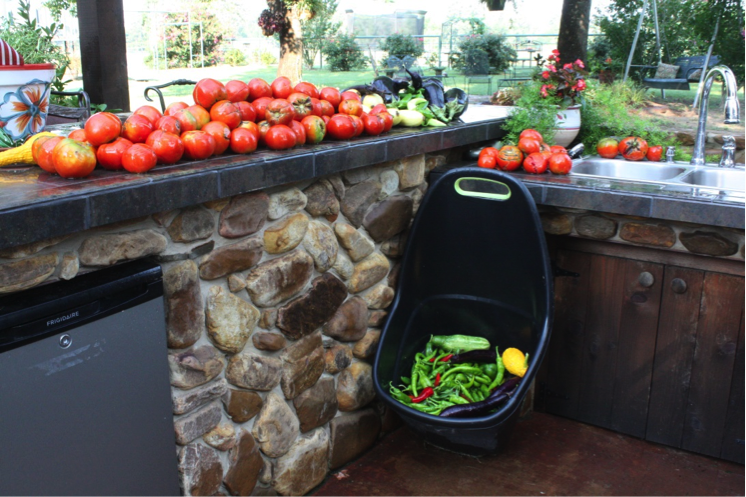 We hope you'll enjoy these recipes and your part of the world starts to thaw and spring comes out in its full beauty!
Get out there, play in the dirt and plant a garden that everyone will reap the benefits from!