By, Alise Nolan, The Ranch Kitchen
With the holiday season almost here, the thought of just what recipe to make is always a challenge. At our house, we have our traditional holiday favorites, like my Granny's Cornbread Dressing, along with all the many vegetables and desserts that make our holidays complete.
Years ago as a young cook I wanted to impress my family with my cooking. These two recipes were easy enough for a novice like myself and turned out to be a tradition for me to bring each year. Over the years I've changed the original recipes to reflect our personal taste.
Two of our now favorite dishes,we make each year are the green beans, and the nontraditional cauliflower and broccoli salad below. These are tried and true recipes that are easy to prepare the day before, bake the day of and add the finishing dressing on to right before serving.
In my single oven, it's nice to have dishes that don't always require baking and that can easily be prepared the day before, thereby helping to ease some the stress that goes into our holiday meals.
They say the average holiday meal takes more than 6 hours to prepare and twelve minutes to eat. It's no wonder we ask that God bless the hands that prepare the meal because it is exhausting! Thankfully these recipes are definitely worth the effort, especially for the leftovers alone.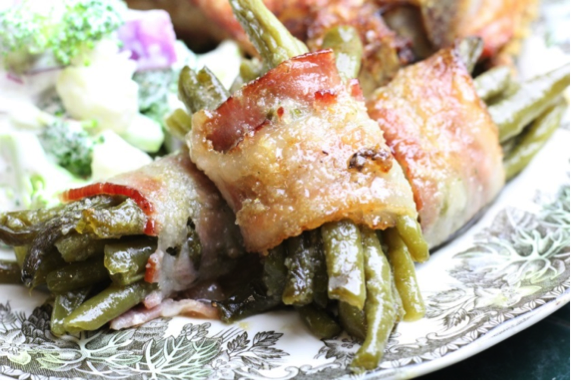 Sure Champ's Blue Ribbon Green Bean Bundles
Ingredients
4 cans whole 14. 5 ounce green beans, drained
1 pounds bacon (each strip cut in halves)
1 1/2 cups light brown sugar
1 cup unsalted butter (2 sticks)
3 teaspoons garlic salt
Instructions
Open cans of green beans, drain and set aside.
In a small sauce pan melt 1 cup butter, garlic salt and brown sugar on medium heat until disolved together (around four minutes) and turn off heat.
Cut bacon in half.
Wrap 9 or so green beans inside each 1/2 strip of bacon creating a bundle.
Place green bean bundles with bacon seam side down in a foil lined 9 x 13 inch dish that has been sprayed with cooking spray to prevent sticking.
Bake green bean bundles uncovered at 375 for 45 minutes and then turn up to 400 degrees for the last 15 minutes.
Serve green bean bundles warm along side your favorite main dish.
***If you don't feel like wrapping these green beans, you can just bake them with the butter, sugar and garlic salt along with the bacon chopped up and mixed throughout.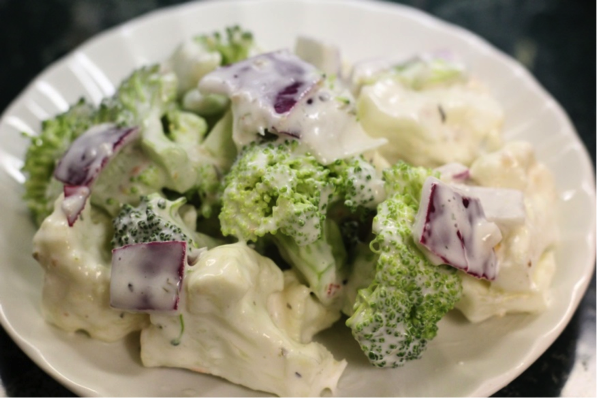 The Ranch Kitchen's Winter Salad
Ingredients
1 large head of broccoli (cut with florets only), frozen can be used – thaw
1 large head of cauliflower (cut with florets only), frozen can be used thaw
1 (8 ounce) Creamy Italian Dressing (I have used Ceasar or Ranch Salad Dressing before)
1 cup REAL Mayonnaise
1 teaspoon garlic salt
Optional vegetables:
12 – 18 cherry tomatoes or Roma sliced
1 red onion, chopped
1 bunches fresh spinach leaves
1 cup chopped carrots
1 cup cherry tomatoes
Instructions
Chop broccoli and cauliflower and place in a large bowl.  If using frozen vegetables, allow them to thaw and drain well.
Combine Creamy Italian Dressing, 1 cup REAL Mayonnaise and garlic salt with a whisk.
Spoon dressing mixture over broccoli and cauliflower mixing well 30 minutes before serving.
Mix in a separate bowl from the one you serve in.
Refrigerate until ready to serve.
***This pretty side is a break from your traditional lettuce and tomato salad and always a huge hit wherever I take it. You can add cherry tomatoes, fresh spinach and chopped carrots for added color and flavor. We love our onions, but they are totally optional.
We hope these recipes will become part of your traditional holiday foods. And, do remember to thank the cooks, help with the cleanup and compliment them by asking for their recipes. My most treasured recipes are those handwritten from family now long gone.
Have a wonderful rest of fall that's full of family, friends and good times.