By, Alise Nolan, The Ranch Kitchen
This month is a busy one with our local county fairs, football games and school. Throw in a few speaking contest for our youngest daughter, her market broilers and hogs, and then work, cheerleading and school and you have what most Sure Champ customers know all about….life as a show family. It's full to the brim for all of us, especially this time of the year, and getting a meal on the table is not always done early. Most meals are served after barn chores are done and the animals are fed first.
This life we lead is not one our friends outside of agriculture truly understand, but to all of us it's the only way we'd raise our kids; in the barn side by side with a shovel, rake, comb or feed bucket.
This month as I was browsing my recipes I found my lasagna that I make three different ways. The first two are more involved with the layering of the meat, noodles, vegetables (yes vegetables!) and cheeses, while the last is my quick version when life in the barn gets hectic. All three can be prepared with beef or pork or a combination of the two. Even ground turkey is a great substitute for the meat in these recipes. We don't just eat Certified Hereford Beef on our ranch, as whichever hog doesn't make sale goes thankfully in our freezer for the year ahead.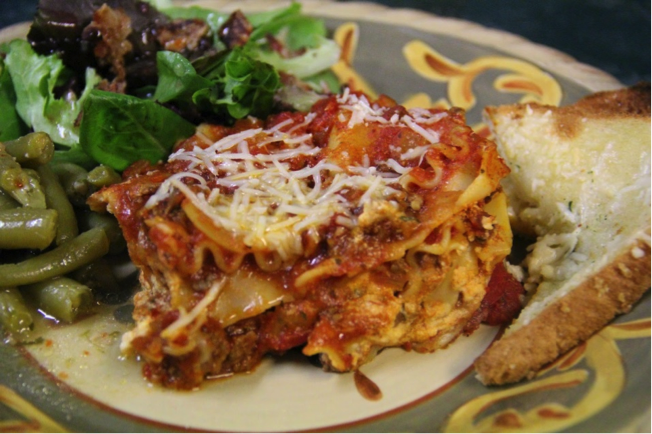 The Ranch Kitchen's Lasagna
Ingredients:
2 pounds ground beef or pork, cooked and drained of all left over grease
1 large onion, cut in chunks
1 Ragu or Hunt's Spaghetti Sauce, 16 ounce or larger
1 cans chopped tomatoes with sauce, with spice or without
2 teaspoons garlic salt
1 teaspoons black pepper
1 teaspoons salt
1 teaspoons oregano
1 packages lasagna noodles(15 total long noodles)
1/2 to 1 cups Parmesan Cheese, grated
Instructions:
In a large pan, cook ground beef or pork on medium high heat with onions until meat is light brown (done) and onions are transparent (you can almost see through the onions). I used our Certified Hereford Beef.
Drain off excess grease from meat into a heat proof bowl and discard. Turn off heat before you do this and place an old towel or folded pot holder under your cooking pan so that you can put all meat and onions to the top of the pan allowing grease to slide to the bottom. Gently spoon out all grease in to your bowl and discard.
Add entire jar of spaghetti sauce to meat and heat through. Cover pan so that spaghetti sauce does not pop out and hit or burn you.
In a 9 x 13 inch Pyrex or casserole dish that has been greased with oil or sprayed with Pam cooking spray, place one can of chopped tomatoes. Sprinkle these tomatoes with garlic salt, oregano, and pepper on top of tomatoes if they do not already have spices in them. I used the tomatoes without spice or added onions/green peppers.
Add one layer of lasagna noodles that are not cooked. You may have to break some to make them fit or lay slightly over each other. I used 5 noodles per layer.
Add 1/3 of spaghetti-meat mixture. I used Ragu with green peppers and onions.
Add 1/2 of Ricotta Cheese on top of spaghetti-meat mixture smoothing out as evenly as possible.
Add 5 more lasagna noodles.
Add 1/3 of spaghetti-meat mixture again.
Add remaining Ricotta Cheese on top of spaghetti-meat mixture smoothing out as evenly as possible again.
Add 5 more lasagna noodles.
Top with remaining spaghetti-meat mixture.
Cover with foil.
Place in a 400 degree oven and cook on middle rack for one hour or until lasagna is easily cut through with a knife.
Take out of oven and sprinkle with 1/2 or 1 cup of grated Parmesan Cheese and allow to sit for ten minutes in order for cheese to melt slightly. Slice in 3 x 3 inch squares and serve.
Made with beef, pork or ground turkey this lasagna is a sure winner on our table! Note: I like to serve my lasagna with The Ranch Kitchen's Italian Green Beans, a side salad and garlic bread.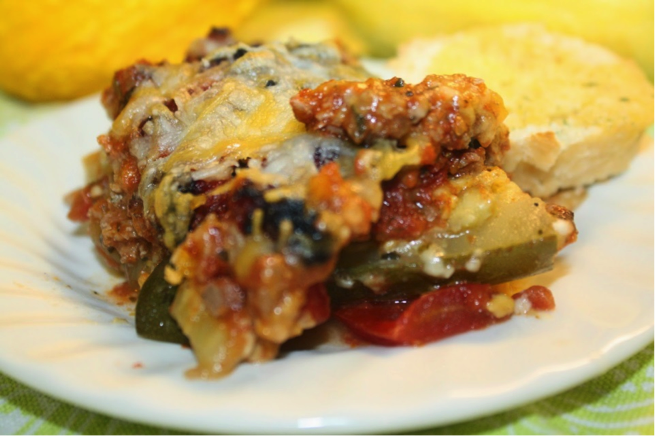 The Ranch Kitchen's Vegetable Lasagna
Ingredients:
2 yellow squash, sliced in 1 by 4 inch slivers
2 zucchini, sliced in 1 inch by 6 inch slivers
2 eggplant, pealed and cut in to 1 inch by 4 inch slivers (slices)
2 teaspoons Italian seasoning
1 teaspoons Slap Your Mamma Seasoning or any Cajun Seasoning
2 cups cheddar or any grated cheese of your choice (I used a Colby Jack mixed cheese)
1 cans Rotel Tomatoes with Cilantro and Lime Juice
1 cans Spaghetti Sauce (I used Hunt's 4 Cheese variety)
2 pounds ground pork or beef, cooked and crumbled fine (I used ground pork)
1/2 cups Parmesan cheese, grated
Instructions:
Slice and prepare all vegetables and layer in a 9 x 13 inch Pyrex dish or long rectangular cooking dish.
In a pan, cook sausage or beef. Drain excess fat and add spaghetti sauce and blend well.
While this meat is cooking, season with Cajun season with every layer and Italian Seasoning. *A little goes a long, long way!
Add 2 cups of cheddar cheese over the top of the vegetables.
Add one can of Rotel Tomatoes with Cilantro and Lime over the top of the cheese.
Add meat with spaghetti sauce on top of cheese and vegetables.
Cook in the oven at 275 degrees covered with foil for approximately 1 hour. When you are able to see the dish bubble on the sides and when you can fork through the center of the vegetable lasagna, your dish is cooked.
Take out of the oven and sprinkle with Parmesan cheese.
Return to the oven and allow to cook for five more minutes.
Using your summer or fall squash and eggplant, this garden variety eggplant is a favorite at our house and can be made meatless as well.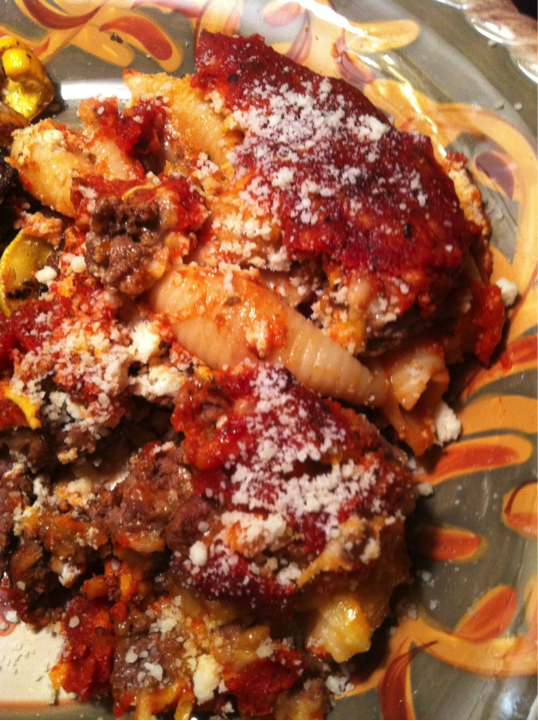 The Ranch Kitchen's Cheater's Lasagna
Ingredients:
2 lbs. ground beef, browned and drained
1 package of jumbo pasta shells, cooked and drained
2 – 16 ounce cans of store bought spaghetti sauce (I prefer Hunts 4 Cheese Spaghetti Sauce)
1 cup Colby Jack Cheese
1 – 16 ounce container of Ricotta Cheese
Instructions:
Brown ground beef and drain.
Cook pasta according to package directions and drain.
In a 9 x 13 inch Pyrex dish place one can of Spaghetti Sauce.
Spoon half of Ricotta Cheese over spaghetti sauce in 1 tsp. sections over sauce.
Place cooked pasta shells over mixture.
Add second half of Ricotta Cheese in 1 tsp. sections over pasta.
Place browned hamburger meet over mixture.
Sprinkle Colby Jack cheese.
Pour second container of spaghetti sauce on top of mixture.
Cook on 425 until mixture is bubbly and cooked through.
This quick version of my lasagna doesn't lose any of the traditional flavors and is a favorite on our ranch. Be creative with the noodles you use!