Fall is our favorite time of year at Sure Champ as we are quickly approaching weaning time, the fall majors and of course FOOTBALL! We are excited to share a number of recipes with you this month from Mrs. Alise Nolan and hope that they make their way into your tailgating or fall show menu lineup.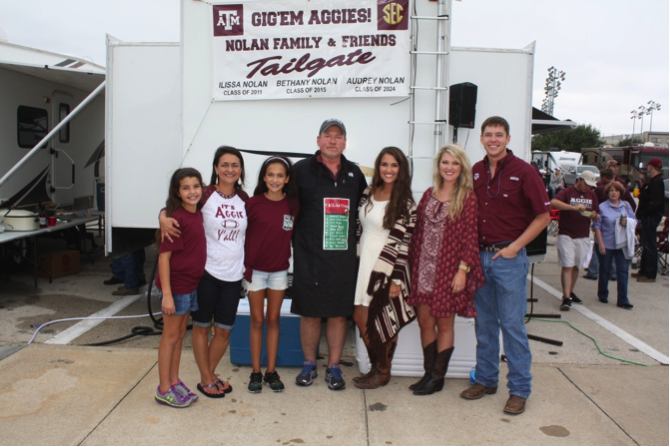 As with anything our family does, there's always a first time for everything and then that quickly turns in to a tradition. Over eight years ago we hosted our first Aggie Tailgate at Texas A&M University for our oldest daughter and her friends who were in their freshman year. We'd never tailgated before. We had a smaller RV at the time, a smoker and luckily a fantastic spot to tailgate in. We've refined our tailgating skills over the years and these annual events have become a really good time.
We've learned a few things over the years. If you cook, they will come. Your tailgate can be that touch of home your children's college friends are missing. Yet most importantly, all the while, you are all making memories with your family and friends that will last a lifetime. Catching up with our friends both young and old while tailgating has become something my husband Scott and I have truly cherished over the years.
For this month's Sure Champ Blog post I wanted to share recipes that you could easily make for a crowd for tailgates or simply cook for a group at home while watching the game. All these recipes transport well and were a huge hit with the crowd we served.
I've learned over the years that what foods get wasted and not eaten, we don't serve again. Furthermore, the most important thing to remember is that although you can fix every last thing yourself to eat…who has time for that?! Make everyone feel a part of your party and when they ask what to bring to your tailgate or event, politely say YES! Give them a choice of two foods, paper goods or drinks to bring that will help ease your stress and be something enjoyed by all. I always include on my invitation to bring your chairs, coolers and an appetizer to the game. As you'll see here, I wouldn't have some of these great recipes on this post today if my friends hadn't shared with us at the tailgate! 
My Tailgating Must Haves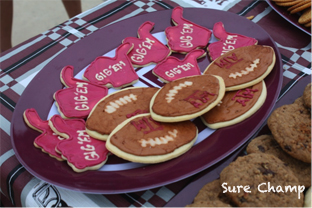 Non-perishable appetizers like:
Nolana's Family Hot Sauce or Pico de Gallo
Tortilla, Corn and Ruffles Chips
The Ranch Kitchen's Spicy Mexican Pretzels
The Ranch Kitchen's Ultimate Firecrackers
Chex Snack Mix
Assorted Nuts
Cookies (sugar cookies with team spirit items), chocolate chips, oatmeal, peanut butter – but consider others with allergies and keep them separate and named.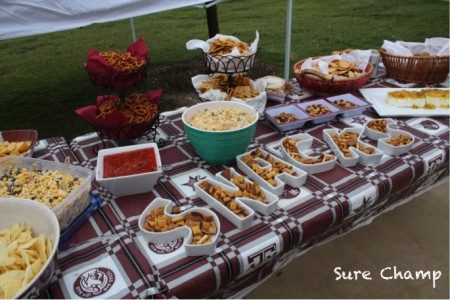 Appetizers to keep on ice:
Winner Tortilla Rollups
Cheese balls (depending on how hot outside it is)
Hidden Valley Ranch Dip
Buffalo Dip
Kimbo (Kim Rolf's – Ilissa's Best Friends – Aunt Kim's Dippin' Stuff
Main Course:
Scott's Famous Fried Catfish
Big Dave's Remoulade Sauce
The Ranch Kitchen's Tartar Sauce
Fried Biscuits with honey and melted butter (just fry your biscuits in hot grease and serve – amazing and devoured in no time)
Hush Puppies
French Fries
Or if you are really adventurous…frog legs like Scott, David, & Ken made – pictured below! 
-or as we have served before:
Smoked Brisket and ribs
Slovacek's Sausage – a south Texas tradition
The Ranch Kitchen's Roasted potatoes &
Slap Your Mamma Pinto Beans
(or)
Grilled Sausage and flour tortillas – A Texas A&M Tradition!
Condiments:
Ketchup
David's Remoulade Sauce (keep on ice)
Tartar Sauce (keep on ice)
Desserts:
Our Bethany's Magic Cookie Bars off The Ranch Kitchen site
Sam's Club Brownies or Brownie Bites – already prepared (I can't make them this good or this easy!)
Smore's – graham crackers, Hershey's or Reese's Peanut Butter Cups and jumbo marshmallows roasted over a fire!
Sysko- Food Service Supplies Fried Fruit Pies (peach, apple and pecan are amazing – just fry and serve!)
Dairy Queen Dilly Bars – Frozen vanilla ice cream dipped in chocolate (keep in RV freezer) – thanks Larry Bishop – aka Larry Queen… for this sweet tradition!
This and that:
Tents for shade and tarps
College Team Flags
Texas A&M spirit clothing…you must dress right for the party…or your favorite team wear!
Cheese spreaders and can/wine openers and
Coolers
Ice – and lots of it!
Sweet Tea in a large water jug for easy access
Bottled Water
Coke, Dr. Peppers, & Sprites/7Up
Blankets – who knew we'd need them this weekend!
Tables and chairs
The Ranch Kitchen's Aggieland Sangria
Assorted Beers
For the tables:
Disposable plates, utensils (forks, spoons and knives), napkins
Salt, pepper, and Tony Chachere's Cajun Seasoning
Team spirit tablecloths or disposable plastic
Plastic cups or pre-printed ranch or tailgate themed plastic cups
Cozies – to hold your favorite beverage (we enjoy giving these out at tailgates form our ranch and from those of our friends
Tablecloth clips or tape to hold down fabric in the wind!
Aggie or your team server ware (plates, bowls and containers to server your foods in), wire decorative baskets for chips and crackers
Ice buckets or separate coolers for keeping extra cups and ice in a clean cooler (just for ice) for those who like 'clean' ice in their drinks…it's my pet peeve…
Satellite for televisions to watch the game if you don't go in and are nice enough to let your children go instead!  
1 gallon container of Zatarians Fish Fry Meal (cornmeal/flour mixture -we buy ours at our local Sam's Club)
2 tablespoons (approximately) of Old Bay Seasoning – spice
2 tablespoons of Tony Chachere's Creole Seasoning
Prepare catfish, bass, crappie or any white fish by cutting in to 2 inch by 4 inch portions.  Wash with water and drain.
Combine Zatarains Fish Fry Meal with Old Bay Seasoning Spice and Tony Chachere's Creole Seasoning in a large metal pan.
Place 8 – 10 damp pieces of fish in the prepared fish fry meal and 'roll' in in the mixture to cover well.  Pat excess meal off each piece of fish and gently so that you don't burn yourself with hot oil, place fish in hot oil in your fryer (we used our Cajun Fryer).  Fry temperature for fish is 350 degrees.
Fish is done or cooked when it floats to the top of the oil.  Take our fish and drain in a large metal pan that has been lined with paper towels to sop up the excess oil.
Scott Nolan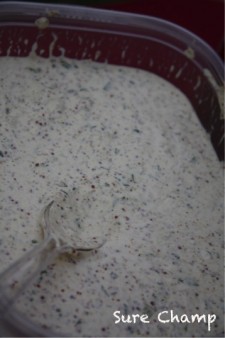 Big Dave's Remoulade Sauce
1 cup Real Mayonnaise
1 cup Creole Mustard (grainy mustard)
1 cup horseradish (from a jar)
1/3 cup parsley, chopped fine
1 rib celery along with all leaves on stalk, chopped fine
2 tablespoons minced garlic
Chop and prepare all vegetables.  Mix all vegetables along with all other ingredients together and refrigerate 8 hours.  Remoulade sauce will keep for up to 2 weeks in the refrigerator.  Serve alongside fried or baked fish and shrimp or any seafood.
David McQueen
Chinese Cole Slaw
1 bag shredded cabbage (blended with carrots and cabbage)
¼ package of Chow Mein Noodles
1 – 2 green apples, cored and chopped in 1 inch cubes
1 bottle (12 ounce) Marie's Original Cole Slaw Dressing
Thirty minutes before serving combine all ingredients with Marie Cole Slaw Dressing and serve.
For the recipe pictured above, Felicia made the above recipe times 4!
Note: The addition of apples made this cole slaw have a wonderful crunch and fresh taste!
Felicia Marks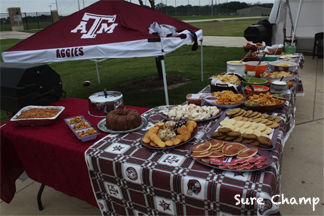 On The Mark Bacon Ranch Cheeseball
1 – 4 ounce Hidden Valley Buttermilk Dressing Mix
½ cup shredded Colby Jack cheese
¼ cup cooked bacon bits
½ cup chopped pecans
Mix first 4 ingredients together. From into ball shapes (about the size of a baseball) and roll in pecans to cover.  Cover cheeseballs in plastic wrap and refrigerate until ready to serve.
Enjoy with crackers.
Felicia Marks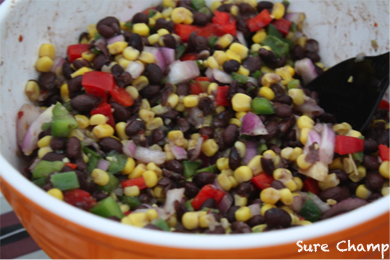 Festive Black Bean Dip
1 can shoepeg corn, drained
1 can black bean, drained and rinsed
½ purple onion, chopped
Green and Red peppers, chopped
6 ounces Feta cheese crumbles (optional)
Avocado, chopped
½ jalapeno, seeded and chopped
Italian Dressing to taste (about ¼ bottle or ¼ cup or more – you the dressing to season and not be too wet)
Mix all ingredients together and refrigerate.  Serve with Frito Corn Chips or tortilla chips or even as a side vegetable dish.
Felicia Marks
Sure Champ Tailgating Tortilla Rollups
1 – 16 ounce sour cream (I don't recommend using light sour cream)
1 – 4 ounce cream cheese
4 – 6 medium sized fresh chopped/seeded (seeding optional) Hatch red or green chili peppers, chopped fine
1 large red or white sweet onion, chopped fine
2 tablespoons of Tony Chachere's Creole Seasoning
1 teaspoon garlic salt
Allow cream cheese to soften slightly out of the refrigerator or microwave to soften for 20 seconds on high.
In a food processor pulse chili's until they are chopped fine (the size of red pepper flakes).  Take chilis out and pulse onions until chopped fine.
Combine sour cream with softened cream cheese until blended well in a large food processor or Kitchen Aid mixer (or mixing bowl).  Add Hidden Valley Buttermilk Dressing Mix, Tony Chachere's Creole Seasoning, garlic salt and blend well.  Add green chilies and onions and blend well.
To prepare tortilla rollups place 2 heaping tablespoons in the middle of fajita or burrito sized flour tortillas. Mission brand of tortillas are great for these tortilla rollups.
Spread mixture evenly over the tortilla within ½ inch of the outside edge.  Gently roll up tortilla being careful not to push too tightly and squeeze out all the filling.
Place tortilla rollups on a plate or in a large one gallon Ziploc baggie in the refrigerator for 2 hours or more for flavors to meld (come together).
Before serving cut each tortilla in 1 inch bits size rounds and serve with my Nolana's Family Hot Sauce or Pico de Gallo off The Ranch Kitchen site.
For a warm weather tailgates, I'd serve this on a plate on top of ice to keep chilled.
These never last long and are a most requested recipe by my daughter's best friend and sorority big sister Ashley!
The Ranch Kitchen – Alise Nolan
Aunt Barbara's Dippin' Stuff
2 cans black olives, chopped variety
2 cans green chilis, chopped
4 tomatoes, chopped
6 green onions and tops, chopped
1 teaspoon garlic salt
3 Tablespoons Canola or Vegetable Oil
1 teaspoon salt
¼ teaspoon pepper
1 bunch of cilantro, chopped
Mix together all ingredients and marinate overnight in the refrigerate.  Serve with tortilla chips or on crusty French bread.
Hint: This is on my favorite appetizers at our tailgates and one that I request Kim or Kimbo (Ilissa is Kim's best friend) as we call her bring to tailgates!
She says she usually just throws everything in a blender and chops instead of hand chopping!
Kim Rolfs
(no picture available…but trust me it's fantastic!)
 Hot Aggie Wing Dip
1 16 ounce bottle of Frank's Hot Sauce
2 packages of cream cheese, softened
2 cups shredded chicken
1 can whole kernel corn, drained
1 red bell pepper, seeded and chopped
1 package of powdered Hidden Valley Buttermilk Ranch Seasoning Mix
Mix all ingredients together and serve with corn or tortilla chips.
Erin Lockhart of Cattle in Motion!
 The Ranch Kitchen's Aggieland Sangria
1 box Franzia Chillable Red Wine
1 liter Peach or Plum Nectar Juice
½ liter of Sprite or 7Up carbonated beverage/soda
2 – 4 red apples, cored and sliced
2 lemons, sliced in rounds
2 limes, sliced in rounds
2 oranges, sliced in rounds
2 large bunches of green grapes, frozen
In a large container (I used a decorative jar), pour peach nectar and Franzia Chillable Red Wine.  Combine well with a large spoon. 
Add all fruits and frozen grapes last.  You can add other fruits like mango's, pineapple, and strawberries.  Be creative! 
This Sangria is a beautiful maroon color just like my favorite college team the Texas Aggies!  Serve, enjoy and drink responsibly.
A The Ranch Kitchen Original Recipe – Alise Nolan