By, Alise Nolan, The Ranch Kitchen
In Texas, the crazy floods have resulted in a severe drought now and just the chance at a rain shower is a welcome sight. We all run from one piece of shade to the next and pray for an end to the incredible heat and the coming of fall. Not much eases our spirit like ice cream at night when we've been in and out of the oppressive heat all day. This summer, blackberries were a bumper crop in our area of East Texas, so I decided to create a recipe for blackberry ice cream that was even easier than some of the other varieties I've made in the past few years for Sure Champ.
There are no eggs in this recipe, so those with allergies can also enjoy it! The color is really pretty and the flavor is just wonderful. It's a little involved to strain the blackberries to make sure the seeds don't get in our ice cream, but very much worth the effort. This recipe will become a part of my summer ice cream recipe arsenal now and one that I will be trying out with strawberries, blueberries and kiwi soon.
We made a small mess in my kitchen one hot afternoon with my daughter Audrey and her friend Kaitlyn as we mashed, stirred and used my new Kitchen Aid Ice Cream attachment to make this blackberry ice cream. It was some fun and sweet memories for sure.
The newer electric ice cream makers by Cuisinart and Kitchen Aid sure make homemade recipes like this one a snap. The bowl attachments are frozen in your freezer for at least 15 hours and will give you delicious ice cream in twenty minutes!
We hope you enjoy this blackberry ice cream as much as we did!
The Ranch Kitchen and Sure Champs Blackberry Ice Cream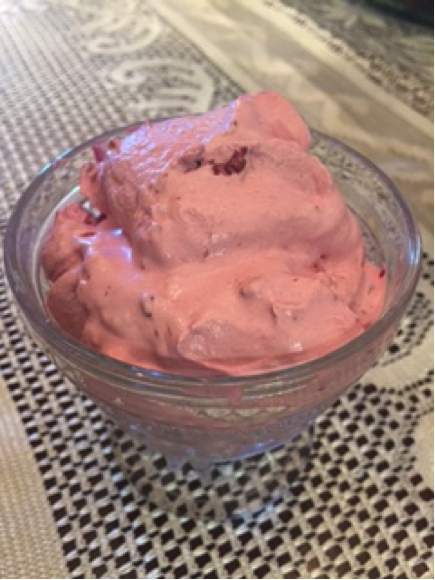 Ingredients:
2 cups blackberries
10 ounces-fluid confectioners' sugar
1 lemon, juiced
15 ounces-fluid heavy cream
1 teaspoons vanilla extract (I used Mexican Vanilla which is stronger in flavor) 
Instructions
Puree blackberries in a food processor until just broken up. I punched the pulse button about 8 times.
Mix blackberries with lemon juice and strain in a mesh container or colander with small holes.
Gently mash blackberry juice through colander into the bowl with 10 ounces confectioners' sugar. Using the colander will help you make sure the small seeds don't get in your ice cream.
Add sugared blackberry juice to heavy cream blending well. Discard blackberry seeds.
Add 1 teaspoon of vanilla extract to blackberry and cream mixture stirring well.
Add blackberry/heavy cream mixture to ice cream freezer and freeze according to directions. I used my Kitchen Aid Ice Cream attachment and love it! If you use a Kitchen Aid Ice Cream maker, it takes 20 minutes to freeze the blackberry ice cream.
Serve immediately as soon as ice cream is soft frozen or freeze for later!