By, Alise Nolan, The Ranch Kitchen
State, Regional and Jr. National Shows are gearing up across the country this summer. Juniors are busy working with their show projects and parents are anxiously making sure tack, trailers, and food boxes are packed with everything they need for their vacation or 'cowcation' as we call it on our ranch.
This summer we are gearing up for both our Texas Hereford State Show in Belton, Texas and then our Jr. National Hereford Expo in Grand Island, Nebraska. Both shows promise to bring close friends, great cattle, and tons of memories together for our family and hundreds of others. Show families each summer view the country from the windows of our pickup trucks all in pursuit of that blue or purple ribbon or banner. We know most of you can't think of a better way to spend some of your summer break than at a junior show!
This past month we asked for some of our readers' recipes that they serve their families and crews while at their summer shows. These recipes are tried and true and can certainly be doubled or tripled for the size of crowd you plan to feed.
Make sure you also check out the The Ranch Kitchen's Cooking for a Crowd section for more ideas for your summer shows. It's stocked full of all our Texas favorites and as some of our juniors tell me it's just tradition to have my Chicken Spaghetti for a Crowd which will easily feed 50 or more with one recipe. Also included are my daughter Bethany's Magic Cookie Bars, or my Penne Pretzels. The diet word is nonexistent while at our shows and sweets and treats are a must while standing around the stalls!
We wish you all the best of luck at your shows this summer! As you attend these shows and find great recipes, please share them with me by email at www.theranchkitchen@aol.com or on www.theranchkitchen.com site. There are so many creative cooks out there who know just how to make everyone feel like they are at home while on the show road!
This summer have a great time! Show hard, make great memories, serve good food and safe travels to everyone!
Show Time Breakfast Burritos
Paula Acheson of Kansas – Friend of The Ranch Kitchen

Paula says her cousin Margarete Riffel started her on these breakfast burritos many years ago for a quick breakfast. She wasn't sure if she had a recipe or if she just told her how to do them, but this is pretty close. They always liked them on show mornings when they could start warming in the crock pot while we were on the wash rack.
Ingredients:
12 eggs scrambled
2 cans Rotel Tomatoes drained (your choice of what type of Ro Tel)
1 lb. sausage (browned) and drained
Salt and pepper to taste
Shredded Cheddar cheese (optional)
Medium size flour tortillas (number you get will depend on how much mixture you use in each) – Mission Tortillas are a great brand to use and available across the country.
Instructions:
Brown and drain sausage. Set aside.
Cook your scrambled eggs like you would normally do.
Add drained Rotel and drained sausage.
Season to taste.
Depending on how many you want, I would usually drop around 1/3 of cup mixture on to tortillas, top with a little shredded cheese and roll up like a burrito.
Wrap each one in foil and put in large freezer bag and freeze. I would put them in the cooler with lots of ice and keep water drained out. They slowly start to thaw.
Put in the crock pot and reheat.
It's a Sure Winner Ham Casserole
Sheila Jensen of Kansas – Friend of The Ranch Kitchen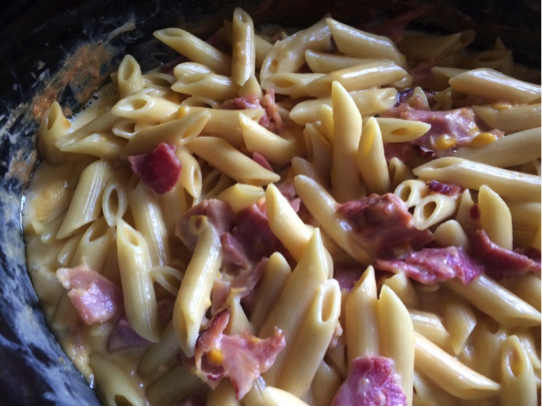 Sheila cooks for a family and large crews throughout the year. She served this one evening after a late night spent in the barn and she wanted a fast, filling supper. This would be so easy to make in a roaster or crockpot at a show this summer!
Ingredients:
3 cups leftover cooked ham
1/2 box Velveeta cheese cut up
1 – 8 quart of milk
1 -8 bag of any kind of shredded cheese
1/ cup sharp cheddar cheese soft to add more flavor
2 tbsp. mustard
Instructions:
Mix in crock pot and cook on low
Cook two bags Penne pasta – 16 ounce until al dente or almost done
Drain off most juice leaving ½ cup in reserve
Add to crock pot and cook on medium for 2 hours stirring a few times mix it all to keep from sticking to side of crock pot.
We served with homemade strawberry/cranberry jam on homemade bread. Yummy!
Jay West Man Potatoes

Jay West of Texas – Friend of The Ranch Kitchen
Ingredients:
5 pounds potatoes, skins on or off, and sliced in 1/3 rounds
2 cans cream of celery soup
3 jars Cheese Whiz, large
1 containers (16 ounce) sour cream
2 links of smoked German sausage, diced (optional)
2 cups smoked German sausage, diced (optional)
Salt and pepper to taste
Instructions
Slice potatoes in rounds and add to greased dish or pan. If you are using an electric roaster make sure you grease it well.
Layer potatoes, sour cream mixture and sausage.
Top off with potatoes.
Bake until potatoes are fork tender.
The last five minutes of cooking add grated cheese to the top of the potatoes.
Bake on 350 for one hour or around one and one half hour in the roaster.
The Ranch Kitchen's King Ranch Chicken
A certain Jr. National Hereford Expo sticks out in my mind with this recipe. Everything seemed to include chicken that year while in Tunica, Mississippi, and my Hereford friends didn't let me live it down! However, we sure enjoyed these Tex-Mex inspired chicken enchiladas! Just triple this recipe and cut the mounds of flour tortillas with a knife in 2 x 4 inch strips on a cutting board as we did and layered in a large roaster that had been coated well with oil. We stirred this hallway through the cooking time as it helped everything cook faster! With some chips, salsa and beans this is a real hit with our Texas crowd.
Ingredients:
2 – 3 cups chicken (or turkey), shredded
1 can Rotel Tomatoes with cilantro and lime juice, not drained (reserve 1/3 can)
1 can cream of chicken soup
1 can of cream of mushroom soup
1 package of flour tortillas cut or torn in to 2 x 2 inch squares (about 8 flour tortillas – Mission brand flour tortillas are fantastic)
1 tbsp. Tony Chachere`s Cajun Seasoning or any all seasoning blend
2 cups shredded mild or sharp cheddar cheese or Mexi-blend cheese (Monterrey, Colby and Cheddar Cheese) by Kraft
Instructions
In a large bowl blend Rotel Tomatoes – reserving 1/3 of can, soups, and seasonings together. Add to this your meat and blend well.
In a greased 9 x 13 inch glass casserole dish place reserved 1/3 can of Rotel Tomatoes and spread over entire casserole dish.
Add to this 1/3 of soup/chicken mixture.
Sprinkle 1/3 of cheese over this and top with 1/2 torn flour tortillas.
Layer 1/3 soup/chicken mixture once again. Sprinkle mixture with cheese and 1/2 of torn flour tortillas layering over entire casserole dish.
Last place remainder of soup/chicken mixture on top of that last layer of flour tortillas and cook covered with foil (I like the nonstick foil by Reynolds) in a 375 degree oven or roaster for about 30 minutes or until the mixture is bubbling in the center.
The last five minutes place the remaining cheese and allow it to melt.
Cut in to squares and serve along with my The Ranch Kitchen's Slap Your Momma Beans.
You can also play with the soups and substitute a can of cream of celery for the cream of mushroom for a different taste. When I cook this in bulk for a cattle show, I purchase the large 16 ounce cans of Campbell's soups.
***This recipe is easily doubled and tripled. And that is exactly what I do at our shows when I serve this for 100!