by Alise Nolan, The Ranch Kitchen
In the last few years, black beans have found their way in to my pantry. They are a versatile vegetable that we can enjoy with more than just our Tex-Mex dishes. Black beans are not only delicious in these salsas, but are very high in fiber and a good source of protein. They contain antioxidants and vitamin B, along with numerous other vitamins and minerals. So with all that said…black beans are good for you just like Sure Champ supplements! ;o)
Native to Peru and one of the cheaper beans to produce, recipe ideas for black beans are endless. Whether you choose to refry them or simply place black beans in a cold salsa, they are a good alternative to pinto and black-eyed peas.
For these recipes, we used fresh cilantro, shallots or onions. However, you can make this salsa your own signature dish any number of ways by using practically any oil based salad dressings. Serve these black bean salsas with tortilla chips as a dipper or as a festive side dish along side most any meal.
Both of these black bean salsas will keep a few days in your refrigerator and are wonderful to take out and serve for dinner, potlucks or camping, as we did this weekend. Its Ranchman approved, travels well, you can make enough for a crowd, and now part of my regular arsenal of 'go to' recipes in a pinch!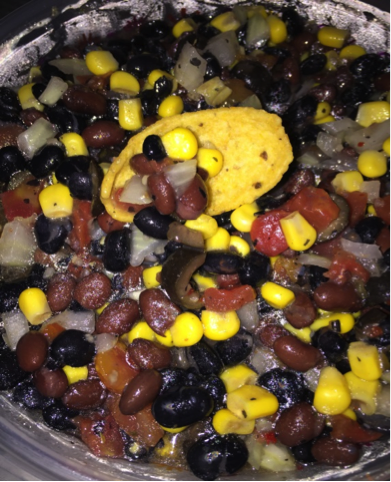 The Ranch Kitchen's South of the Border Black Bean Salsa
Ingredients
2 – 15 ounce cans black beans, drained and rinsed well
1 onion, chopped fine
1 small can of black olives, chopped fine
2 – 15 ounce cans of corn, drained
1 – 10 ounce can Rotel Tomatoes with Cilantro and Lime
1 cup Kraft Zesty Italian Dressing
1 teaspoon garlic salt
Instructions
Chop and prepare onions and place in a covered bowl. Wash and drain black beans until water runs clear and add to onions. Add black olive, drained corn and Rotel tomatoes along with garlic salt and Zesty Italian Dressing and blend well.
Refrigerate up to 2 hours or overnight allowing for flavors to blend. Serve with tortilla chips, Fritos or alone as a vegetable side dish along most any meal.
Cook's Note: The two different colored black beans in the picture above are the result of different brands.
Alise Nolan, The Ranch Kitchen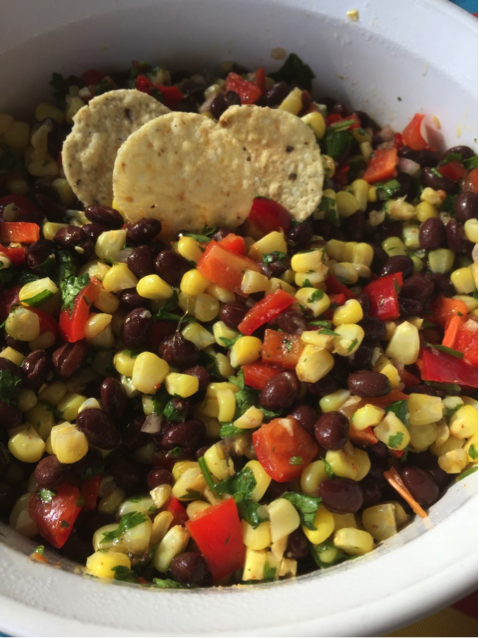 Black Beans & Roasted Corn Salsa
Ingredients
2 – 15 ounce cans of black beans, rinsed and drained
3 fresh grilled or boiled corn on the cob – crisp tender – not cooked through (corn cut off)
2 red bell peppers, chopped
2 garlic cloves, minced
2 tablespoons shallots or onions, minced
2 limes, juiced
9 tablespoons of Olive oil
½ cup of cilantro or more to your liking
2 teaspoons of salt
¼ teaspoons cayenne pepper
2 tablespoons of sugar
2 avocados chopped (optional)
Instructions
Grill or boil fresh corn until crisp tender and remove from cob.
Chop and prepare bell pepper, cilantro and garlic set aside. Juice 2 limes over a medium sized bowl.
Add Olive oil to lime juice and stir well with salt, cayenne pepper, and sugar.
Add drained black beans, corn, red bell peppers and garlic cloves and blend well.
Place in a covered bowl and allow bean salsa to marinate for better flavor.
Just before serving you can add chopped avocados as an extra fresh addition to the black bean salsa.
Cindy Parker of Circle P Ranch, Texas – Friend of the Ranch Kitchen