It's a new year and a new show season for many young 4-H and FFA members. When young people select and purchase their new show animals there is always a goal in mind. Perhaps it's a dream to be in the grand drive, make the sale at a major show or win showmanship at your county fair or state show. Regardless, the goals of each young person are significant and need to be realized. When goals are met, young showmen can close the chapter and set new goals, just in time for the next show season.
This year we will feature three young people and their stock show goals and follow them through the year, checking in at six months and one year's time. Here are the goal-setters and what they have in mind.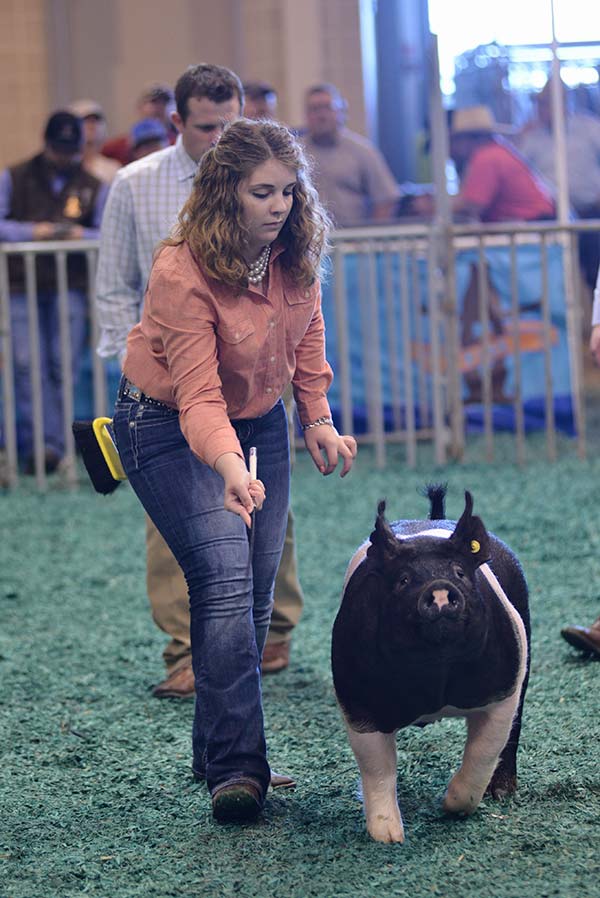 Breckyn LeCompte is a sophomore from Perryton, Texas. Her show pig career began as a peewee showman, and she was in serious competition by third grade. LeCompte focuses on light crossbreds and Yorkshire hogs and shows at nearly every Texas major.
LeCompte's first goal for 2016 is to drive a pig in the grand champion drive at the San Antonio Stock Show. LeCompte says she has shown several Yorkshire division champions, but showing for overall grand is what she wants to do.
"With 4,000 hogs I feel like it's the most difficult and best show in Texas," she says. "I will work hard and try my best and do what it takes. Maybe I win, and if not, I will try again next year."
LeCompte is also working to win the senior prepared public speaking contest in Texas FFA and also win the state livestock judging contest. These may seem like lofty goals, but she has already placed second in the junior division of prepared public speaking and says she has an amazing judging team to work with.
"I plan to practice long and hard on my speech and give it to different people in my community," she says. "I think my livestock team will just keep learning as much as we can on how to evaluate and talk about livestock."
If LeCompte doesn't meet her 2016 goals she is not going to worry. Setting her standards high helps her with each of her FFA and livestock projects, and she says if something doesn't work out then at least she knows she tried her best.
"I'll always put all I have into my project goals," she says. "It just feels really good when you meet a goal and if not it gives me something to work for."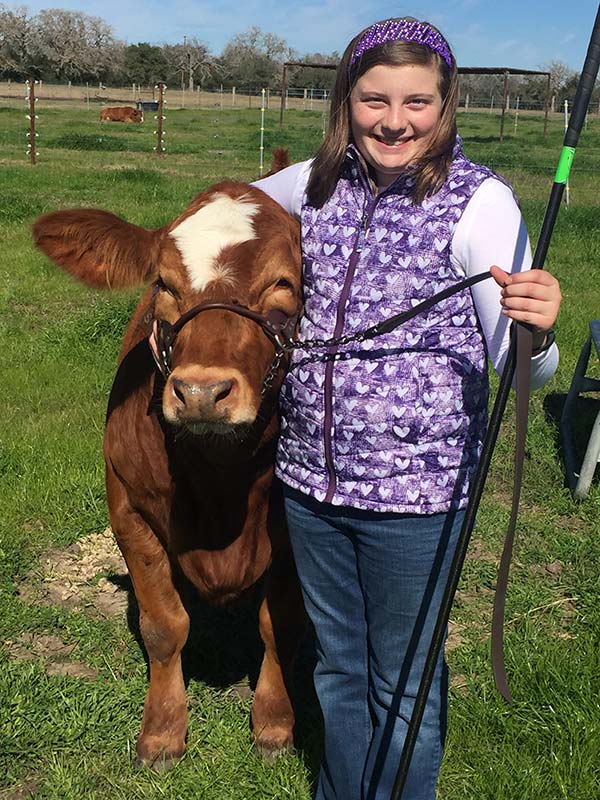 Miranda Skaggs is an 11-year-old livestock enthusiast from Bryan, Texas who loves showing cattle and hogs. She says showing at major shows is an exciting experience, and she gets butterflies nearly every time she goes into the ring.
Skaggs' projects this year are three Simbrah heifers, one percentage Simbrah heifer, and three steers – a Hereford, a Shorthorn and a Crossbred. She also has four barrows – a Hampshire, a Duroc, a Poland China and a Crossbred. One of her former Simbrah show heifers produced her first bred-and-owned percentage Simbrah heifer that she will begin showing this year.
Skaggs' first goal this year is focusing on her Forth Worth entries, a Simbrah heifer calf and a Hereford steer. Because of the warm and humid Texas summers, she has been rinsing cattle every afternoon since May. The cattle are fed twice daily and are kept under fans and in front of porta-coolers throughout the summer and fall. After school, she goes to the barn to work on her cattle and hogs until dinner time.
"My mom calls me the 'Chief Feed Mixologist' because I measure and prepare the cattle and barrow feed and supplements such as Sure Champ, for each animal for each feeding," Skaggs says.
Skaggs has a goal to continue improving her showmanship skills with both her cattle and hogs. Every year she becomes more comfortable with her livestock projects in the show ring by practicing at home and learning from the ring. She is quick to realize meeting her showmanship goals will be based on the hours of work done at home. Each evening she sets up the cattle for her dad and others so they can evaluate her skills.
"I practice showing them during the evening chore time," she says. "I also walk my barrows every evening to exercise them and to practice driving them with their heads up toward a pretend judge in our barn."
Last year was her first year to show a steer at Fort Worth and even though she worked hard, her Hereford steer did not make the sale. So for 2016, Skaggs set a goal of working even harder to hopefully improve her chances of making the sale.
"I really hope to make the sale at Fort Worth, San Antonio, Houston, Austin and Brazos County with my market animal projects," she says.
Having goals with her livestock projects has helped Skaggs realize her desire to become a veterinarian. She says learning about animal nutrition and animal health is leading her down her future career path.
"I believe the hands-on experience is very helpful for my future career goals," she says. "I think I would be very interested in working with large animals and small animals as a veterinarian."
Finally, Skaggs has a goal to meet more livestock friends in her home state. Being around other young people who are excited about livestock like herself has been an added advantage of showing. She says she will also continue to work on her livestock judging skills and be more competitive in leadership contests at state and national junior Simmental/Simbrah events.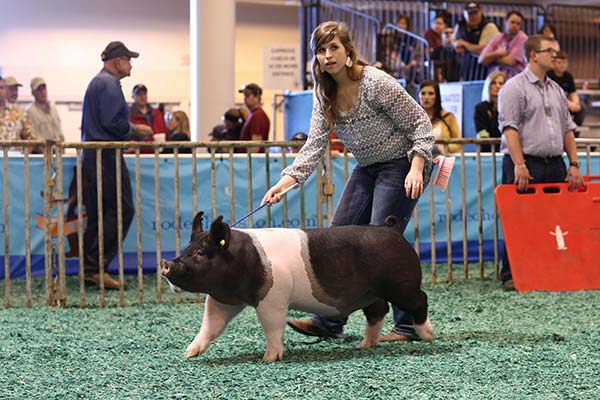 Jaci Burgin, from Spearman, Texas, says she was born with a competitive nature. This swine showman has been in the ring since third grade thanks to her dad's volunteer work at the county stock show. He introduced her to the show life, and she was hooked. Burgin's annual schedule includes stops at her beloved county show and the Texas majors held in San Antonio, San Angelo, Houston and Austin.
Now, in her senior year she says she is pulling out all the stops. With 12 pigs on feed for herself and her younger brother, Burgin's life is currently full of Crossbreds, Hampshires, Spots, Polands and Durocs.
Her show motto is this: you don't buy buckles, you earn them. This means Burgin spends time going through numerous prospect pens to select the ones she likes best. When new show animals come home Burgin puts in time at the barn, feeding and monitoring her pigs' growth. Training them to work well at major shows takes work, and Burgin says she always feels a sense of accomplishment when they do well in the ring.
For 2016 Burgin wants to earn a top spot, Grand or Reserve Grand, at her county fair. She has placed well in the past, but since this is her senior year the county fair means more to her than ever before.
"I have always wanted to be Grand or Reserve Grand at county," she says. "When I pick pigs the ones I am able to take to county end up also being our San Antonio pigs too. I always want to do as well as I can and probably more this year compared to last year."
Her goal is also meaningful because last year she had three pigs die before their major show, one of them being her San Antonio pig. Burgin says out of nowhere her barn had a string of bad luck so this year she has a goal of keeping her pigs healthy and getting them to the show ring, period.
"I'm always trying to win and get a banner at major shows but this year I need to at least make the show and anything above that will be great."
At the end of each day, Burgin says if she doesn't earn a high spot at a show she will be upset but knows it is also one judge's perspective. She says she can't be angry at the outcome if she is able to look back and know she did everything she could to make her pig successful.
"I would be sad but that's life," Burgin says. "If you don't have goals or something to strive for, you're not going to give 100 percent because the project may not matter that much to you. There are things you can work for and show off how much you care about it so get out there and do all you can to meet these goals. When you meet a goal it's a great sense of self-worth. You really feel good about yourself and passionate about something you are involved in."