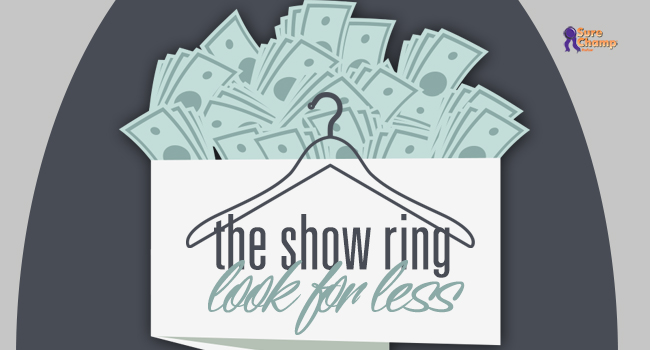 It's been long debated – show ring fashion. We all know that the show ring is not designed to be a catwalk for us to strut our style. Whatever you are leading, driving or bracing should always be the number one focus. However, I don't think many would disagree that it is important to look and feel professional in the show ring.
Our team attended A LOT of junior national shows this summer and it was pretty evident that the new favorite brand of jeans to wear in the show ring is 7 for All Mankind or "7's." Melissa Grimmel, long-time Sure Champ customer and Third Overall Champion Senior Showman at the 2015 Junior National Hereford Expo loves this particular brand because they keep her looking classy in the show ring. "I never wear light colored jeans in the show ring, and I love the dark color of Sevens," Grimmel says. "They also hold great starch, even after fitting a leg and walking around all day. Plus, good jeans will last FOREVER if you take the time to remove stains, wash them inside out and hang them to dry."
Dara Entwistle, mother of three boys and National Marketing Director for Pro-Fit Show Supply also knows the importance of making sure exhibitors put their best foot forward in the show ring. "As parents, we need to continue to teach our youth that they are ambassadors of livestock and agriculture," says Entwistle. "When the public sees our youth they should be impressed that our youth dress for success – whether that is in the ring or outside of the ring."
How can you make this happen? High quality clothes and jeans come with a hefty price tag. That's where Grimmel and Entwistle have put their savy shopping skills to use to save more than a couple pennies.
"I do a lot of shopping at our local upscale resale stores and Goodwill," said Entwistle. "I've purchased Ralph Lauren, Hollister and American Eagle at these shops. This summer I found a Ralph Lauren polo with the tag still on, and in perfect condition for $3.99. Now that's my kind of show shirt."
Grimmel is entering her senior year of college at Kansas State University. She uses her college budget to shop for brand name jeans on websites like Poshmark and Ebay. "I never pay retail price for my jeans," she said.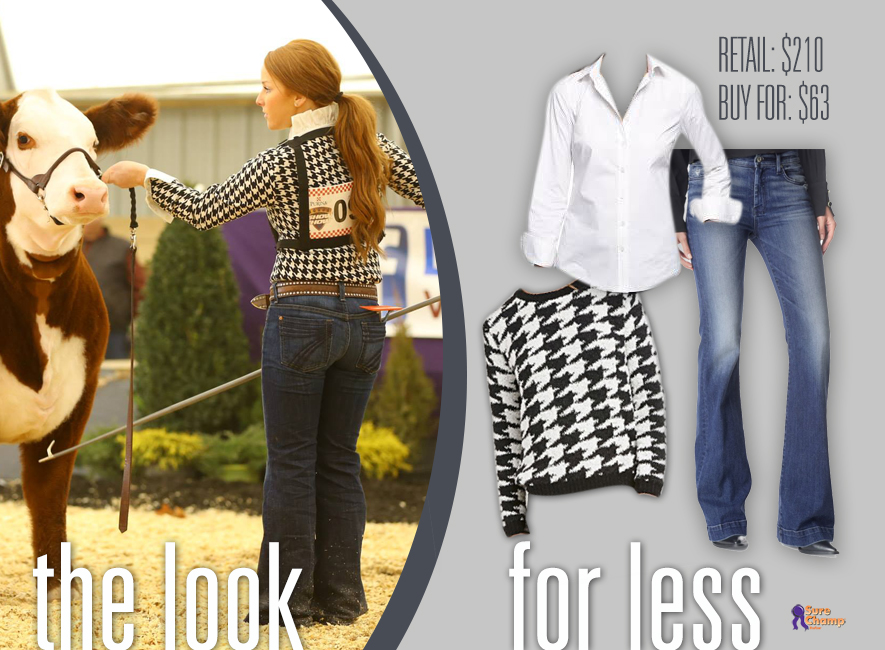 To keep your showman looking professional in the show ring, we've put together a list of affordable places to shop. The next time your kids outgrow their show jeans or come home with a little bit too much black paint on them make sure you try out these options.
Poshmark, TreadUp, and Ebay: These websites give you the opportunity to buy clothing and accessories from peoples "virtual" closets. You can easily find gently used brand name jeans for a fraction of retail price, sometimes items still have the tags on. Jennifer Cox, former American Shorthorn Lassie, has bought more than 20 pairs of jeans from these kinds of sites. On average, she pays about $60 for jeans that would normally retail for more than $150, but she also bought a pair of brand new 7's for as low as $17. It's important to know your size, and ask for inseam information and pictures of the cuffs before purchasing.
Zulily: This is another online shopping option, however Zulily is much more like shopping on a regular retail site. Items are brand new, but they have limited inventory, and inventory usually goes fast. You'll pay discounted prices, and many show moms said they have found more jeans with longer length through Zulily.