There are certain things Lexi Delaney can't leave home without.
When this Iowa swine exhibitor leaves for a show it's safe to say her showbox is properly packed. And the items inside are of great value.
Delaney began showing pigs when she was 7-years-old. Her older brother already showed, so she jumped right in at the county then state fair level. At that time in Iowa, there was not a swine jackpot series so her family traveled to Wisconsin to show pigs until a point series began in her home state. Now, at 19, she has shown for more than a decade in Iowa and also participates in National Junior Swine Association shows across the country
Delaney is currently a sophomore in animal science and agricultural communications at Iowa State University and can offer first-hand advice to a young swine showman on what to pack and what to leave home, from their showbox.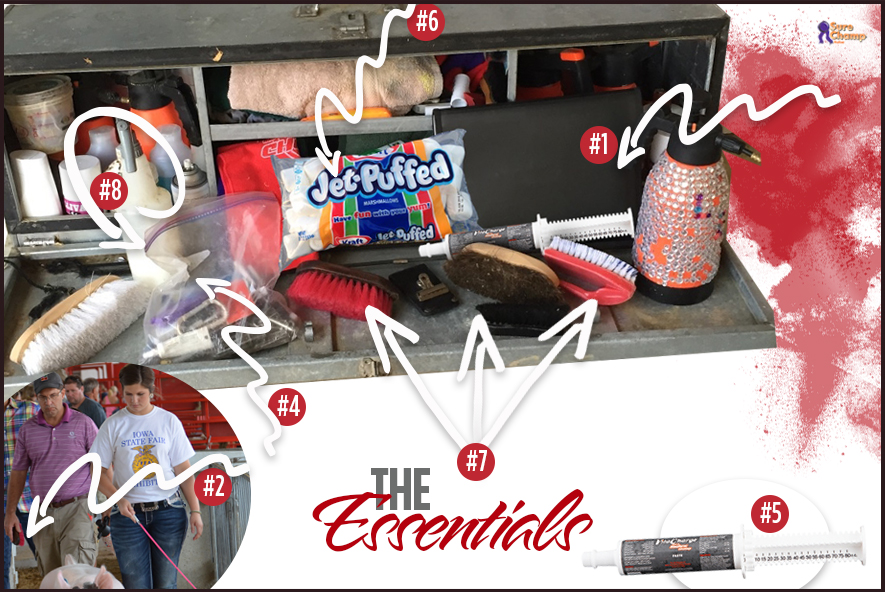 #1 THE "SHOWPIG BIBLE"
The Delaney family never leaves home without this black, collapsible folder with a rubber band-type closure, and Lexi says it is the oldest black folder she's ever seen. It is the family's "show pig bible" because it contains their purebred registration papers, PQA+ recertification cards, health papers and other essential paperwork. "That's our thing," Lexi says. "If we lose it then we can't show anymore because we'd be lost without it."
In the folder, Lexi carries a small laminated photo of a friend she first met showing pigs in Wisconsin. Her friend passed away so she puts this photo of him showing pigs in her pocket on show days.
#2 DAD's BRUSH
Dave Delaney, Lexi's dad, has a well-worn, soft, red bristle brush that is always in the showbox. When it's not, the brush is in his hand or in his pocket at the show ringside. It has a wooden back and Lexi says it is so old there are chunks of bristle missing. "That's secretly his thing," she says. "If he lost it we'd have to get up and leave the show. Only he uses it. I can if I'm in the holding pen, but it's his brush."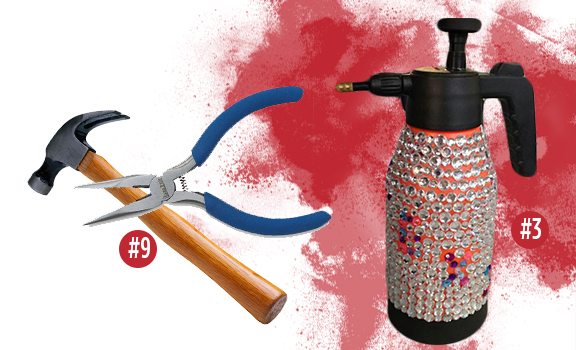 #3 THE BEDAZZLED SPRAYER
When Lexi was in the seventh grade, she spent the summer literally gluing rhinestones onto a sprayer bottle. It was cool back then to bedazzle things, so she did. As she got older Lexi was ready to throw the sprayer out, but her dad said to keep it. It has always worked, including the top, pump and nozzle. Dave also uses it, shamelessly, even though it has more rhinestones than Lexi can count. Now that Lexi is finished showing pigs she plans to give it to her four-year-old neighbor girl, Callie, for her swine project.
She also has a plain, regular-colored sprayer that sits beside the bedazzled one in the showbox, but it's only a backup.
#4 BAG OF GOODIES
Lexi's mom is the person who actually packs the showbox, and when the family needs something at a show, mom is the person to ask. Tami Delaney packs random items inside a Ziploc bag including Sharpies, duct tape, safety pins, zip ties, ponytail holders, bobby pins, Tylenol and Alieve, and Band Aids.
Two years ago, Lexi discovered she was actually allergic to pigs so her mom keeps a tube of Benadryl cream in the bag of goodies as well. The contents of this plastic bag are for anyone who needs random items, and Lexi's friends know her showbox probably has what they need.
#5 VITA CHARGE
The Delaney's love this stuff, and Lexi says they always have two or three tubes in the box, depending on the time of year. "My pigs can go off feed and if they won't eat and have no appetite, Vita Charge works wonders. It gets them back on track."
#6 BAG OF MARSHMALLOWS
This is a constant treat for Lexi's show pigs. So much that last year when she earned the title of Reserve Grand Market Hog at the Iowa State Fair her brother gave her a marshmallow while she was in the ring at the premium sale. Lexi had taught her barrow to eat the jumbo marshmallow from her mouth, and she demonstrated this trick in the sale ring. The crowd went wild, she said.
#7 EIGHT TO TEN BRUSHES
The Delaney's have a variety of brushes including ones for Lexi's pocket in the show ring, wash rack brushes, two soft-bristled ones, mom's favorite and dad's old brush. "If we lost dad's brush we'd freak out," she says.
#8 DAD'S SECRET POTION
Dave has a special mixture of skin care spray that he mixes at the Delaney barn before they leave for a show. It works wonders, Lexi says, and for a long time he wouldn't tell her what was in it. It's only for skin care at home or the show, not used on show day.
#9 TOOLS
A hammer, a pair of pliers and several wire panels to hang feeders on the gates would also be essential showbox items for the Delaneys.