Sharing a showbox after having one of your own is kind of like living together after getting married. You each have things you can't live without and probably just as much that could be tossed out.
Andrew and Emilee (Kottkamp) Foster were raised in and around the show ring. The couple manages Seldom Rest Farms in southwestern Michigan and focus on raising Angus show heifers. They market their cattle in the Angus Connection Sale and in an online sale at the end of March. The Fosters want to raise show prospects for juniors that can compete at major shows. As added customer service, the Fosters travel to a variety of shows, and can be found at every major Angus show ranging from the American Royal and the North American International Livestock Exposition to the Atlantic National and National Junior Angus Show. If their exhibitors need help at winter jackpots Andrew and Emilee will go to those as well.
"Wherever we sell them, that's where we go," Andrew says. "We focus on juniors because we believe the involvement you get growing up in program like this is second to none. It's such a great lifestyle and that's why we're strong believers in it. It's always been my passion to come back to my family operation and raise cattle to sell and market this way."
Since both Andrew and Emilee grew up with their own showboxes, they have learned to combine what they need and want to make their Angus heifers look great. Here is what they don't leave home without.
"The medicine box, clipper box and credit card are the things I can't live without," Andrew says. "That's my checklist. Anything else I need I can buy. If those three things are in the trailer or pickup we're in good shape."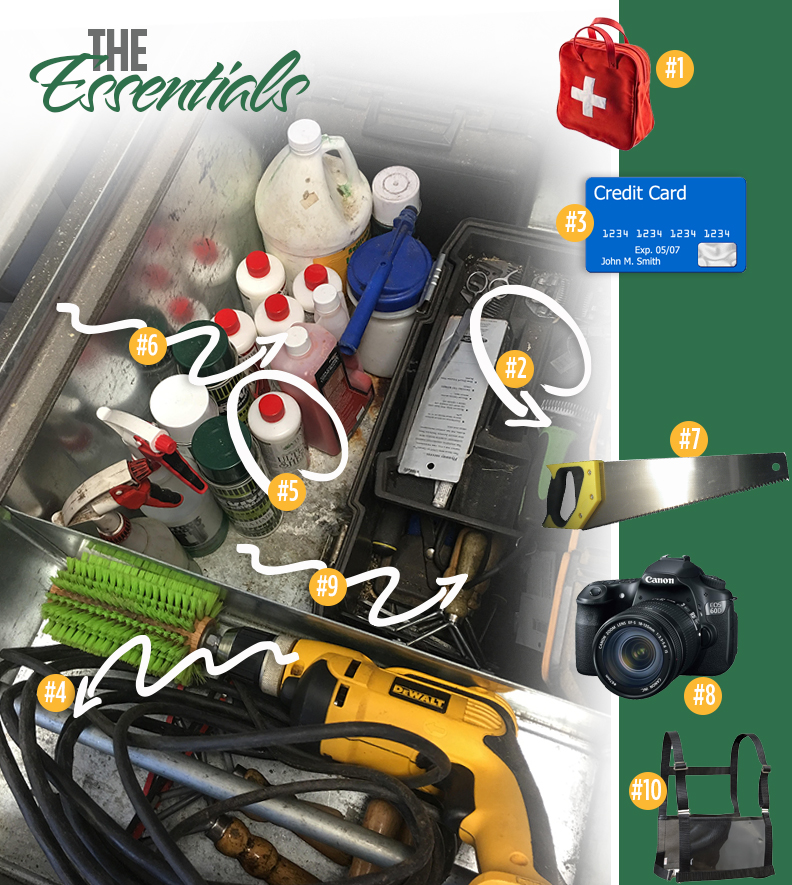 1. The medicine box.
When he's traveling with young calves to winter shows like Denver, Andrew says he never knows if one might get sick. In case heifers get a snotty nose, he can treat them with antibiotics. It's a big deal just to make sure they are healthy.
2. The clipper box.
Andrew's just a tick superstitious about his clipper box. Not only are his clippers inside but also certain combs he uses when he's fitting. The items in this box are not for anybody else in his crew. Sometimes he'll place a certain comb or halter with a heifer and those, too, will stay in his clipper box.
"It's a place that I know where everything is," he says. "There are just certain things that I'm picky about, and the clipper box is where I keep them."
3. The credit card.
Having an emergency source for spending is important to Andrew and Emilee. In case of pickup or trailer repair or purchasing extra show supplies they like the peace of mind that comes from having a spending source nearby.
4. A rotobrush.
Emilee says they are big believers in using this tool to work hair. They like the rotobrush as much as anything else to groom with, and it's easily one of the most-used item in the show box.
5. Ultra sheen.
This is a key item for Fosters who use it to keep the heifer's skin hydrated, and they use this product heavily.
6. Vita Charge.
The Fosters keep Liquid Boost or Vita Charge® Paste (transitioned to Vita Charge® Gel July 2019) on hand in case cattle don't want to eat. Liquid Boost is good to use in water buckets, and they like it to provide good nutrition and electrolytes, especially for their younger calves. They don't want to get to a show and have one not eat or drink well and believe the Vita Charge keeps animals on track to perform at a show.
7. A hand saw.
Having this tool on hand goes back to Andrew's own youth show experience. His dad made sure they took the hand saw with them to shows just in case. It doesn't take up much room, he says, and when it's needed it's a relief to have one on hand.
8. A camera.
Emilee says she likes having her good Nikon camera to take pictures of kids showing. She might be able to use a photo for advertising or another promotional purpose so it just stays in the show box.
9. Combs.
So many combs are lost at shows that they don't try to keep count of how many are in the box. These are a must-have item, and Andrew says the comb count after a show is either really good or really bad.
10. Personal show harnesses.
Both Andrew and Emilee use the same show harness every time they walk one into the ring. It's something they've both had for years and is one item that does not change. Because they've had them forever they're also a bit superstitious about using their own show harness. Andrew's might even stay in his personal clipper box, he says.