Sullivan Supply is now accepting applications for their Summer 2014 Traveling Sales Internship. If you have been looking for that perfect internship that allows you to be present at shows and learn the ins and outs of a Sullivan's Supply's successful sales team  you won't want to miss this opportunity.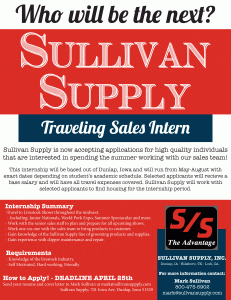 Click on the photo to enlarge.
The internship will be based out of Dunlap, Iowa with a salary and traveling expenses covered. The chosen applicant will travel to shows including Junior Nationals, World Pork Expo, Summer Spectacular and many more. In addition to traveling, the intern will work with the senior sales staff, gain knowledge of the Sullivan Supply line of products and supplies, gain experience with clipper maintenance and repair and much, much more.
Send your resume and cover letter to Mark Sullivan at mark@sullivansupply.com by April 25, 2014. For more information contact Mark Sullivan at 800-475-5902. Don't forget to check out Sullivan Supply's The Pulse blog.