Have your heard about the latest social media app? Periscope allows you to broadcast or view live video in an instant, all from your smartphone.
"For broadcasters, Periscope lets you share an experience with others. Press a button, and instantly notify your followers that you're live." – Periscope Blog
This means that while team Sure Champ is traveling across the country we can instantly bring you video access to the show ring, behind the screens tours and interviews with judges and exhibitors. All you have to do is download the Periscope app to your smartphone, follow @SureChamp and wait to receive a push notification of when we are live. You can also follow Sure Champ on Twitter and we'll send out a tweet when we are live streaming. If you miss the live video feed don't worry, the video remains up for 24 hours.
Three ways you can use Periscope:
Share you next sale offering. Encourage current and potential customers to download the app onto their phone or iPad. Next, set a specific date and time when you will be doing a pasture walk through or will be parading sale lots. Customers will have the chance to view lots live and ask questions while you are displaying your livestock via live video feed.
Build your following. Are you working on growing your farm's brand? Give behind the scenes tours of your clipping room or calving barn. Step in front of the camera and provide your best tips and tricks on feeding or showmanship. Video gives a face to your brand and helps potential and current customers connect with you.
Get ready for Grand Drive. Now it doesn't matter how big or small your show is every grand drive can now be live. Next time you are at a show flip on the app and start live streaming the show instantly!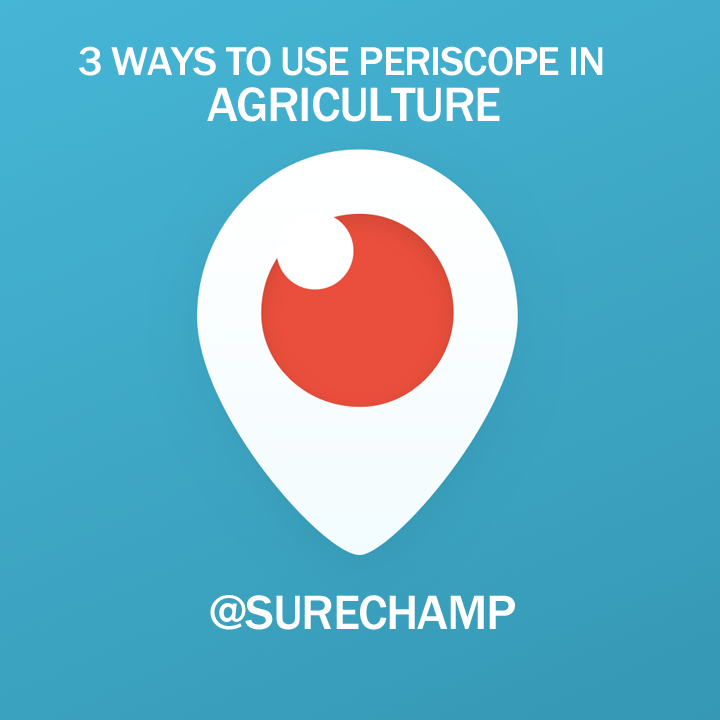 A few other tips to keep in mind. You can tap on the screen while a video is play to give it "hearts," which is essentially "liking" a video. You can also type in question while a video is playing. And finally, don't forget to follow Sure Champ!