Kamlynn Thomas admits to being a little bit OCD.
Her show box is a testament to that. Thomas likes things in order because it helps her focus on show day. This 16-year-old swine showman from Jacksboro, Texas, takes pigs to jackpot shows and every Texas major possible. She's been showing since age three and has made the sale at the Houston Livestock Show and Rodeo every year since she started showing.
Her show day routine is down to a science – and she likes it that way. With more than a decade of experience, Thomas knows what to do and when to do it. It's a pattern she's come to rely on because she says it keeps her pigs calm and prepared to show.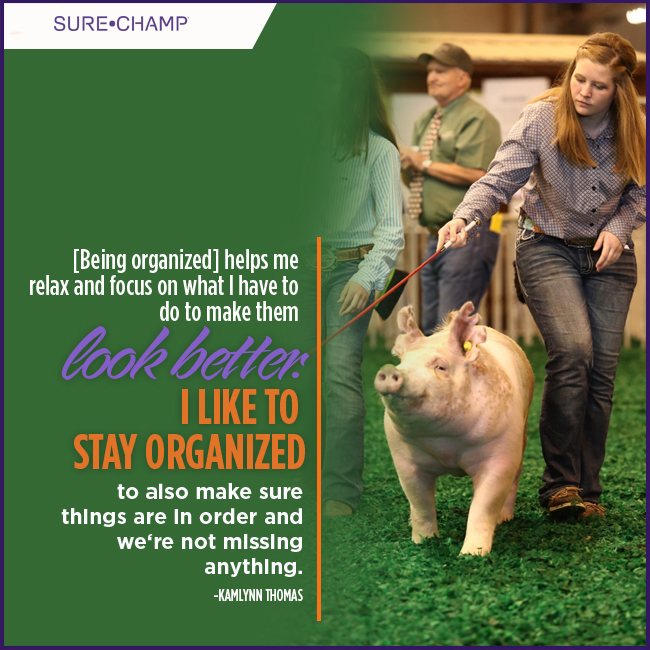 "It helps me relax and focused on what I have to do to make them look better," Thomas says. "I like to stay organized to also make sure things are in order and we're not missing anything."
On show day and the days preparing at home, Thomas works to keep her pigs calm and stress-free. Before she goes in the ring she likes to see they are relaxed and not looking for feed or water. Stress can hurt a show pig, she says, and Thomas wants her pig to trust her and remain calm so it can look the best in the ring.
Thomas arrives early on the show day morning to feed and water. Feeding is always her first step to be sure her pigs are comfortable, but Thomas might give a partial feeding first thing in the morning so she can feed her pigs again closer to the time they go in the ring.
After feed and water, Thomas takes her pigs to the wash rack. She likes to wash them the night before show day as well, but recommends a re-wash on show morning.
"I'm not picky about shampoo and will use whatever I've got," Thomas says. "My conditioner spray is olive-oil based, and I'll use a Weaver's conditioner spray or Sullivan's Revive as well."
Next she allows her pigs a chance to rest and keeps the pen clean. Thomas gets back to work when there are approximately two to three classes before her pig shows. When it's time she'll spray the pig with a shine conditioner and brush it in. Next Thomas will water them again, possibly including electrolytes, to be sure her pigs are full and content.
At a major show Thomas must make sure her pigs will be within ten pounds of their check-in weight so she monitors feed and water closely. Also the Texas major shows do not allow exhibitors to use oil so she'll simply spray her pigs with water before they go in the ring to keep them clean and presentable.
"My goal is to be sure they are full and look good," Thomas says. "I like to get as close as I can to the top of that ten-pound weigh back."
Thomas says when she was younger and going to shows she learned from watching older exhibitors . She has modified what she's seen to create a routine that works best for her and now enjoys helping younger exhibitors hone their own showmanship and show day tips.
"I just love getting to meet people and the experience I get from showing," Thomas says. "I know I'm learning responsibility as I go and it's great to have success knowing your hard work has paid off in the end."
"The most stressful shows I go to are the Texas majors because there are so many good animals and everyone wants to do well," Thomas says. "My goal has always been to make the sale and keeping my pigs calm and comfortable is how I do that. There is so much competition that if I didn't have my routine I'd probably forget a step or two and the pigs wouldn't look as good as they could."