Wearing a crisp, blue corduroy jacket is a sign of membership for an FFA member. In some chapters, eager Greenhand members must earn the right to order their first FFA jacket, a sign that they belong to the nation's largest youth agriculture organization.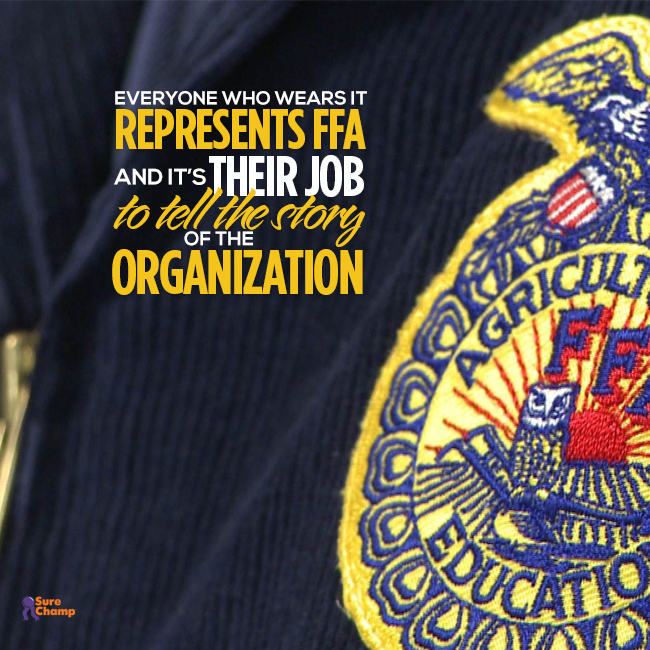 Maybe the young person saved money to pay for it themselves. Perhaps their FFA chapter has a jacket fund to assist with the cost. And quite possibly mom, dad or grandpa will shell out the bucks to help the Greenhand pay for his or her first jacket. No matter how the jacket is purchased, being in FFA means wearing the blue with pride.
FFA members must send in specific measurements when they order a jacket. Arms, chest and neck must be measured and accurately recorded on the form. However, many students testify that no matter how precise they are when taking measurements the sleeves of a brand new jacket are too long.
"I never thought I'd be able to fill my first jacket," Gentry Dougherty says.
This FFA member from Iola, Kansas, says when it was time to order his own jacket, his advisor gave him a jacket that belonged to someone else and told him to try it on.
"It was about two sizes too big, and the sleeves were too long," Dougherty says. "Mr. Kerr said he'd put me down to order a jacket that was two sizes smaller and it would be fine."
Dougherty could not wait to try his jacket on when it arrived. And of course, the sleeves were too long.
Dougherty knew that he'd not only have to fill out the jacket physically but also literally, by participating in activities that would further his leadership and public speaking skills. So when he pulled on his sharp blue jacket, he set goals to make FFA a good fit.
"Before FFA I was scared to death to speak in front of a crowd," Dougherty says. "My legs would shake, and I was terrified. Then when I began giving the FFA creed I grew more confident. I entered as many creed-speaking contests as possible and now it's much easier, even enjoyable, to speak in front of people."
Dougherty says the way he broke into public speaking was just like taking his new FFA jacket out of the box. At first, he says it was stiff but the more he's worn it the softer and easier it is to put on.
Claire Baney is a senior member of Hamilton Southeastern FFA Chapter in Fishers, Indiana. During her FFA career she has served as a section director, chapter president, chapter reporter and State Chorus president. This level of leadership gave her a seat on the Indiana State Executive committee and helped her earn the Hoosier state degree. All of these roles have been stepping stones that developed Baney's passion for agriculture and FFA.
But what really broke in her first FFA jacket was her performance for the state convention talent show, held in Elliot Hall on the campus of Purdue University. Baney says Elliott Hall is one of the largest concert halls on a U.S. college campus, and she felt very fortunate and intimidated to perform there. Learning to speak in front of a crowd and be confident on stage are traits she learned in FFA and after she earned her spot in the talent show, Baney now sings at major events including the Indiana State Fair, and will be performing in that National FFA Talent Competition this year.
Baney ordered her first FFA jacket at the end of her Greenhand year, after winning the district FFA creed speaking contest. She was headed to convention to compete in the state creed contest and asked her parents to help her purchase her own tailored, blue corduroy jacket. The jacket came in small box and Baney says when she opened it she thought it was the coolest thing ever.
"I was getting ready to leave my house to be a timekeeper at the state FFA officer candidate practice round when the doorbell rang," Baney says. "The jacket was so crisp and blue and I immediately put it on. I was so proud to have one of my own."
Baney says she treated her new jacket like it was a pair of shoes, avoiding potential scuffs and stains. But as she competed in FFA contests and attended FFA events she noticed the jacket becoming softer. She says the jacket magically wears itself out in perfect stride with how much a younger person does in FFA. The more competitions, teams and activities Baney participated in the more her jacket showed signs of wear. But she also found motivation each time she put on the jacket and says it lit a fire inside for her to do as much as she could in FFA.
"Wearing an FFA jacket is like showing our brand for our organization, just like a sports team wears a uniform," Baney says. "Everyone who wears it represents FFA, and it's their duty to tell the story of the organization. FFA member love going to events and conventions and showing off their brand."
Baney has now owned and broken in four FFA jackets. Her first and second jackets hang in her closet, her third was ripped at state convention, and her current jacket is only a couple of months old.
"I think when you get your first jacket it makes you feel so much more part of FFA than before," Baney says. "There is something about that jacket that says, 'This is who I am, and this is what I'm doing.' It opens so many doors for the members who wear it and it allows them to learn more about all of the opportunities and activities one can participate in."
Dougherty also keeps certain items in his FFA jacket pocket, including a pen, a pencil and a handkerchief. During national FFA convention he found a pocketknife, and it's still in his pocket months later.
"When you first get the jacket it's stiff and hard and you never know if you're going to make a difference in it," Dougherty says. "But the more you wear it the softer it gets and the easier it also becomes to be a leader. The more you wear the jacket the more time you invest into FFA and the more time you can invest into other people as well."