As the summer comes to a close, the interns are thankful for the opportunity given to us this summer. It was truly an experience like none other. We encourage every college student to apply for these internships. And here is our top 5 reasons why…
5. Learning what? Our first week at BioZyme, Inc consisted of learning all the products produced- from Amaferm (the key ingredient in every product) to Vitalize to Concept-Aid to Sure Champ. We learned how it was made and why these products are important. If you want to know more about animal nutrition, you will find yourself right at home in the BioZyme office.  You can sit in as many animal nutrition classes as you want, but until you ride in a truck with Kevin (Director of Nutrition and Technical Sales) for 20 hours- you know nothing. And we only touched on a couple species!
4. Eating at yummy places There is no doubt that all of us like to eat. Average daily gain for us is as efficient as the animals on our products. Obviously, this had to make the top 5. #moreappetite
3. Become a Road Warrior We thought we were well versed in traveling- after all we are all stockshow kids. However, you will not travel more in shorter time than with this internship. We made it to Pennsylvania to Colorado and from south Texas to northern Iowa. We certainly gave Siri a work out on our adventures. "Take me to…"
2. Wheels and popcorn Both of these will make you the best friend to all the kids at junior nationals. After all, you hold the tokens. See #1.
1. Meeting People Without a doubt, this was all of our favorite. Laramie appreciated all young ladies' Facebook friend requests! 🙂 In all seriousness, we are incredibly grateful for the friendships made on the show road and for the extreme generosity of Bob & Lisa Norton and the staff here at BioZyme, Inc.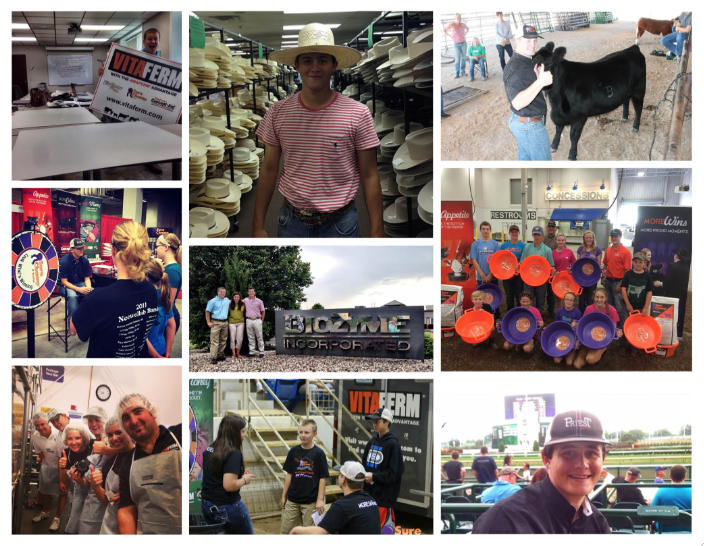 We will see you on the show road soon (again).
~The Interns