By: Mollie Lastovica
Success is not born overnight, but with the right combination of passion, persistence and will to win, it is achievable. Few understand this as well as Dale Hummel who has worked diligently with his family to create one of the top wether goat programs in the nation.
Growing up in the stock show industry and as members of National Champion FFA Livestock Judging teams, Dale and his wife Holly knew that they wanted their children – Dylan, Tara, Chase and Kadie – to be involved in the industry that sculpted them as youth.
When Dylan was old enough to show, they invested in 12 does and a buck to help the kids better understand the production side of livestock. As years went on, the family made a conscious effort to seek the best genetics the industry had to offer.
Enter Mike Kelly and Kelly Meat Goats. After purchasing a few does and eventually a billy from the Kelly family, the close business relationship provided a game changing opportunity for the Hummels in 2012.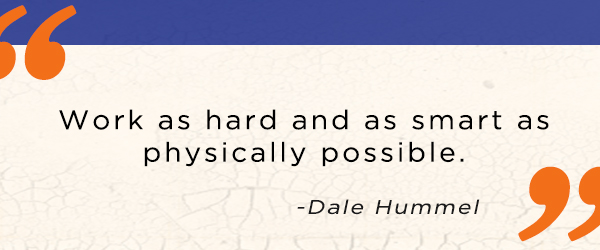 "While on vacation, we received a call from Kelly Meat Goats," Dale says. "Mike and his family had decided that it was time for them to make a life change. He made the offer to us to buy out 100 percent of Kelly Meat Goats."
The Hummels knew that accepting the offer would require a reevaluation of their goals and prioritization of the business.
"As a family, we approach any prospective business venture with the attitude that if we can provide the best product available, along with exceptional customer service, that it is possible to succeed," Dale says.
They understood the risk of the venture, but knew their passion would help them succeed. Since then, Hummel Livestock has become a renowned name in the show ring serving as testament to their hard work.
Dale thinks the lessons youth learn showing livestock are invaluable, and sees these lessons as one reason the industry makes sense from a business standpoint. He also points to the human species' craving to compete as another business value.
"When you combine the human nature's drive to compete with all the benefits that youth receive from the stock show lifestyle, you have a solid market that will sustain itself for years to come," Dale says.
That sustainable marketplace is further evident in the wether goat industry due to its continuous growth as the number of goats being exhibited is increasing across the country and there is constant room to improve genetics.
However, the business is not without challenges and risks.
He points out that great help is challenging to find, noting his appreciation for Manager Craig Benoit, who is considered part of the family.
"It is difficult to put into words what an integral part of Hummel Livestock Craig is and how grateful we feel on a daily basis to have him," Dale says.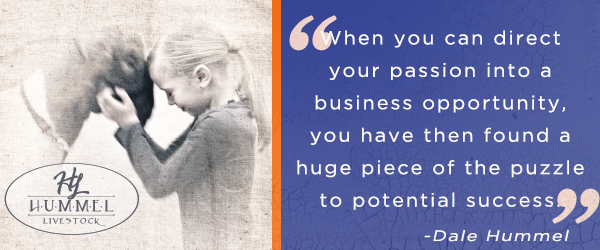 Dale advocates for ethical practices in the show industry and believes they are essential to achieving an even playing field and protecting the future of the show industry. He wants parents and youth to understand the importance of adhering to the rules.
"Be a good ambassador for the stock show lifestyle and livestock industry," Dale says.
Dale encourages others to follow his business path, but only those who possess the want to achieve and work ethic to match.
"I see tremendous opportunity for everyone with a solid knowledge base of livestock production and the desire to go above and beyond the rest in regard to finding a way to make better goats, manage them as best as possible and have the willingness to provide as much customer service as needed," Dale says. "Those individuals will succeed. If you want to find success you need to be prepared to work both as hard and as smart as physically possible"
He urges those considering a livestock business venture to ask themselves if it is realistic for their passion to become a sustainable business and if they will still be passionate about it once it becomes a business.
"You may have to think a bit outside of the box to find a way to take what you are passionate about and turn it into a successful business," Dale says. "When you can direct your passion into a business opportunity, you have then found a huge piece of the puzzle to potential success."
The Hummel's success in the wether goat business was not achieved in a 24-hour period, but rather, over years with the guidance of fellow producers; an unmatched work ethic; and above all, passion for what they do.
"The desire to bring youth life changing experiences is beyond measure. The pride we feel when our children succeed and when the families that put faith in our program succeed is hard to explain," he says. "We are passionate about the stock show lifestyle and this becomes a driving force behind all we do."