By, Mollie Lastovica
There's nothing quite like motherhood. No matter the lady, moms just have a tendency to double as heroes – balancing everything perfectly to keep their families on track daily without skipping a beat. Stock show moms are in a class of their own, not only managing day-to-day routines, chores and activities, but somehow also finding time to lend a hand with the animals and farm work too.
For Lucy Guyer and Vicky Stohlquist, this is all in a day's work. Both full-time farmers and moms in Illinois, the two lend a hand in farm operations from farrowing hogs to clipping show stock, all while managing the schedules of multiple children and their various activities.
Twenty-Four-Seven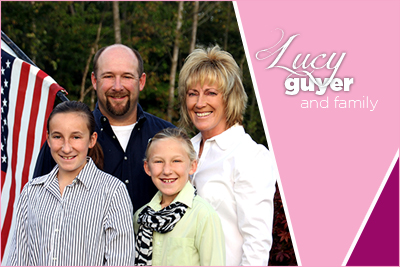 Lucy and her husband Dave live in Crawford County with their two daughters, Ashtin and Nalaney, who are 14 and 11 years old, respectfully. The family raises and sells show cattle and shows pigs. Aside from showing, the girls are involved in cheerleading and their church youth group. While every day looks different depending on upcoming shows or events, some of Lucy's routine daily work includes taking care of the girls and the family's home, feeding the livestock, doing yard work and running errands.
"Most importantly though is my family," Lucy says.
And this commitment to family, with young, busy girls, starts with helping them understand priorities and manage their time. The family shows at major and open shows across the nation and state with both cattle and pigs. With the closest show being over two hours away, the Guyers spend a lot of time on the road.
"Juggling family and farm life can be hectic to say the least," Lucy says. "With all of these shows and normal everyday chores, I don't have much spare time, but I'm not complaining."
She credits her upbringing for helping her multi-task efficiently. One of ten children, she grew up with an attitude of shared responsibility on her family's farm, something she instills in her own girls today.
"As the girls get older, they take on new responsibilities inside and out which really makes things flow easier with our hectic schedule of shows," Lucy says.
Crazy schedules and all, Lucy finds a way to make it work with the help of her faith.
"Things aren't always going to be easy on the farm, but for me and my family, having God, faith, and prayer, we can make this farm life a great way of life!" Lucy says.
She commends those who leave the farm to work and return to those chores when they get home and encourages other farm and show moms to love what they do and accept help when offered.
"For me, this isn't a job, it's our life," Lucy says. "Motherhood and farming go hand in hand as they are both a 24 hour a day job, seven days a week!"
Challenges Lead to Growth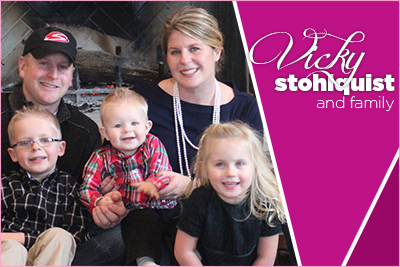 Like Lucy, Vicky has a lot on her plate too. She and her husband have a show pig operation in Northeastern Illinois where they have 150 sows and 12 elite boars. They also grow corn and soybean and have three children ages seven, five and two years old, who are involved in church, piano lessons, sports (for the oldest) and showing gilts across the state each summer.
Vicky plays a role in every part of the farm, from farrowing and sale prep to recordkeeping. With three young kids, she sees structure as necessary to getting things done.
"It is impossible and overwhelming at times," Vicky says. "Structure is key and 95 percent of our family time is spent in the barn."
The old adage "patience is a virtue" comes to mind often for Vicky who noted she had to truly learn the need for and importance of patience the moment she decided to stay home to help build the operation and raise a family.
In both motherhood and farming, she sees consistency in the unknown, but recognizes how this helps you remain committed to continuous improvement.
"Every day either in the house or barn there is a new challenge," Vicky says. "You never know what you can expect when you wake up. Your child may be sick, a waterline broke overnight, your little one takes his first steps, or you watch one you raised win Grand Champion. You are constantly trying to improve, teach, learn, organize and balance what goes on inside or out."
Making it Work
While they might not wear superhero capes or costumes, farm and show moms like Lucy and Vicky are often responsible for putting all the pieces together so we can do what we love without conflict every day. As we celebrate Mother's Day, it's important to recognize these every day heroes, the women who truly make it work.