Some exhibitors have a lucky show stick, good luck show shirt or special lucky halter for their heifer. Others don't leave home without their lucky comb or brush. But for 15-year-old Kayden Tanner, he says his luck comes in the form of hard work and guidance from above.
"I don't believe in luck. The harder you work, the better you will do," said the young man from Elgin, Texas. And his hard work has recently paid off.
He has just completed his run at the Texas Majors with much success. Kayden and his Simmental heifer, Lunar, have become very familiar with the winner's circle, claiming either a grand or reserve grand champion banner at multiple shows this winter. Lunar was named Reserve Champion Female in both the junior and open shows at Fort Worth. She won Grand Champion Female in three shows in San Antonio – the junior, open and Simmental/Simbrah Super Bowl – all within four days, after which she stayed home since she is so close to calving. Another heifer, Crush, was named Reserve Champion Simmental Female in the junior show at Austin. Crush was again a class winner in Houston.
"Winning my first major in San Antonio this year has been the highlight of my show career," Kayden said. "When we got reserve in Fort Worth, I really wanted to do well in San Antonio, and we won the 'Triple Crown'."
This is the eighth year that Kayden has shown livestock, and he says it is something his family enjoys doing together. His older brother, Tucker, also shows, and parents Marty and Kelly offer support and encouragement. He says that their show box stays packed from show to show, but his dad makes sure everything is in it before they leave home for the next show.
Some of the items in the Tanner family show box include: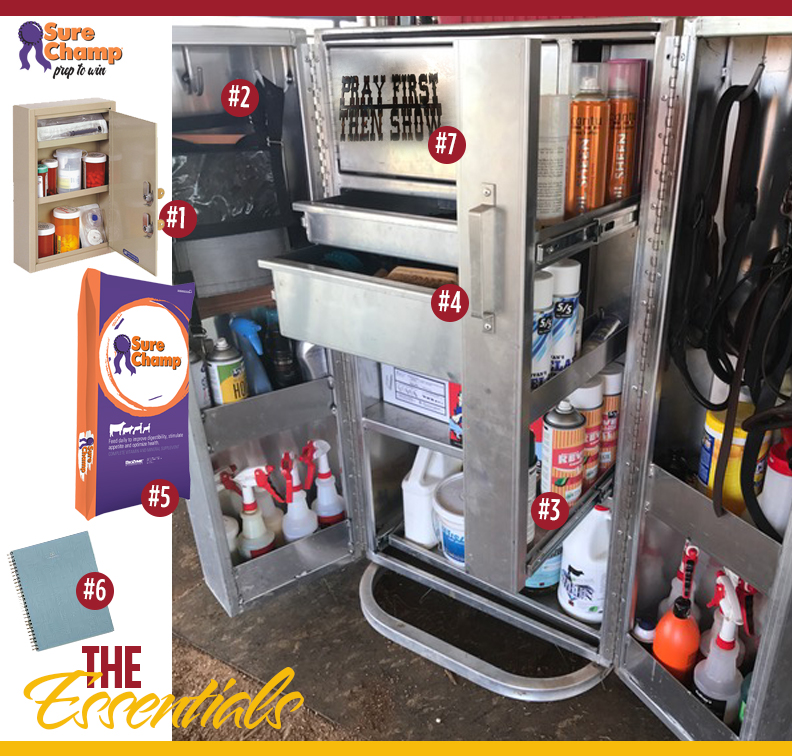 Medicine. "We get heck from people at the shows because we always seem to bring the entire barn, but we like to be prepared. My dad is a vet, and he packs every type of medicine anyone's animal up and down the aisle from us might need," Kayden said with a chuckle.
Show day tools. Show halters, show sticks and number harnesses.
Fitting supplies. Paints, adhesives, oils. Kayden explained that the only Texas junior show that a breeding heifer can be fit is at Fort Worth. The other junior shows in the Texas Major circuit are blow and go shows. However, fitting is allowed in the open shows.
Combs, brushes and blowers.
Wash rack supplies. Buckets, soap, scrub brushes.
Sure Champ® "We feed Sure Champ at every feeding so our heifers stay healthy and keep eating."
The notebook. Kayden said his dad, Marty, keeps a notebook with a list of all the judges they have shown cattle under, and what that judge likes about cattle. That way when they get to a show and learn who the judge is, they can look up the name in the notebook to see what that particular judge previously looked for in an animal.
The sign. Kayden mentioned that he doesn't believe in luck, and neither does the rest of his family. They are strong in their faith and give glory to God always. They have a sign that goes up in their stalls at every show that says, "Pray first, then show." "We are firm believers that all of these blessings come from the Lord. No win would be possible without His blessings on our life," said Kayden's mom, Kelly.
And the family practices their faith by living that sign. Kelly said that she prays with Kayden before he heads to the show ring. Kayden said that when he and his dad are in the line-up area, they take off their hats, pray and fist bump just before he leads his heifer into the ring.
Kayden has big plans for his future. His family is starting its own Simmental herd, as the result of his 4-H project. He plans to participate in the Simmental Junior National this summer and hit the fall shows in Kansas City and Louisville. Some day he wants to attend Texas A & M and become a large animal veterinarian, following in his dad's footsteps. And he wants to become one of the major breeders in the Simmental breed.
Until then, he will enjoy working with his cattle, meeting new people and making friends, and waiting for Lunar to calve.